Previous Page
General Info
Description
The town of Lautoka lies on the northwest coast of Viti Levu. It is in the heart of the sugar cane growing area which gives it the name of 'Sugar City'. Lautoka is a big city by Fijian standards and has many large supermarkets, hardware stores, and department stores. Most yachts base themselves at Vuda Marina which is about 20 minutes out of town.
Cruiser Highlights
Lautoka has much to offer in the way of chandleries and hardware, maintenance and repair facilities, and shore services. Vuda Marina has a lively bar and restaurant that is a good place to meet other cruisers, swap stories, and enjoy live music.
Vuda Marina has a Severe Weather Preparation Plan and cyclone pits for cyclone season. See news item: Fiji: Viti Levu – Cruisers Prepare for 2018/19 Cyclone Season.
Entrance Notes or Cautions
Though it is well marked, the channel into the marina is narrow. It is not recommended to attempt passage in the dark.
Position
17º41.06'S, 177º23.03'E ( marina entrance channel).
Clearance
General Clearance
Refer to the main Fiji Formalities page for detailed clearance information.
It is possible to clear at Lautoka Wharf any day of the week, however, clearance here does depend on the availability of all the various officials.
It is much easier to use the clearance station at Vuda Point Marina (see photo), although as officials are not permanently based here, you will likely be required to wait. The fee to clear here is $75 Fiji (US$37), plus other official clearance fees.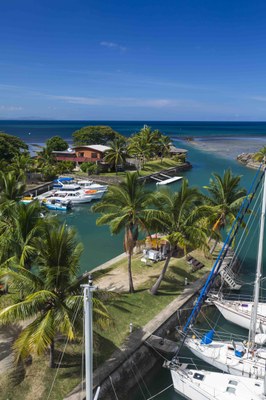 International Clearance
Ensure you fly the 'Q' flag. Call Vuda Marina on VHF channel 16 (07:30-15:00 Mon-Fri) when an hour away.
Pick up the white quarantine mooring buoy (approximately 400m outside the channel entrance). If the mooring is already taken by another vessel, then drop anchor nearby. The depth in this area is approximately 16m and reports are that there is a lot of debris on the bottom here – so be sure to buoy your anchor (see comments at bottom of page).
Call the marina again to advise them you are awaiting clearance. Monitor VHF channel 16 and await instructions. See this Vuda Marina Clearance page for more details.
If arrival is outside the marina's clearance hours (8am to 4pm Mon-Fri), then everyone MUST remain on board and berth at Lautoka Wharf and clear in through the Lautoka offices there.
Domestic Clearance
It is no longer necessary to clear in and out of each Customs region visited, (Suva: Levuka: Savusavu: Lautoka: Lau Group: Rotuma:). Yachts can now clear out of the port of entry with a permit to cruise all Fijian coastal waters within the bounds of their cruising permit. There is however a requirement to report your position and current cruising plans once a week. This can easily be done by:
– VHF Ch:16
– Telephone: 324 3782/3747/3315
– Customs Hotline: 324 3666
– E-mail: [email protected]
Departure
Note, that in this port, an Immigration official now boards all yachts which must be ready to set sail immediately following receipt of outbound clearance.
Last updated: April 2019
Port Authority
Tel:679 6662160 Fax:679 6665799
Docking
Vuda marina is accessible through a reef channel 25m wide, the marina entrance is marked with beacons and green leading lights and is easily arrived at by approaching the highly visable British Petroleum storage tanks from the south west. It is not recommended that a night entry is attempted unless familiar with the approach. Lautoka Wharf is about 7nm NE of the marina entrance channel.
Anchorages
It is possible to anchor outside the channel but if there is a swell, then it may be more comfortable to take shelter at Saweni Beach for the night which is just North of the marina.
Moorings
Boats are moored med style inside the marina in a circle. Prepare your lines prior to entering with 2 extra-long stern lines and 2 bow lines. Pass the stern lines to the marina staff in the boat who will attach then to the mooring ball in the centre. Give the bow lines to the dock staff who will tie them to rings on the wall. Boats are very close together so put out all the fenders you have.
Dinghy Dock
For those utilizing the anchorage, there is a dinghy dock next to the bar restaurant.
Security
The Marina has 24 hour security.
Last updated: December 2017
Vuda Point Marina (see photo above)
Places
Fiji, Lautoka (Vuda Point Marina), Viti Levu