Previous Page
Facts
COVID-19: Entry protocols for yachts have been affected by the pandemic. See the Biosecurity section for details.
Saba is now part of the Kingdom of The Netherlands and was originally settled by small groups of Dutch, Scottish and English people, together with a few from Africa.
This small Caribbean island lies about 25nm NW of Statia.
An extinct volcano, only 2 miles (3 km) in diameter, Saba rises sheer out of the sea up to 3084 ft (940 m).
Saba is unique in that its entire coast is a protected marine park. There are no beaches, but the underwater scenery is remarkable.
A permanent mooring buoy system has been placed within the Saba National Marine Park for specific users and there are strict anchoring rules.
There are two designated anchorage zones within the Saba National Marine Park: one between Ladder Bay and Wells Bay (west side) and one in front of the Fort Bay Harbour (east side).
Entry formalities have to be completed first at Fort Bay, which offers better protection in strong NE winds, while the other anchorage is more sheltered in SE winds.
The construction of the airport, the road to the harbour in Fort Bay, and later a pier, has brought in tourism on a small scale.
It is advisable to self-sufficient when visiting Saba as getting ashore is not always easy. See Yachting Essentials for more information.
Security
Based on reports to Noonsite from cruisers, petty theft from yachts is on the rise in the Caribbean in general. Cruisers should take basic safety precautions and use common sense when leaving the boat or going ashore at night. Dinghy thieves operate throughout the Caribbean and the best advice is to place your dinghy on deck and chain it overnight.
The Caribbean Safety and Security Net ([email protected]) provides information by anchorage or by island, so sailors can plan their cruising in the Caribbean with an eye to appropriate behavior and precautions wherever they decide to go. Should you have suffered a boarding, robbery or attack on your yacht or have information about a yachting-related security incident, go to the CSSN homepage and click on the "Report an Incident" icon. The associated form is quick and simple to complete and ensures that all the necessary details are reported. The CSSN is the most comprehensive source of Caribbean security incidents against sailors. Remember, it is every cruiser's responsibility to ensure that incidents are reported. Also, cruisers can subscribe to e-mail alerts, follow on facebook and twitter and listen to the SSB Voice Service.
Be sure to check related security reports for Saba.
Weather
Daytime temperature on Saba averages 80°F., give or take a few degrees. Easterly trade winds and the mountain create some cloud.
Meteorological Department Curaçao (MDC)
Provides weather services for Curacao, Bonaire, St. Eustatius, St. Maarten and Saba, within the Kingdom of the Netherlands.
Antigua and Barbuda Meteorological Office providing public weather forecasts for Antigua & Barbuda, the Leeward Islands and the BVI.
For links to free global weather information, forecast services and extreme weather information see the Noonsite Weather Page.
Courtesy Flag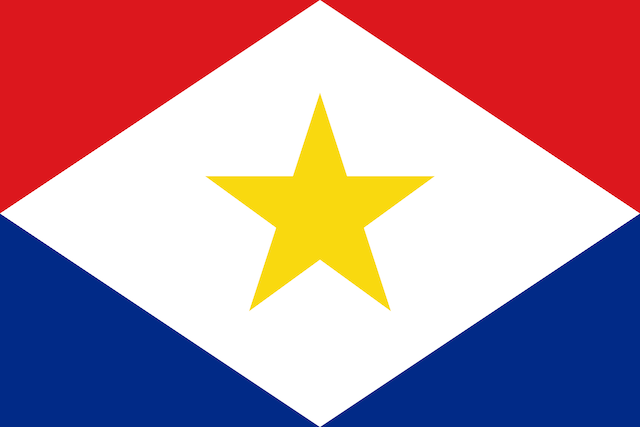 YachtFlags.com offers a discount to Noonsite members.
YachtFlags.com provides high quality courtesy flags that are manufactured in durable Knitted Polyester fabric. Knitted so that the fabric itself does not deteriorate in the constant movement that marine flags are usually exposed to, and polyester so that the flag does not weaken in the strong UV-light usually found in the main sailing areas of the world.
Use the coupon code NOONSITE_5A2B when checking out to get 10% off today.
Buy Now On YachtFlags.com
Places