Previous Page
General Info
Pacific Harbour is a small town west of Suva on the south coast of Viti Levu just inland from Rovodrau Bay. There is a small marina at the Pearl Resort.
Known as the adventure capital of Fiji, this is a popular tourist area for whitewater rafting and the mainland jumping off point for shark diving trips to Beqa lagoon. Yachting facilities are limited and there are no repair facilities. It is a good place to stop in for basic supplies before exploring the Beqa lagoon area.
Position 18º 15′ 28.4S, 178º 04′ 07.1E (entrance to river inlet in front of Pearl Resort).
Clearance
Docking
Rovodrau Bay is not a known anchorage as generally strong winds funnel between the mainland and Beqa Lagoon.
The Pearl Resort is an upscale resort with a newly built secure, yet small, marina. The berths are located in sheltered waters in a small river inlet.
The Channel leading to the marina is easily spotted. Follow the break wall into the river inlet. Just past the break wall, the marina is immediately on the starboard side (see photo below).
The main town center is called the Arts Factory area, which is approximately a 15-minute walk to the east.
Last updated: April 2019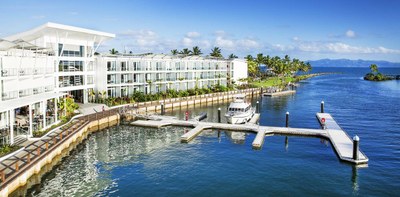 Places
Fiji, Pacific Harbour, Viti Levu