Previous Page
General Info
This is the largest set of islands in the Lau Group and has a lagoon 15 miles wide. There are 5 passes leading into this excellent anchorage, several of which offer suitable shelter from a hurricane.
Position: 17° 13.10'S, 178° 54.55'W (E.coast of the island)
Clearance
It is not currently possible for individual yachts to clear into the Lau Group. Clearance into Fiji has to be completed first in Suva or Savu Savu, from which the Lau Islands are (unfortunately) a difficult sail back to windward.
For details on clearing into and out of Fiji see Fiji Formalities.
World ARC received permission in 2017 to clear in at Vanua Balavu and a group of officers from Custom and Immigration, Quarantine and Biosecurity flew to this remote island specifically for the rally yachts.
The yachting tourism industry in Fiji is making a renewed attempt to have the Government open a full-time yacht clearance facility for visiting yachts on Vanua Balavu Islands at Lomaloma Village. The Prime Minister has given his blessings but the process has been slow. Yachties could assist greatly by emailing the PM's office <pm[email protected]>, and cc'ing the Ministry of Tourism's Jacinta Lal <[email protected]> expressing support. It has been four years in the discussion so encouragement from the cruising community would perhaps make it happen.
Last updated: July 2017
Docking
There are about 10 villages on the various islands in the lagoon and an airport with a weekly flight to Suva. The main village is Lomaloma, on the east coast.
In Lomaloma there is a little shop/Bank where it may be possible to get FJD with a credit card if you buy something in the shop as well. This does depend on funds available and if a lot of yachts ask at the same time, there may not be money available for all. There is no ATM nor money exchange.
The Bay of Islands, an area of raised coral and jungle in the NW is well worth a visit. The village of Daliconi here used to ask for a 'donation' of $30 Fijian per head for all yachts visiting the village and the Bay of Islands (in addition to the customary Sevu Sevu 1/2 kg of Kava). However, the village has now agreed to accept donations of ANY amount or kind. In return, they can offer some services including guided tours & walks.
A cargo ship may visit about once a month. Most villages have a post office/general store, but often they will have very limited supplies. Fresh fruit or vegetables are not readily available.
Petrol (and sometimes diesel) is often available in the bigger villages.
There is a health clinic here.
The Royal Exploring Isles Yacht Squadron was severely damaged in Cyclone Winston in 2016 as the eye came directly over the property. The shore facilities in their listing below still await final repair and attention. It is still possible to anchor in the bay, but not much else.
Last updated: July 2017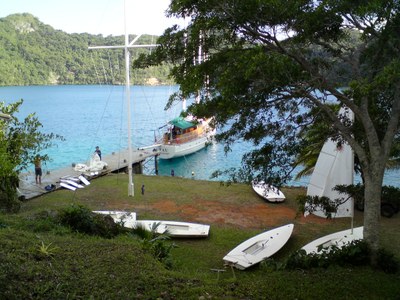 Places
Fiji, Lau Group, Vanua Balavu