Previous Page
Facts
COVID-19: Entry protocols for yachts have been affected by the pandemic. See the Biosecurity section for details.
Important pre-arrival information: Hong Kong Marine Department require an Advance Notice of Arrival. See Formalities for all the details.
Hong Kong reverted to Chinese sovereignty on 30 June 1997, but its special status will continue for another 50 years.
The official name of Hong Kong is the Hong Kong Special Administrative Region of the People's Republic of China (Hong Kong SAR).
The territory borders China in the North, Macao and the Pearl River Delta in the West and is centrally located in the South China Sea (Vietnam, Taiwan, Philippines).
Hong Kong is made up of the small Hong Kong Island, the commercial centre and the Kowloon Peninsula, the main district for shopping and entertainment. Between the two lies the well-protected Victoria Harbour. Also part of Hong Kong are the New Territories, a large area on the mainland, as well as some 235 islands, many uninhabited, in the South China Sea.
Hong Kong has far more to offer than being one of the 4 world's
financial centres: it has 253 islands for cruising. Of the 2755 sq km
only 35% is urban. Otherwise the rural, hilly landscape has been
destined as country park.
Hong Kong has excellent service and repair facilities available.
There are several yacht clubs and a thriving sailing community, however, visitor berths are few and far between and advance reservations are necessary.
Under the guidances of the Royal Hong Kong Yacht Club, it is now expedient to check in to Hong Kong and then visit mainland China and Macau.
Weather
The climate is subtropical. June to September is hot, humid and rainy. October to January is cooler and less humid. The typhoon season is from May to December with the highest frequency between June and September.
Typhoon procedures
Typhoons are most likely in September but can occur all year round. When a typhoon is expected, information and warnings are broadcast in 15 minute intervals day and night. Visiting yachts may seek refuge in an approved typhoon shelter, of which there are 14 in Hong Kong for small craft, some for less than 50m LOA, others for less than 30m LOA. Alternatively, it is possible to secure to a government B class mooring, but advance booking is necessary. Yachts too large for the shelters can either find a mooring or a sheltered anchorage, notifying the port authority of their position.
Tropical cyclones in this area are often severe with winds frequently exceeding 150km/hr. Skippers are advised to take early precautionary action whenever any tropical cyclone warning signal is issued. Latest tropical cyclones and weather information can be obtained from the Hong Kong Observatory.
Brunei Bay Radio operates a regular voice broadcast sked of METAREA and local coastal forecasts for SE Asia waters, the NW Pacific and the eastern Indian Ocean. For details of Brunei Bay Radio broadcast skeds and frequencies, see http://www.bruneibay.net/bbradio/bbrschfvoice.htm.

For links to free global weather information, forecast services and extreme weather information see the Noonsite Weather Page.

The Vessel Traffic Centre, call sign "Mardep" maintains a continuous listening watch on channel 02, 12, 14, 63 and 67. Skippers may obtain navigational information from the Centre when navigating in or near the waters of Hong Kong.
Courtesy Flag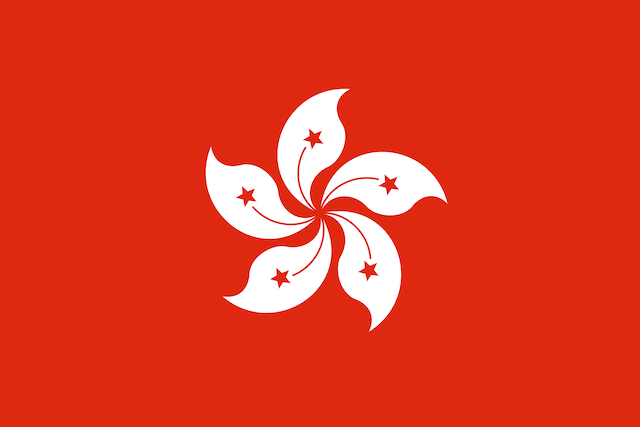 YachtFlags.com offers a discount to Noonsite members.
YachtFlags.com provides high quality courtesy flags that are manufactured in durable Knitted Polyester fabric. Knitted so that the fabric itself does not deteriorate in the constant movement that marine flags are usually exposed to, and polyester so that the flag does not weaken in the strong UV-light usually found in the main sailing areas of the world.
Use the coupon code NOONSITE_5A2B when checking out to get 10% off today.
Buy Now On YachtFlags.com
Places