Previous Page
Facts
COVID-19 coronavirus: New procedures are in place for arriving yachts – see Biosecurity for details.
The Republic of Kiribati (pronounced "kiribass"), formerly the Gilbert Islands, is a group of more than 30 islands situated in the centre of the Pacific Ocean around the point where the international dateline and the equator cross.
Besides the 16 original Gilbert Islands, Kiribati also includes Banaba (Ocean Island), the eight Phoenix Islands, and eight of the 11 Line Islands. All of the islands are low atolls enclosing lagoons, rarely more than four meters (12 feet) above sea level. The notable exception is Banaba, which is volcanic.
Kiribati is very isolated, its small islands spread out over more than one million square miles of ocean. Little grows on these islands except coconut palms and not all of them are inhabited. Kiribati's future is threatened by rising sea levels.
The population on Kiribati is around 110,000 with over half living on Tarawa.
English is the official language. After Tarawa, Gilbertese and I-Kiribati (or a mix of the two) are more commonly spoken.
The Kiribati dollar and the Australian dollar are both used in Kiribati.
Time zones vary depending on island group. Gilbert Island Time is UTC+12. Phoenix Island Time is UTC +13. Line Islands is UTC +14.
Kiribati has a hot, humid, tropical climate with air temperatures very closely related to the temperature of the oceans surrounding the small islands and atolls. See weather for more info.
Visiting this sprawling archipelago requires careful planning. There are now Ports of Entry in each of the major groups of islands; the Line Group, the Phoenix Group and Gilbert Island Group which includes the capital, Tarawa. This makes the task easier when planning to visit more than just the northern group of islands, as the prevailing winds and currents are from the south. Their remoteness is what makes these islands so intriguing.
The Line Islands, together with Washington, belong to Kiribati and their local names have been confused and are often wrongly depicted in nautical publications. Their correct names are Kiritimati (Christmas), Fanning (Tabuaerean) and Terrain (Washington).
Kiritimati (Christmas Island) in particular is a convenient stopover point for boats on passage between Hawaii and French Polynesia. The site of former British nuclear tests, the island was handed over to Kiribati on that country's independence. The island is a sanctuary to millions of seabirds and access to the breeding areas is prohibited.
Fanning Island (Tabuaerean), only 257 kilometres (160 miles) farther north, is a typical Pacific island, clean, welcoming and self-sufficient.
Navigational aids are not very reliable and it is reported that most atolls are without lights after midnight.
Most facilities available in Kiribati are concentrated on Tarawa which comprises several islands around a lagoon. Facilities and availability of goods on the other islands are basic and limited, but there is plenty of fish everywhere. Obtaining water can be a problem. For more information see the Yachting Essentials section.
Security
Overall Crime and Safety
Although the crime rate in Kiribati is low, visitors should not be complacent regarding their personal safety or protecting valuables
Specific areas of concern:
Petty crime and alcohol related incidents are the most common problems. Women should take extra precautions if alone ashore after dark.
Maritime Issues:
Standard security precautions should be taken although crimes against yachts are rare.
Reported Incidents:
The first crime against yachts reported to noonsite was in October 2011 when three yachts anchored in Tarawa were broken into and burgled while the owners were ashore during the daytime. See report here.
These crimes are the first we know about in this safe and friendly island group. However, they do indicate that cruisers should be wary, in populated areas, of leaving their boats when no other occupied yachts are nearby to keep an eye on things.
Weather
Most islands have an equatorial climate, while the islands to the extreme north and south of the group are tropical. November to April is the rainy season, with high humidity and stronger winds. Rainfall is not reliable and drought can be a problem for all the islands. The prevailing easterlies keep the climate pleasant, although temperatures can be high, 80-85°F (27-29°C) on average.
For links to free global weather information, forecast services and extreme weather information see the Noonsite Weather Page.
Courtesy Flag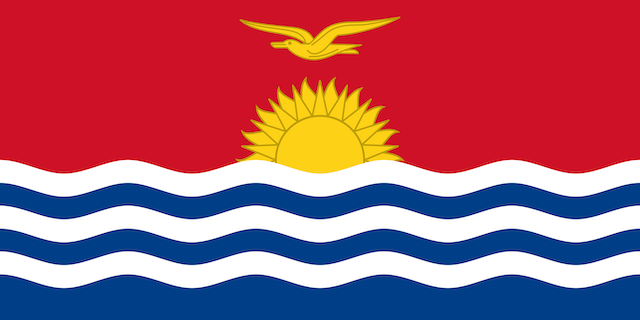 YachtFlags.com offers a discount to Noonsite members.
YachtFlags.com provides high quality courtesy flags that are manufactured in durable Knitted Polyester fabric. Knitted so that the fabric itself does not deteriorate in the constant movement that marine flags are usually exposed to, and polyester so that the flag does not weaken in the strong UV-light usually found in the main sailing areas of the world.
Use the coupon code NOONSITE_5A2B when checking out to get 10% off today.
Buy Now On YachtFlags.com
Places