Previous Page
Facts
Pre-Arrival Declaration: All yachts planning to enter SA must register online with OSASA prior to arrival. See Formalities for full details.

The number of cruising boats visiting South Africa has increased substantially over the last decade as the Red Sea route, previously preferred by yachts undertaking a circumnavigation, has mainly been avoided (first due to pirate activity and now due to increasing fees in Egypt).
All around the world races now include South Africa on their itinerary.
The best time to transit the South African coast is between November and January when the Indian High dominates and easterly winds blow along the south east coast.
Safe havens are limited and there is a lack of sheltered harbors and anchorages along the coast, particulary between Durban and East London. Passage planning should be done with care as conditions can change rapidly along the coast.
The Ocean Sailing Association of Southern Africa (OSASA) was formed in March 2021 by three South African cruisers, supported by South African Sailing, the coastal yacht clubs and marinas, SABBEX and the marine industry. OSASA have transformed the clearance process for foreign yachts and are working hard to improve conditions for yachts along the coast. Find out more here.
The country's convenient position and excellent yachting facilities make it a natural stopover, added to which are the many nature reserves that make South Africa an interesting place to visit. One major drawback is the weather and sailing conditions; the waters around the tip of Africa being among the most dangerous in the world.
As there are yacht clubs in most ports, the clubs are the best source of information on local conditions. The yacht clubs like to be contacted in advance by those wishing to use their facilities. It is not normally allowed to live aboard a yacht, but a concession is made for visiting foreign yachts as a temporary privilege. Most yacht clubs, such as those at Cape Town, Durban and Richards Bay, have their own hauling facilities or work closely with a local boatyard.
Yacht clubs are also convenient places to leave the boat while visiting the interior. The Zululand Yacht Club in Richards Bay is a good place from which to visit the Umfoloze, Hluhluwe and St Lucia reserves. Kruger Park is approximately 570km by Road from Richards Bay.
See Yachting Essentials for more details.
Security
Overall Crime and Safety:
Security in the cities and urban areas is a concern. Call the police (on 10111 or on 112 from a mobile phone) at the first sign of danger. See the U.K. FCO website for the latest security advice.
Usually, you can judge how much crime there is in a certain area by the amount the houses and businesses protect themselves with fences, barbed wire, guard dogs, security guards and electronic alarm systems.
Do not walk anywhere at night, and even during the day, it is advisable to do so in groups if possible.
Specific Areas of Concern:
Protests/Demonstrations:

In July 2021 there was widespread violence and looting throughout SA by demonstrators in support of ex-President Zuma after he was jailed.
Roads and Driving:

Keep to main roads and avoid driving at night when visiting Northern KwaZulu Natal and Zululand, as there have been incidents of hi-jacking and robbery, particularly on isolated secondary roads.
Be vigilant on the approach roads to and from Kruger Park where there have been cases of car hijacking.
Travel:

Due to thefts at OR Tambo International Airport in Johannesburg, you should vacuum-wrap or shrink-wrap luggage where regulations permit. Keep all valuables in carry-on luggage.
Avoid isolated beaches and picnic spots. Don't walk alone, especially in remote areas. Hikers should stick to popular trails. There have been violent attacks on hikers and tourists on Table Mountain.
Maritime Safety:

Be sure to check related security reports for South Africa.
Weather
The best time to transit the South African coast is between November and January when the Indian High dominates and easterly winds blow along the south east coast.
The climate varies greatly between the coastal regions and inland, and also between the Atlantic and Indian Ocean coasts. Generally, it can be described as temperate in the Cape area and tropical in the rest of the country.
The variable weather patterns are governed by the low and high-pressure systems moving across the Atlantic from South America and travelling eastwards at the eastern seaboard of the South African coast.
From April to August the low pressures system moves north and is prominent along the south coast bringing cold wet weather and strong W/NW winds.
The Indian High dominates the weather along the East Coast of SA. From September to March the Indian High moves South and generally there are strong Easterly winds along the East coast of SA.
The prevailing winds of summer are SE, replaced in winter by W or NW winds. Gales are frequent and in summer depressions come up from the Southern Ocean accompanied by cold gale force winds. Conditions are particularly bad when such gales blow against the SW flowing Agulhas current.
The Agulhas Current is one of the great ocean currents running mainly from north-east to south-west, following the 200m contour of the continental shelf and seaward thereof and dissipating over the Agulhas bank south of Mossel Bay. The current can run between 2-5 kts at its fastest point
Weather resources:

For those who are concerned about the difficult passage from Durban to Cape Town, advice on the best tactics to use in these stormy waters can be obtained from the Durban Sailing Academy. Daily synoptic charts for the region can be found at http://www.cruisingconnections.co.za/index.php/weather

For Cape Town Weather forecasts phone 021 9340450. Local forecasts are transmitted on VHF Channel 25 at 1015, 1333, 1815 (all times UT) (Monitor Channel 16 and be prepared to wait until radio traffic on other channels has ceased).
Cape Town Radio (SSB) on 4375 8740 13146Mhz USB at 1015, 1330, 1815 UTC daily for forecasts and reports. Gives you barometer pressure and wind speed around the entire SA coastline.
Des Cason: Des

Cason is a retired cruiser

based in SA, who offers advice to cruisers visiting the country and routing and weather information for the Indian Ocean. E-mail at [email protected] – Forecast Areas around Southern Africa_Des Cason

See Communications for details of SSB Nets which also have weather information.
SA Weather and Disaster Observation Service – Free weather service using voluntary weather observers to obtain critical weather information.
For links to free global weather information, forecast services and extreme weather information see the Noonsite Weather Page.
Courtesy Flag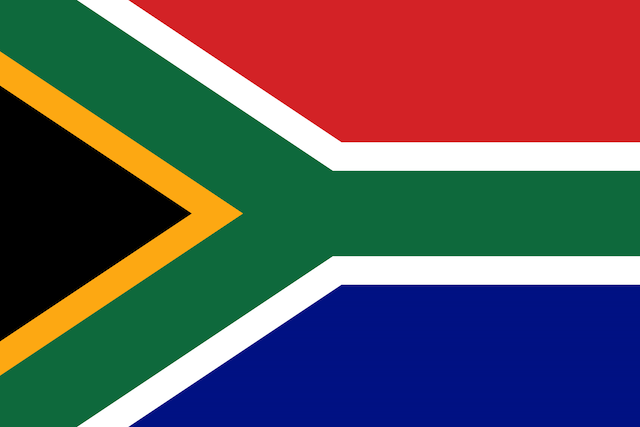 YachtFlags.com offers a discount to Noonsite members.
YachtFlags.com provides high quality courtesy flags that are manufactured in durable Knitted Polyester fabric. Knitted so that the fabric itself does not deteriorate in the constant movement that marine flags are usually exposed to, and polyester so that the flag does not weaken in the strong UV-light usually found in the main sailing areas of the world.
Use the coupon code NOONSITE_5A2B when checking out to get 10% off today.
Buy Now On YachtFlags.com
Main Ports
Ports of Entry: Cape Town (Table Bay)

,

Durban

,

East London

,

Port Elizabeth

,

Richards Bay
Other Ports: Hout Bay

,

Knysna

,

Mossel Bay

,

Port Alfred

,

Saldanha Bay

,

Simon's Town

,

St Helena Bay & Port Owen

,

St. Francis Bay
Places