Previous Page
Facts
COVID-19: Entry protocols for yachts have been affected by the pandemic. See the Biosecurity section for details.
Important pre-arrival information: All nationalities, whether entering and/or leaving the USA/Puerto Rico by private yacht MUST obtain a visa in advance. Such visitors CANNOT enter the USA/Puerto Rico for the first time under the Visa Waiver Programme on board their yacht. See Formalities for all the details.
Northernmost, within the eastern Caribbean, and several times larger than its southerly island neighbors, Puerto Rico's sophistication as a US Commonwealth makes it stand out in terms of value.
Puerto Rico is a natural stepping-off point to/from North America and Europe, thus known as the Passage Islands.
The ports of San Juan, Ponce, and Fajardo offer full-service marinas and haul outs, diesel repair, boatswains, sailmakers, and other services. Puerto Real in Cabo Rojo, Boquerón, Salinas, La Parguera, and Bahia de Jobos offer marinas and inland adventure.
The Spanish Virgin Islands (which are part of the Commonwealth of Puerto Rico), includes the islands of Vieques and Culebra, which are less than 15 nautical miles from the USVI. Other beautiful uninhabited islands dot Puerto Rico's west, south, and east coasts.
Avoid eating any fish caught off Vieques as local opinion is that most fish have Ciguatera.
Mona Island off the West coast of Puerto Rico (the "Galapagos of the Caribbean), whilst a fascinating place to visit, has no safe anchorages. A permit is required to walk the trails there.
The currency is the US dollar. Credit cards are accepted virtually everywhere. Puerto Rico is bi-lingual in Spanish and English.
Hurricane Maria struck the island as a Cat 4 on 20 September 2017 shortly after Hurricane Irma passed by less than two weeks prior. The damage from Hurricane Maria was catastrophic. The entire island lost power, hydroelectric dams failed, and some areas were cut off. The central mountain range suffered the most damage; coastal towns and marinas sustained little destruction and quickly reinstated operations.
Security
Puerto Rico has few reported incidents and the overall safety of the area is high in comparison to many other Caribbean destinations.
That said, (based on reports to CSSN and Noonsite from cruisers), petty theft from yachts is on the rise in the Caribbean in general and cruisers reported in 2015 on various cruiser facebook groups, being boarded and robbed in Vieques.
In 2019, the theft of an outboard motor was reported in Vieques Esperanza and a yacht left at the marina in Puerto Real was burgled while the owners were away.
In 2018, outboard and dinghy theft were also reported in Culebra.
In 2017, there were six reports of outboard and dinghy theft from Vieques. Thieves operating here are well prepared and seem beyond the interest or reach of authorities. If you choose to visit Vieques, best practices are called for, LIFT and LOCK (securely) dinghies and outboards when not in use.
Cruisers should take basic safety precautions and use common sense when leaving the boat or going ashore at night.
The Caribbean Safety and Security Net ([email protected]) provides information by anchorage or by island, so sailors can plan their cruising in the Caribbean with an eye to appropriate behavior and precautions wherever they decide to go. Should you have suffered a boarding, robbery or attack on your yacht or have information about a yachting-related security incident, go to the CSSN homepage and click on the "Report an Incident" icon. Also, cruisers can subscribe to e-mail alerts, follow on facebook and twitter and listen to the SSB Voice Service.
Be sure to check related security reports for Puerto Rico.
Last updated: July 2019
Weather
Puerto Rico has a pleasant year-round climate. Rain is heavier on the northern mainland coastal plain. To the south, the climate is arider. The hurricane season is June to November.
Local Forecasts
US Coast Guard offers weather reports and forecasting on VHF WX Channels 5 or 6.
National Weather Service
NOAA agency that covers weather forecasts and severe weather warnings for the USA, Puerto Rico, US Virgin Islands, Guam and American Samoa.
http://www.antiguamet.com/
Antigua and Barbuda Meteorological Office providing public weather forecasts for Antigua & Barbuda, the Leeward Islands and the BVIs.
See the Caribbean National, Regional and Island Weather Websites report for more.
For links to free global weather information, forecast services and extreme weather information see the Noonsite Weather Page.
Courtesy Flag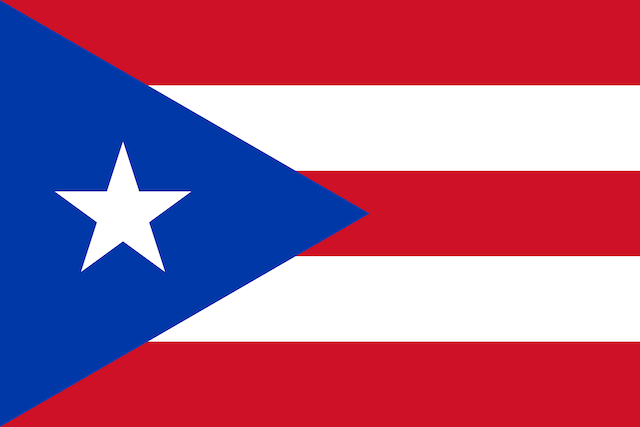 YachtFlags.com offers a discount to Noonsite members.
YachtFlags.com provides high quality courtesy flags that are manufactured in durable Knitted Polyester fabric. Knitted so that the fabric itself does not deteriorate in the constant movement that marine flags are usually exposed to, and polyester so that the flag does not weaken in the strong UV-light usually found in the main sailing areas of the world.
Use the coupon code NOONSITE_5A2B when checking out to get 10% off today.
Buy Now On YachtFlags.com
Places