Previous Page
Facts
Turkey is a transcontinental country located mainly on the peninsula of Anatolia in Western Asia, with a smaller portion on East Thrace in Southeast Europe. It shares borders with Greece, Bulgaria, Georgia, Armenia, Azerbaijan, Iran, Iraq and Syria. The capital city is Ankara, while its largest city and financial centre is Istanbul.
Turkey has a population of 83,614,362.
Turkey's official languate is Turkish, but English is the second widest-spoken language and you will easily find English speakers in the major cities and holiday resorts.
Turkey's currency is the Turkish Lira. For specifics see General Info.
Turkish Time (TRT) is UTC+03:00 year-round.
Turkey is a large country with diverse terrain and the climate varies greatly from one region to another. Spring is the best season to visit Turkey as the weather is moderate throughout the country and the days are long. In the Summer it is quite hot and dry on the coast. See Weather below for more details.
Turkey has more coastline than any other Mediterranean country – some 8400 km (5219 miles). There are so many bays and coves, one can almost always pick a pretty anchorage within minutes of deciding to drop the anchor. Its diverse terrain covers nearly 800,000 square kilometers and shares borders with Armenia, Bulgaria, Georgia, Greece, Iran, Iraq, and Syria.
Marinas are generally first class with technical support and repair and haul-out facilities. Istanbul and Marmaris offer the most extensive technical support, though technical service is available almost everywhere. Some of the finest marinas are Park Kemer, Gocek, Bodrum, and Atakoy with prices to match. Marina prices continue to rise every year.
There are many pretty small harbors, such as Kalkan, where one can Med-moor to a quay or jetty with electricity and water. Overnight fees tend to be much more reasonable than those at marinas. A cruising guide such as Turkish Waters and Cyprus Pilot by Rod Heikell is essential to make the best of this country.
In recent years there has been a considerable easing of formalities for yachts, however, three-month visa restrictions, difficulty with residency in Turkey and rising prices have deterred many long-term cruisers from spending long in Turkey.
Most cruising yachts sail in the southwest of the country, along with the Mediterranean coast and the Aegean Sea, although the Sea of Marmara is also worth exploring and sail through the heart of Istanbul is an exhilarating experience.
Turkey's history spans almost 10,000 years. Along the Aegean and Mediterranean coasts, there are acres of ancient remains – many world-renowned – from the ruins of Greek cities to sunken Roman harbors and crusader castles.
Although the Black Sea coast of Turkey lacks natural harbors, there are several sheltered ports while the spectacular coast can be enjoyed when day sailing from one such port to the next. Some of these ports tend to be crowded with local craft, so it pays to be there during the closed season for fishing, in July and August, when most trawlers are hauled out. A useful source of information for this part of Turkey's coast is to be found in the RCC guide, The Black Sea. See Publications section for the details.

Buy six meters (20 ft) of chain for stern tying to rocks in Turkey. Chafe gear for lines used to tie to trees is necessary to avoid damaging trees. One can be fined for damaging trees. A 60 meter (200 ft) line is necessary too.
Holding tanks are required in Turkey so sort out any holding tank problems. The "Blue Card Scheme" (see reports section and restrictions ) now applies to the whole of Turkey's coastline, although it is sporadically enforced.
For the latest updates from cruisers in Turkey go to the Marmaris Bay Cruisers Blog.

Security
Overall Crime and Safety:

Many cruisers may intend to sail Turkey's beautiful coastline for only one sailing season and then move on. However, some cruisers do stay much longer, as long as 15 years!
Security measures are taken by local police gendarme (law enforcement organisation that maintains security, safety and public order). You may, during your stay in the area, never see the police or gendarme. It has been, in some busy areas, especially Istanbul, that the Turkish authorities stop members of the public to conduct ID checks Protests,/ rioting/theft/bodily harm occurs not in Marmaris but limited to large cities, e.g. Istanbul or Ankara or Antalya. More likely, in Marmaris, individual marinas provide 24-hour security (which usually, during winter and heavy storms, monitor and/or assist cruisers' boats' safety from the weather).
Specific Areas of Concern:
Due to the ongoing conflict in Syria, the areas bordering Syria and Iraq should not be visited. Terrorist attacks, shootings and violent demonstrations continue in these border areas. The US State Department issued a Turkey Travel Advisory Level 2 in October 2022 advising against travel to the inland provinces of Sirnak, Hakkari and any area within six miles (10 kilometres) of the Syrian border, due to terrorism.
In some busy areas, especially Istanbul, the Turkish authorities stop members of the public to conduct ID checks.
Consult the UK Foreign and Commonwealth Office guidelines and the US Department of State guidelines before traveling to Turkey.
Maritime Issues:

Turkey's coast and islands are a safe cruising destination and reports of crime are rare.
As a result of Covid 19, there have been no reports of boardings and thefts, and the number of recreational yachting sailing and motor boats has decreased. However, sailors continue to use Turkey's ports and marinas for wintering their boats. A number of yachts in the Marmaris to Fethiye, Gocek, and southeastern Turkey continue to sail the summer and fall months.
It is wise that boat owners, universally and in Turkish waters make a habit of ensuring their yachts are unoccupied and the owners are ashore.
Anchorages from which Noonsite has received break-in reports are Keci Buku, the bay south of Datca and Aksazlar Bay, north of Fethiye Ece Marina, Gocek Bay near Skopea Marina and Ucagiz Limani, Kekova.
Thieving is an annual occurrence in the spring in anchorages in many areas globally.
Black Sea Coast: (April 2022) There are confirmed reports of an undetermined number of drifting mines in the western Black Sea, at least four of which Turkish and Romanian authorities have intercepted. Drifting mines pose a hazard to commercial and passenger vessels.
GPS Interference: A continuing problem when sailing between Crete and Suez is that no NTMs are issued if the signals are being blocked for training. The Maritime Administration (MARAD) posted an Advisory stating that multiple instances of significant GPS interference have been reported worldwide in the maritime domain, resulting in lost or inaccurate GPS signals. It could put one 20-200 nm away from where one thinks. Plotting one's course on paper charts can help recognize that this is happening.
https://casdeniz.dzkk.tsk.tr/#
Government supported map-based website that plots all active Navtex warnings on a chart. It has an "English" option.
Last updated: October 2022
Weather
Turkey's climate is varied but typically Mediterranean with hot summers and mild winters. Lighter winds prevail along the Mediterranean coast and nights are usually calm. There is a heavy swell along this coast. In summer, the Aegean is dominated by the northerly Meltemi wind, which blows from May till the end of August and at its peak can be very strong.
The Black Sea has more extremes and is more humid with the most rain. This area is usually busy with fishing boats and very small "breakwater" types of refuge from storms. Cruising yachts are advised not to be at sea after dark during the commercial fishing season due to the number of large trawlers out at night along this area of the coast.
Being so large the climate varies greatly from one region to another. Spring is the best season to visit Turkey as the weather is moderate throughout the country and the days are long. Summer season is quite hot and generally without any rain. Evenings though are cool in inland areas. During the winter on the south west coast it can be very agreeable, although much of the country is cold, rainy with snow on high ground.
Weather sources:

Related Businesses
Mersin Marina

Address: Adnan Menderes Bulvarı, Eğriçam Mah. No:33, 33 GA, Yenişehir/Mersi, Eastern Med, Turkey, 33160

Position:  36°46'18"N/34°34'32"E

500 berths (med-mooring) with capacity for 500 boats hard standing. Full service marina with sewage removal, WiFi, cable tv, weather forecast, laundry, 24 hour... Read More
Courtesy Flag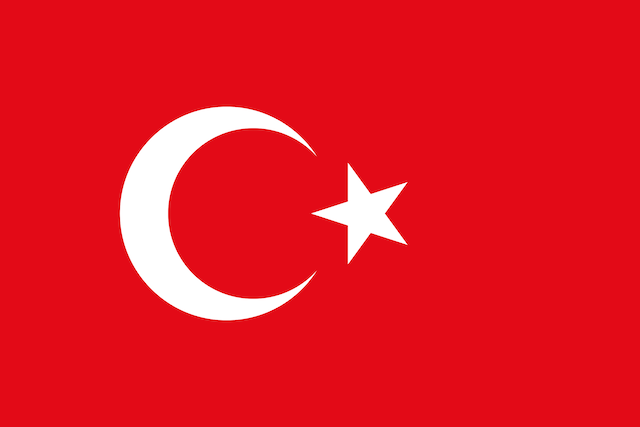 YachtFlags.com offers a discount to Noonsite members.
YachtFlags.com provides high quality courtesy flags that are manufactured in durable Knitted Polyester fabric. Knitted so that the fabric itself does not deteriorate in the constant movement that marine flags are usually exposed to, and polyester so that the flag does not weaken in the strong UV-light usually found in the main sailing areas of the world.
Use the coupon code NOONSITE_5A2B when checking out to get 10% off today.
Buy Now On YachtFlags.com
Places