Previous Page
Facts
COVID-19 coronavirus: New procedures are in place for arriving yachts – see Biosecurity for details.
Turkey has more coastline than any other Mediterranean country – some 8400 km (5219 miles). There are so many bays and coves, one can almost always pick a pretty anchorage within minutes of deciding to drop the anchor. Its diverse terrain covers nearly 800,000 square kilometers and shares borders with Armenia, Bulgaria, Georgia, Greece, Iran, Iraq, and Syria.
Marinas are generally first class with technical support and repair and haul-out facilities. Istanbul and Marmaris offer the most extensive technical support, though technical service is available almost everywhere. Some of the finest marinas are Park Kemer, Gocek, Bodrum, and Atakoy with prices to match. Marina prices continue to rise every year.
There are many pretty small harbors, such as Kalkan, where one can Med-moor to a quay or jetty with electricity and water. Overnight fees tend to be much more reasonable than those at marinas. A cruising guide such as Turkish Waters and Cyprus Pilot by Rod Heikell is essential to make the best of this country.
In recent years there has been a considerable easing of formalities for yachts, however, three-month visa restrictions, difficulty with residency in Turkey and rising prices have deterred many long-term cruisers from spending long in Turkey.
Most cruising yachts sail in the southwest of the country, along with the Mediterranean coast and the Aegean Sea, although the Sea of Marmara is also worth exploring and sail through the heart of Istanbul is an exhilarating experience.
Turkey's history spans almost 10,000 years. Along the Aegean and Mediterranean coasts, there are acres of ancient remains – many world-renowned – from the ruins of Greek cities to sunken Roman harbors and crusader castles.
Although the Black Sea coast of Turkey lacks natural harbors, there are several sheltered ports while the spectacular coast can be enjoyed when day sailing from one such port to the next. Some of these ports tend to be crowded with local craft, so it pays to be there during the closed season for fishing, in July and August, when most trawlers are hauled out. A useful source of information for this part of Turkey's coast is to be found in the RCC guide, The Black Sea. See Publications section for the details.
Buy six meters (20 ft) of chain for stern tying to rocks in Turkey. Chafe gear for lines used to tie to trees is necessary to avoid damaging trees. One can be fined for damaging trees. A 60 meter (200 ft) line is necessary too.
Holding tanks are required in Turkey so sort out any holding tank problems. The "Blue Card Scheme" (see reports section and restrictions ) now applies to the whole of Turkey's coastline, although it is sporadically enforced.
For the latest updates from cruisers in Turkey go to the Marmaris Bay Cruisers Blog.
Security
Yacht Security
Turkey's coast and islands are a safe cruising destination and reports of crime are few and far between.
Reports of boardings and thefts, however, continue to be received from yachts in more popular anchorages, mostly during the night when the boats were unoccupied and the owners ashore.
Anchorages from which Noonsite has received break-in reports are Keci Buku, the bay south of Datca and Aksazlar Bay, north of Fethiye Ece Marina, Gocek Bay near Skopea Marina and Ucagiz Limani, Kekova.
Thieving is an annual occurrence in the spring in anchorages in many areas globally.
Safety Advice – Black Sea Coast
Cruising yachts are advised not to be at sea after dark during the commercial fishing season due to the number of large trawlers out at night along this area of the coast.
Foreign Government Advice re Travel to Turkey:
Due to the ongoing conflict in Syria, the areas bordering Syria and Iraq should not be visited. Terrorist attacks, shootings and violent demonstrations have occurred in these areas.
The situation has calmed following an attempted coup on 15 to 16 July 2016. A state of emergency imposed after the coup attempt in July 2016 has been lifted although some restrictions remain in place.
In some busy areas, especially Istanbul, the Turkish authorities are stopping members of the public to conduct ID checks There's also a larger than usual number of police checkpoints on main roads across Turkey.
Consult the UK Foreign and Commonwealth Office guidelines and the US Department of State guidelines before traveling to Turkey.
Last updated: October 2019
Weather
Turkey's climate is varied but typically Mediterranean with hot summers and mild winters. Lighter winds prevail along the Mediterranean coast and nights are usually calm. There is a heavy swell along this coast. In summer, the Aegean is dominated by the northerly Meltemi wind, which blows from May till the end of August and at its peak can be very strong. The Black Sea has more extremes and is more humid with the most rain.
Weather forecasts from Antalya every three hours available in the summertime on VHF Chanel 67 preceded by an announcement on VHF Channel 16. The same information is available on Navtex for current 24 hours with a brief description of the outlook for the next day.
Further forecasts can be obtained from the Turkish State Meteorological Service website.
For links to free global weather information, forecast services and extreme weather information see the Noonsite Weather Page.
Related Businesses
Mersin Marina

Address: Adnan Menderes Bulvarı, Eğriçam Mah. No:33, 33 GA, Yenişehir/Mersi, Eastern Med, Turkey, 33160

Position:  36°46'18"N/34°34'32"E

500 berths (med-mooring) with capacity for 500 boats hard standing. Full service marina with sewage removal, WiFi, cable tv, weather forecast, laundry, 24 hour... Read More
Courtesy Flag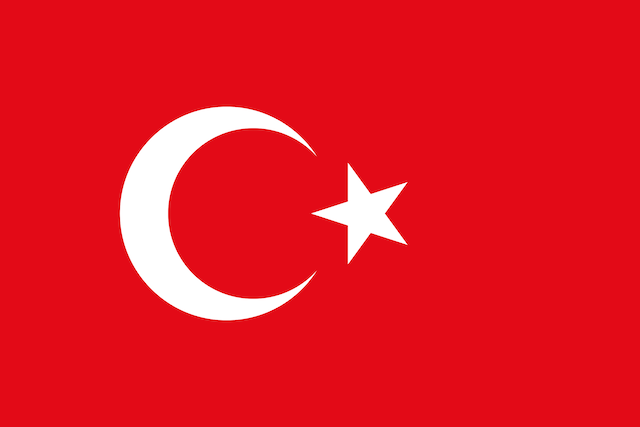 YachtFlags.com offers a discount to Noonsite members.
YachtFlags.com provides high quality courtesy flags that are manufactured in durable Knitted Polyester fabric. Knitted so that the fabric itself does not deteriorate in the constant movement that marine flags are usually exposed to, and polyester so that the flag does not weaken in the strong UV-light usually found in the main sailing areas of the world.
Use the coupon code NOONSITE_5A2B when checking out to get 10% off today.
Buy Now On YachtFlags.com
Places