Previous Page
Facts
COVID-19 coronavirus: New procedures are in place for arriving yachts – see Biosecurity for details.
ALERT: A large eruption of the Hunga Tonga Hunga Ha-apai underwater volcano ocurred on 15 January 2022, causing a tsunami and ash fall in Tonga. The eruption was one of the biggest in Tonga in the past 30 years. See news item for details and useful links for further information.
Important Pre-Arrival Information: Tonga Customs requires that all yachts arriving from overseas must submit an Advance Notice of Arrival Form (ANOA) no less than 24 hours before the estimated time of arrival (ETA) of the craft in Tonga.
Officially called the Kingdom of Tonga it is situated in the heart of the South Pacific and 1284 nms NNE of New Zealand and 2800 nms east of Australia, it consists of over 160 coral and volcanic islands, of which only 36 are inhabited.
Tonga has a new island, about 65 kilometres north north-west of Tongatapu, which started forming in January 2016 after a volcano began erupting. Tonga's lands and natural resources ministry has examined the island and stated that the newly formed landmass is around 800m wide and 1.3km long.
The population in 2019 was 108,000. The official language is Tongan but English is widely spoken in all the urban areas.
The paʻanga is the currency of Tonga. For specifics see General Info.

Tonga Standard Time is UTC +13 See General Info for more details.
The climate is tropical, influenced by the trade winds, with a hot, humid, and rainy season from December to April and a cool and relatively dry season from June to October. See Weather below for more details.
Best known among sailors is the northern group of Vava'u, whose maze of islets and reefs provides one of the best cruising grounds in the South Pacific. In recent years there has been a significant increase in the number of boats in the South Pacific, in particular in Tonga's Vava'u Group.
The Ha'apai group, while requiring careful navigation, has some of the most beautiful isolated islands in the Pacific.
A dangerous area to avoid by boats on passage to Fiji is Metis Shoal (19°11.4'S 174°51'W), where there has been intense volcanic activity.
In spite of Tonga's remoteness, facilities are surprisingly good and the setting up of a small industrial centre near the capital Nuku'alofa has encouraged several boating-related foreign companies to start operations in Tonga. For more details on yachting services see Yachting Essentials.

Security
Overall Crime and Safety
Crime levels in Tonga are low, however incidents of robberies, violent assaults and sexual assaults do occur, including against foreigners. There is a moderate risk of crime in Nuku'alofa.
Specific areas of concern:
Transport
Domestic aviation safety standards can vary and should be closely monitored and they can change at short notice; travellers should keep this in mind when making their travel arrangements.
Maritime safety, particularly of older vessels, is also a concern. Safety regulations are not always adhered to when travelling by sea ferry and it is advisable to take your own lifejacket. Ferries are often overcrowded.
Maritime Issues:
None reported.
Reported Incidents:
None Reported.
General Emergency Numbers:
For more detail see Emergencies in General Info.
Keep up to date with the earthquake threat in Tonga via Matangi Tonga Online.
Last updated: October 2019
Weather
Tonga's climate is warm and humid, although less so than other tropical islands. December to March, which is also the hurricane season, has more rain. From April to November the SE trade winds predominate, although quick sudden squalls can occur from other directions.
Weather Forecasts
Radio Nuku'alofa: Dial 1017 kHz on the AM band. Weather forecasts follow the BBC news at 0700 and the Australia news at 0800.
VHF Channel 10: Vava'u Marine Radio transmit the weather forecast at 1030 and 1530 daily apart from Sunday.
VHF Channel 26: This is the Cruiser's Net Update at 8.30 am Monday-Sunday (provides useful information on weather, tides, contacts, services offered or needed and local advertising).
All weather in one place for Vava'u Tonga
www.vavau.to/weather.html
Tonga Meteorological Services
www.met.gov.to/
A useful guide to South Pacific weather resources compiled by a Noonsite contributor, Rory Garland.
Tonga & Pacific Weatherstations: Help improve weather forecasting
For links to free global weather information, forecast services and extreme weather information see the Noonsite Weather Page.
Last updated: October 2019
Courtesy Flag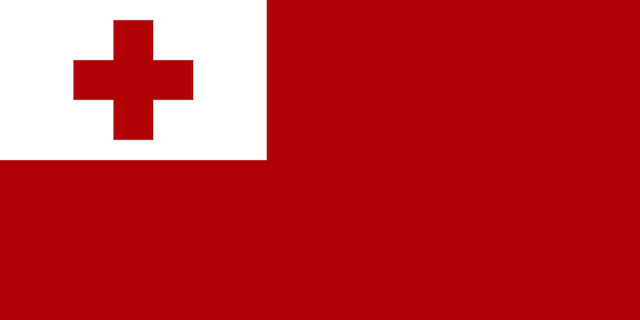 YachtFlags.com offers a discount to Noonsite members.
YachtFlags.com provides high quality courtesy flags that are manufactured in durable Knitted Polyester fabric. Knitted so that the fabric itself does not deteriorate in the constant movement that marine flags are usually exposed to, and polyester so that the flag does not weaken in the strong UV-light usually found in the main sailing areas of the world.
Use the coupon code NOONSITE_5A2B when checking out to get 10% off today.
Buy Now On YachtFlags.com
Places