Previous Page
Facts
COVID-19: See Biosecurity for details on entry restrictions.
French Polynesia covers an area of the South Pacific Ocean about the size of Europe. It is made up of over 100 islands in five archipelagos: the Society Islands, the Marquesas, Tuamotu, Gambier Islands and Australs, as well as Clipperton Atoll, a small French possession off Mexico.
In the last few years, the total number of boats cruising in the South Pacific has increased. This is undoubtedly due to the draw of the South Seas, but also in the last couple of years because of safety concerns in other parts of the world.
From the rugged beauty of the Marquesas to the crystal clear waters of the Tuamotu atolls and the lofty peaks of the Society Islands, the variety in scenery and sailing conditions is unsurpassed anywhere in the South Pacific.
Most yachts make their landfall after a Pacific Crossing in the Marquesas, which is a perfect introduction to this vast cruising ground. There are few man-made ports here and the swell can tuck into the anchorages, but this is more than made up for by the beauty of these high islands.
In complete contrast is the Tuamotu, once called the Dangerous Archipelago on account of its treacherous currents and lurking reefs. Yachts used to avoid this area, but now often stop and visit the low atolls, as the hazards have diminished considerably with the advent of radar and satellite navigation. Negotiating the passes into some of the lagoons can be a difficult operation, mainly because of the strong currents. Generally, the weakest current occurs one hour after low water and one hour after high water. Passes are for the most part well-marked, some even lit at night. However one should still be sure to use careful eyeball navigation, ideally when the sun is overhead and the colour of the water gives a good indication of its depth.
Entirely off the usual cruising routes are French Polynesia's other two groups, the Austral and Gambier islands. The latter is best visited if coming from Easter Island or Pitcairn, while the former is only a few days' sail away from Tahiti or make a convenient landfall for yachts heading towards Tahiti from New Zealand.
Getting work done: The best facilities are to be found in Papeete (Tahiti) where everything is possible, but expensive; the only other centre with extensive repair facilities is on Raiatea, where two charter companies have their base. Facilities are on a par with Tahiti, or even better, and have the great convenience of being grouped together. There is a resourceful yacht repair business on Nuku Hiva. Yet even in the more remote places, it is often possible to find someone who can do welding or repair an outboard engine. Be warned though, prices are high in French Polynesia. A new boatyard opened on Apataki in the Tuamotus in 2015 and in Hiva Oa in the Marquesas in 2016 – both are reported to be reasonable.
Provisioning: Best in Tahiti (Carrefour) and adequate in the other Society Islands. Provisions in the Marquesas are adequate, though very expensive, and it's best to stock-up, particularly in fresh goods, when heading for the Tuamotos.
Fuel is available in the main settlements, although it is more difficult to find in the Tuamotus.
There are excellent postal services throughout the islands. At its 54 island branches, the post office (OPT) provides a wide range of services besides stamps: phone cards, parcel post, placing collect calls, international calling cards (ATT, France Telecom), sending & receiving money orders. See Communications section for more details.
Security
Overall Crime and Safety:
French Polynesia used to be one of the safest cruising grounds in the world, however in recent years the islands around Tahiti have suffered from social and economic problems and consequently, petty theft has been on the rise.
Unfortunately in the last few months there has been an increase in menacing and threatening behaviour towards yachts, due in part to anchoring restrictions that are being placed by authorities on many popular locations. In Raiatea, several yachts were menaced and in at least one instance attacked in the Miri Miri area. One catamaran had it's anchor line cut.
Read this latest report from the Association of Sailboats in Polynesia.
French Polynesia: Current Situation on Anchoring Restrictions from AVP

Specific Areas of Concern:
Cruisers' reports indicate that care should be taken at night to lock up dinghies, dinghy motors and other loose items on deck whilst at anchor in Moorea and Papeete and now Bora Bora, Vaitape. Papeete City Marina, in particular, has suffered a spate of thefts and break-ins over the last 2 seasons, which sadly are continuing. With the downturn in the islands hotel trade, it is thought there has been an upturn in non-violent crime, confirmed by the Gendarmerie.
In Raiatea at the Uturoa town centre public dock, there continues to be incidents of thefts from boats (both unlocked and locked). It is recommended not to overnight on this dock.
Latest Reported Incidents:
More security reports for the Islands can be found in Related Reports.

See user related comments concerning security in the islands and reports.
Last updated: February 2021
Weather
The islands have a tropical climate. November to April is warm and rainy, while May to October is cooler and drier, when the islands are under the influence of the SE trade winds. The cyclone season is November to March. Full cyclones rarely hit anywhere in French Polynesia.
Weather forecasts in French are available from Meteo France, BP 6005 – Faaa Tahiti Airport, 98702 Tahiti, Tel:(689) 36 65 08, Fax:(689) 80 33 09.
Meteo France Outre-mer (in French)
Weather forecasts for the next 24 hours are broadcast every day on VHF channel 13 (after hailing on 16) at 06:30, 12:00 and 16:00. Sometimes also at 20:00.
27 (Windward Islands) and 26 (Leeward Islands) at 1100, 1200, 2040, 2100 local Tahiti time.
Two useful guides to weather information are:
For links to free global weather information, forecast services and extreme weather information see the Noonsite Weather Page
Courtesy Flag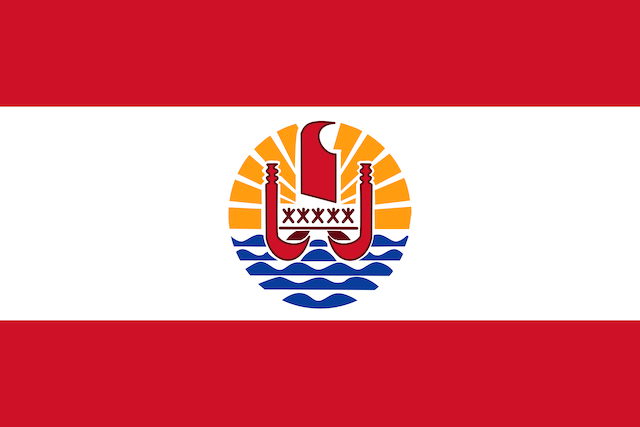 YachtFlags.com offers a discount to Noonsite members.
YachtFlags.com provides high quality courtesy flags that are manufactured in durable Knitted Polyester fabric. Knitted so that the fabric itself does not deteriorate in the constant movement that marine flags are usually exposed to, and polyester so that the flag does not weaken in the strong UV-light usually found in the main sailing areas of the world.
Use the coupon code NOONSITE_5A2B when checking out to get 10% off today.
Buy Now On YachtFlags.com
Places