Previous Page
Facts
COVID-19 coronavirus: New procedures are in place for arriving yachts – see Biosecurity for details.
Taiwan, officially called the Republic of China, is a large island straddling the Tropic of Cancer, about 193 kms (120 miles) off the Chinese mainland. Taiwan is a prosperous country, largely due to its exporting industry and it is also one of unspoilt natural beauty.
Known all over the world for its yacht-building industry, Taiwan was the first Asian country to mass produce fiberglass boats and its leading position is still unassailed in the Far East. Very few of those yachts return to Taiwan, although every year a number of owners come to take possession of their craft and sail them away. Unfortunately, this beautiful island is not geared up for cruising so these new owners have to savor other cruising grounds.
English is quite common, but a contact who can speak Chinese is a plus, especially when looking for parts, material, etc. People are very helpful and there's usually someone around who can speak English well enough.
Repairs can be arranged. But only slipways are usually available or crane. No travel-lift. Workers are usually working on fishing boats and are not accustomed to doing fine yachtie finish. Finer work could be arranged via yacht building yards, such as Tayana.
In most ports, berthing is at a fixed concrete quay (more suited to big ships) but there are floating docks at few places.
Taiwan is a useful place to experience Chinese culture without the heavy bureaucracy involved in visiting the mainland.
Weather
The climate is marine tropical climate. Temperatures from 10°C (winter, north of the island) to 36°C. Winters are from December to February. The summer is from May to September and also the rainy season. Typhoons are most frequent from June to September.
For links to free global weather information, forecast services and extreme weather information see the Noonsite Weather Page.
Typhoons
Typhoon2000.com (Philippines) with great graphical overview.
Japan Meteorological Agency (typically most accurate with their predictions).
Courtesy Flag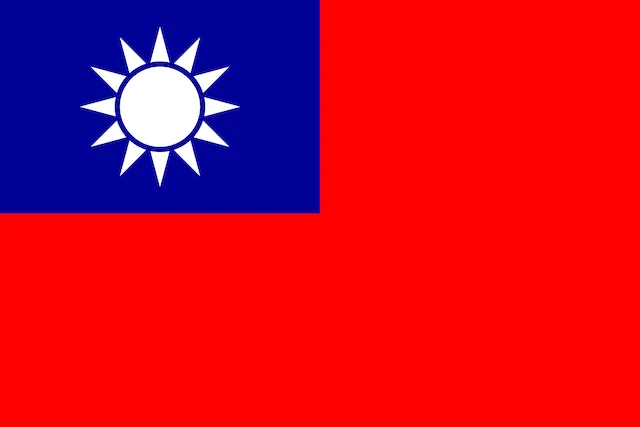 YachtFlags.com offers a discount to Noonsite members.
YachtFlags.com provides high quality courtesy flags that are manufactured in durable Knitted Polyester fabric. Knitted so that the fabric itself does not deteriorate in the constant movement that marine flags are usually exposed to, and polyester so that the flag does not weaken in the strong UV-light usually found in the main sailing areas of the world.
Use the coupon code NOONSITE_5A2B when checking out to get 10% off today.
Buy Now On YachtFlags.com
Places