Previous Page
Facts
Guyana is located in northern South America, bordering the North Atlantic Ocean, between Suriname and Venezuela.
The Guyana coast is characterised by shallow and muddy waters; low coastal plain; savannah in the south and mostly rolling highlands inland.
The population of 740,685 is concentrated in and around Georgetown, with other concentrations along the Berbice River to the east; the remainder of the country is sparsely populated.
Languages spoken include English (official), Guyanese Creole, Amerindian languages (including Caribbean and Arawak languages), Indian languages (including Caribbean Hindustani, a dialect of Hindi) and Chinese.
Currency is the Guyanese dollar. For specifics see General info.
The time zone in Guyana is (GMT-4). For specifics see General info.
It has a tropical climate; hot, humid, moderated by northeast trade winds with two rainy seasons (May to August & November to January). It is outside the hurricane belt, which makes it popular with a growing number of cruisers.
A river system through the interior takes you right into the heart of the Amazon rain forest.
Guyana uses the IALA-B (red right returning) buoyage system.
See Yachting Essentials for more.
Security
Overall Crime and Safety
Crime is moderately high in Guyana and visitors are encouraged to remain aware of their surroundings and not take risks. Criminals regularly use weapons including handguns, knives, machetes, or cutlasses. Armed robberies, including carjacking, occur regularly, especially in businesses and shopping districts or in Georgetown after dark.
Specific areas of concern:
Money changing:
Visitors are advised to change currency only at legitimate exchanges at hotels or airports. Visitors are strongly discouraged from exchanging currency on the street, as this is a dangerous practice.
Road safety:
Road conditions and road safety standards are below U.S. standards. Roads are rarely maintained, and street lighting is sporadic. Vehicle accidents are very common, and accidents involving pedestrians are also very common. Traffic enforcement is rare to non-existent.
The use of public transportation (mini-buses) by visitors unfamiliar with the country is discouraged. The use of reputable taxis (those offered through the major hotels and tourist agencies) is preferable, as they are usually safer, more reliable, and affordable.
Maritime Issues:
The Guyana-Venezuela border area has seen an increase in violent attacks, allegedly perpetrated by Venezuelan crime gangs against Guyanese fishermen. Local shipping has also been subject to piracy attacks.
Emergency Numbers:
Last updated: February 2019
Weather
Guyana is positioned close to the equator and has a tropical climate that's moderated due to sea breezes from the Atlantic Ocean. There are two main rainy seasons (May to August & November to January). However, heavy rains are possible at any time of year and flash flooding can occur. The coastal plain floods occasionally. There have also been isolated flooding on the east coast in each of the past several years.
From November to July the prevailing winds are E to NE. From August to October, the prevailing winds are E to SE. Wind strength is typically F3 to F5 (10-20kt).
The Guyana Current runs about 1.25 kt NW/W. Tidal currents occur at the river mouths all along this coast.
Meteo France Outre-mer (in French)
For links to free global weather information, forecast services and extreme weather information see the Noonsite Weather Page.
Courtesy Flag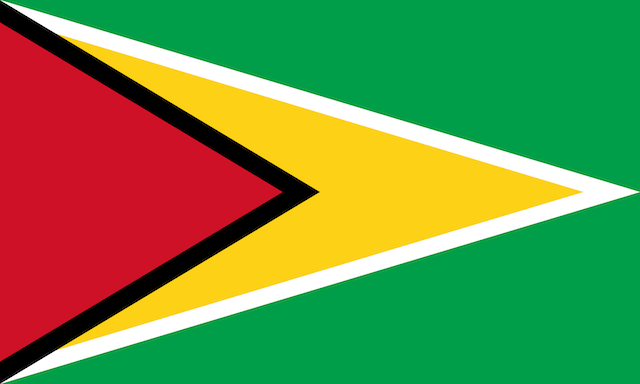 YachtFlags.com offers a discount to Noonsite members.
YachtFlags.com provides high quality courtesy flags that are manufactured in durable Knitted Polyester fabric. Knitted so that the fabric itself does not deteriorate in the constant movement that marine flags are usually exposed to, and polyester so that the flag does not weaken in the strong UV-light usually found in the main sailing areas of the world.
Use the coupon code NOONSITE_5A2B when checking out to get 10% off today.
Buy Now On YachtFlags.com
Places