Previous Page
Facts
Senegal is a country in West Africa and is bordered by Mauritania in the north, Mali to the east, Guinea to the southeast, and Guinea Bassau to the southwest. Senegal also borders The Gambia.
The total population of Senegal is about 16.5 million. It is very ethnically diverse with many languages spoken by its residents. Only a minority speak the official language, which is French. The predominant religion is Islam, practised by 94% of the population.
The currency is the West African Franc (CFA). For details see General Info.
Senegal operates on UTC throughout the year.
The climate in Senegal is tropical. For specifics see Weather.
Several rivers, some of which are navigable for some distance inland, flow into the sea. These rivers and the off-lying islands are Senegal's main cruising attraction. Cruisers report a pleasant experience.
The most interesting area is the Casamance, a labyrinth of creeks and islets south of the river Gambia, which is populated by millions of migratory birds during the dry season. Unfortunately however, latest reports (2018) are that the authorities are not at all welcoming and make cruising this part of the country complicated and expensive.
The best known and most visited country by cruising sailors in West Africa, Senegal was once the centre of French West Africa and Dakar was one of the most sophisticated African cities. The French influence is still pronounced and the mixture of the two cultures has produced some interesting results in music, painting and cuisine.
Security
It is advisable to consult a website such as the UK FCO before visiting here.
Overall Crime and Safety
Street crime is very common, particularly in urban areas, and are mostly crimes of opportunity; backpack/purse snatching and theft from vehicles, Aggressive vendors, panhandlers, and street children often attempt to divert victims' attention while an accomplice steals valuables. It is advisable not to accept items offered to them by anyone on the street unless planning to buy it. This is a favourite ploy of street criminals.
Specific Areas of Concern
The Casamance region of south-western Senegal (between the southern border of Gambia and the northern border of Guinea-Bissau) remains affected by incidents involving armed separatist groups and banditry, particularly in the regions of Bignona and Sindian. These incidents are largely focused against Senegalese security forces and not toward visitors.
Dakar. Pick pocketing and street crime (including in taxis), occasionally involving violence, are common in parts of Dakar, particularly around Place de l'Independence, the central area of the Plateau, the Western Corniche, and the airport. You should take sensible precautions, avoid walking alone in the late afternoon and after dark and avoid carrying valuables in public.
Scam Artists. Visitors are increasingly being targeted by scam artists operating in West Africa. The scams come in many forms (romance and friendship, business ventures, work and employment opportunities) and can pose great financial risk to victims. You should be cautious about requests for funds, a job offer, a business venture or a face to face meeting from someone you have been in correspondence with over the internet who lives in West Africa, including from people who claim to be victims of various Western African conflicts (notably refugees from Sierra Leone) or relatives of present or former political leaders.
Road Safety. Take extra care while driving in Senegal. The quality of some of the roads may be unpredictable due to landslides or flooding during the rainy seasons (June – September). If there have been recent strong rains, take extra precautions while driving, especially at night.
Maritime Issues
Cruisers taking the normal precautions (nothing of value in sight, only small amounts of money in the pocket, establishing contact with locals and shops near the anchorage, buying from locals etc.) report feeling very safe here, both at anchor and on land.
Migrant Boats. There has been a sharp rise in the number of migrants arriving in the Canary Islands with the Atlantic route from West Africa to the Canary Islands being increasingly used by smugglers who launch boats from Morocco, Western Sahara, Mauritania, Senegal and even the Gambia.
Up to the end of November 2021, more than 18,000 people had reached the Canary Islands this way. See this report for more details and what do do if you encounter a migrant boat.
Emergency Numbers
See General Info for more details.
Weather
The climate is tropical with a rainy season between July and September. The winter months, from November to March, have more pleasant weather. The prevailing winds are northerly, although occasionally from December to May a dust-laden harmattan blows from across the desert. Drought is sometimes a problem north of the Gambia river.
For links to free global weather information, forecast services and extreme weather information see the Noonsite Weather Page.
Courtesy Flag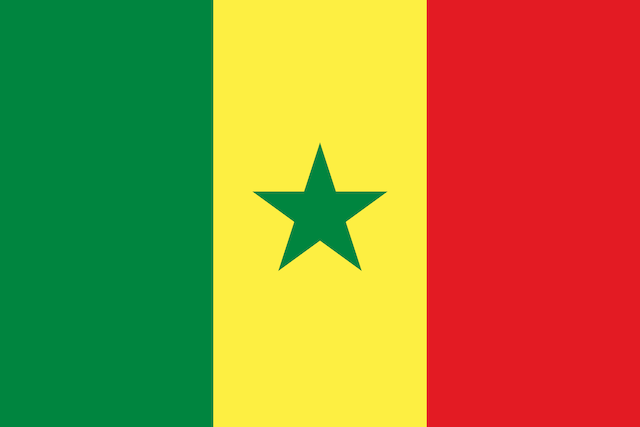 YachtFlags.com offers a discount to Noonsite members.
YachtFlags.com provides high quality courtesy flags that are manufactured in durable Knitted Polyester fabric. Knitted so that the fabric itself does not deteriorate in the constant movement that marine flags are usually exposed to, and polyester so that the flag does not weaken in the strong UV-light usually found in the main sailing areas of the world.
Use the coupon code NOONSITE_5A2B when checking out to get 10% off today.
Buy Now On YachtFlags.com
Places