Previous Page
Facts
COVID-19: Entry protocols for yachts have been affected by the pandemic. See the biosecurity section for details.
The Virgin Islands are an archipelago comprising hundreds of small islands and cays. The eastern half is a British dependency, while the western part is US territory.
The largest British islands are Tortola, Virgin Gorda, Jost van Dyke, and Anegada, the latter being slightly set apart, while the former are grouped together around the Sir Francis Drake channel.
Known for its reef-lined beaches beautiful bays, coves and anchorages, the BVI has become a popular bareboat charter center. For this reason, they are often less attractive to long-distance cruising sailors.
The islands are located to the east of Puerto Rico are in the Leeward Islands of the Lesser Antilles.
The official currency is the United States dollar (USD), the currency also used by the United States Virgin Islands. For specifics see General Info.
Time zone is (GMT-4). For specifics see General Info.
The climate is tropical rainforest, influenced by the trade winds. From December to March the daily average temperature is around 24/25 °C (75/77 °F), it is hotter and more humid during hurricane season; from May to October. See Weather below for more detail.
Hurricane Irma, the most powerful Atlantic hurricane in recorded history, hit the BVI in early September 2017. The storm had a sustained wind speed of at least 185mph.
The island uses the IALA-B (red right returning) buoyage system.
Security
Overall Crime and Safety
You should avoid walking alone in isolated areas including beaches, particularly after dark. Although most visits to the BVI are trouble-free, serious incidents, including robbery, do occur.
Specific areas of concern:
Post Hurricane Irma:
Infrastructure in the BVI was badly damaged in the September 2017 hurricane, but the islands are steadily rebuilding and there are no reasons to avoid them.
Road Travel:
Most roads are passable but work is ongoing in the wake of Hurricane Irma. Great care should be taken when driving, particularly on the mountain roads. Do not attempt the most rural roads at night, as cellphone service is spotty and breakdowns or robberies can occur.
Maritime Issues:
Dinghy and outboard thefts continue to be a problem. Be sure to lift and chain and lock your dinghy and outboard at night.
The Caribbean Safety and Security Net provide information by anchorage or by the island. If you experience a boarding, robbery or attack on your yacht or have information about a yachting-related security incident, go to the CSSN homepage and click on the "Report an Incident" icon.
Reported Incidents:
BVI General 2019: Increased dinghy thefts. See report.
Cane Garden Bay, Tortola 2016: Kayak stolen.
Maya Cove Hodges Creek Marina, 2014: Armed robbery.
General Emergency Numbers: For details see General Info.
Be sure to check related security reports for the BVIs.
Last updated: December 2019
Weather
The BVI has a tropical marine climate; hot throughout the year but moderated by the trade winds. December to March the daily average temperature is around 24/25 °C (75/77 °F). June to November is the rainy season, daily averages are around 28 °C (82 °F). Apart from hurricanes, which can bring strong winds and torrential rains, rainy season usually consists of brief showers and intense thunderstorms. Water temps are 26 °C (79 °F) from January to April, and 29 °C (84 °F) in September and October.
The Caribbean's first walk-in weather center, CARIBWX, is based in Road Town. Customized weather forecasts, a daily Caribbean SSB weather net, and also daily email marine forecasts are among the many services they can offer.
Tel. 494 7559
E-mail: [email protected]
Website: www.caribwx.com
ZBVI Radio
Marine forecast 08:05 (Mon-Sat), 09:45 (Sun) & updates every hour on the half hour.
Antigua and Barbuda Meteorological Office providing public weather forecasts for Antigua & Barbuda, the Leeward Islands, and the BVIs.
Caribbean Hurricane Watch website
See the Caribbean National, Regional and Island Weather Websites report for more.
For links to free global weather information, forecast services and extreme weather information see the Noonsite Weather Page.
Courtesy Flag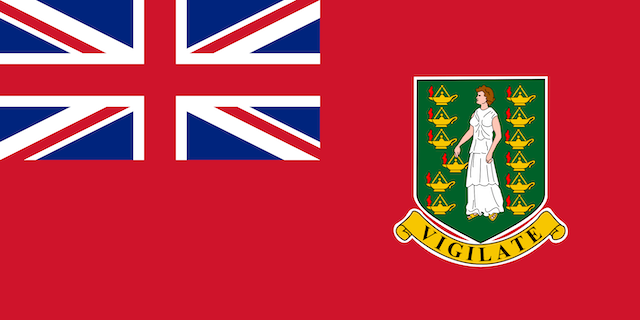 YachtFlags.com offers a discount to Noonsite members.
YachtFlags.com provides high quality courtesy flags that are manufactured in durable Knitted Polyester fabric. Knitted so that the fabric itself does not deteriorate in the constant movement that marine flags are usually exposed to, and polyester so that the flag does not weaken in the strong UV-light usually found in the main sailing areas of the world.
Use the coupon code NOONSITE_5A2B when checking out to get 10% off today.
Buy Now On YachtFlags.com
Places