Previous Page
Facts
COVID-19: Entry protocols for yachts have been affected by the pandemic. See the Biosecurity section for details.
Trinidad & Tobago is a republic within the British Commonwealth and its wealth derives from oil, petrochemicals and natural gas, as well as tourism. Its rich culture and many festivals reflect the ethnic diversity of the population.
These islands are a useful base for yachts since most insurance companies now require boats to spend the hurricane season south of latitude 12°40'N, (i.e. Grenada, Trinidad & Tobago and Venezuela). Although hurricanes have hit these countries very rarely, they are still subject to strong tropical disturbances during the period June to November.
Tobago is the quieter island and the one for cruising, although there are some excellent facilities for yachts here also.
Cruisers come to Trinidad for hurricane storage and service facilities with its enormous concentration of yards and people to work on boats. Yachting facilities are now among the best in the Eastern Caribbean, and Chaguaramas is where the majority of marine services and boatyards are concentrated. As with anywhere else in the world, a written estimate should be agreed upon before committing to any major repair work.
Docking facilities have improved with the opening of a number of new marinas. Excellent sources of information are Doyle's Guide and the Free Cruising Guides.
The Trinidad Carnival, held in the middle of February, is one of the best in the world. If wishing to visit then, the advance booking may be necessary to obtain a berth.
For information on supplies, see the General Info/Yachting Essentials section.
Security
Yacht Security: Trinidad & Tobago Waters
In response to a number of incidents where yachts have been boarded and robbed on passage between Grenada and Trinidad, there is now a formalized convoy process which any yachts planning this passage can take part in. Set up by Jesse James and supported by YSATT, the Trinidad and Tobago Coastguard, and North Post Radio, this is a fun and safe way to get to and from Trinidad. Find out full details at this report.
All yachts transiting these waters should submit a float plan to the Trinidad & Tobago Coastguard. See this report for details on how to do this. Even if taking part in a convoy, a float plan should still be submitted.
Reported Incidents:
April 2019: Trinidad Hibiscus Oil Platform: Pirates fire shots at sailboat.
January 2019: Noonsite has been advised, that for the present it is advisable for cruisers to avoid the SW coast of Trinidad. There are no concerns about the north coast which has been reported as perfectly safe. When more information is available a report will be posted here.
September 2018: During September there were 9 incidents reported in Trinidad, all occurring in the TTSA mooring field/anchorage. TTSA, YSATT, and TTCG are working together to increase and improve patrols, and to streamline communications in the case of any further activity. Other marinas in the area have been informed and have taken appropriate measures.
March 2018: Boat on night transit from Trinidad to Grenada, 6nm South of the Hibiscus gas platform, was pursued by a suspicious vessel.
August 2016: Boat on passage from Grenada to Trinidad approached by a pirogue with 3 men who acted in an aggressive manner. See this report from CSSN.
July 2016: A similar incident as above occurred once more.
December 2015: Two yachts, on separate occasions, were boarded and robbed on passage from Grenada to Trinidad.
Dinghy and outboard thefts continue to be reported and this is a common problem in the Caribbean and many other parts of the world. Be prepared and lock up all your valuables, including hoisting and securing to the boat your outboard and dinghy at all times, but especially at night.
Other Security Issues
During hurricane season, up to 1000 yachts base themselves in Chaguaramas and a few years ago Trinidad did have a serious problem with dinghy and outboard thefts. However, a concerted effort by the cruising and business communities joining forces with the police and marine authorities has improved the situation considerably and shows what can happen when the authorities do not ignore what is happening in the cruising community.
New security patrols have been put in place locally, but petty theft still does occur. Sensible preventive measures should be taken at all times by skippers and crew. Dinghy thieves operate throughout the Caribbean and the best advice is to place your dinghy on deck and chain it overnight.
On both Trinidad and Tobago, sensible preventive measures should be taken by skippers and crew ashore as well as on board. Don't walk around any time of the day or night with expensive jewelry, flashing money or on your own with expensive kit (such as fishing rods, surfboards, cameras, etc.).
There always seems to be a rise in crime (in general) over the carnival season (February).
The Caribbean Safety and Security Net ([email protected]) provides information by anchorage or by island, so sailors can plan their cruising in the Caribbean with an eye to appropriate behavior and precautions wherever they decide to go. Should you have suffered a boarding, robbery or attack on your yacht or have information about a yachting-related security incident, go to the CSSN homepage and click on the "Report an Incident" icon. The associated form is quick and simple to complete and ensures that all the necessary details are reported. The CSSN is the most comprehensive source of Caribbean security incidents against sailors. Remember, it is every cruiser's responsibility to ensure that incidents are reported. Also, cruisers can subscribe to e-mail alerts, follow on facebook and twitter and listen to the SSB Voice Service.
Be sure to check related security reports for Trinidad and Tobago.
Last updated: June 2019
Weather
The equatorial climate within the trade wind belt. Rainy season June to November. Almost out of the hurricane zone.
For links to free global weather information, forecast services and extreme weather information see the Noonsite Weather Page.
Courtesy Flag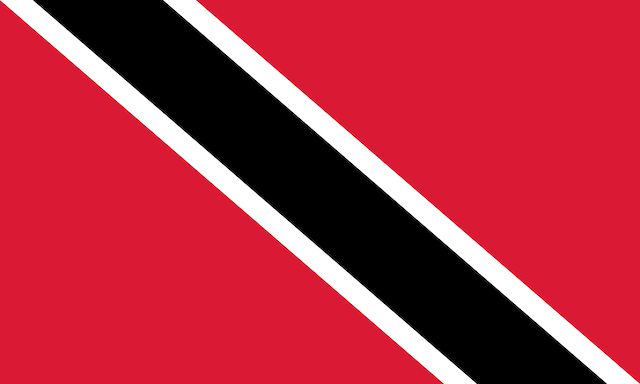 YachtFlags.com offers a discount to Noonsite members.
YachtFlags.com provides high quality courtesy flags that are manufactured in durable Knitted Polyester fabric. Knitted so that the fabric itself does not deteriorate in the constant movement that marine flags are usually exposed to, and polyester so that the flag does not weaken in the strong UV-light usually found in the main sailing areas of the world.
Use the coupon code NOONSITE_5A2B when checking out to get 10% off today.
Buy Now On YachtFlags.com
Places