Previous Page
Facts
COVID-19: Entry protocols for yachts have been affected by the pandemic. See the Biosecurity section for details.
Malta is a small archipelago in the middle of the Mediterranean between Sicily and the North African coast. As well as being a very popular tourist destination it is a useful place to pass a mild Mediterranean winter.
The Republic of Malta consists of three islands, the largest, Malta, being the economic and administrative centre and most heavily populated. Gozo is smaller and picturesque while Comino is a very small island between the other two.
The population is about 460,000.
Both Maltese and English are official languages and both are widely spoken.
The country operates on Central European Time UTC +1. For specifics see General Info.
Malta has a subtropical Mediterranean climate with hot summers and mild winters. See Weather below for more details.
Malta's position, almost in the centre of the Mediterranean, makes it an ideal jumping-off point for many other cruising grounds and an increasing number of European yachts make their base on the island. Besides the impressive Valletta harbour, there are many delightful anchorages around the islands.
Malta has long been an important yachting centre because of its convenient location, excellent harbours and good range of repair facilities. Its mild and pleasant winters make it a perfect wintering spot and a good place to refit a yacht between seasons. However, there is a severe shortage of berths available for visitors and long-term planning is required if wishing to spend time there. For more details on yachting services see Yachting Essentials.

Security
Overall Crime and Safety:
Street crime is rare, but you should take sensible precautions to safeguard your passport and valuables.
For travel advisories see the following websites:
Maritime Issues:
Although the measures taken by the authorities in Libya and Italy have greatly reduced the number of migrants crossing the eastern Mediterranean there is still a possibility of sighting a boat carrying migrants. Full details on the Mediterranean Migrant Crisis can be found at this Noonsite Report.
The usual safety and security precautions should be taken to protect equipment and dinghies and prevent access to the boat when absent.
General Emergency Numbers:
For more details see General Info.
Last updated: April 2019
Weather
The climate is similar to North Africa, with extremely hot, dry summers and mild winters. Prevailing winds throughout the year are northwesterly. When the hot sirocco wind blows from the south, it comes laden with dust.
Weather forecasts are broadcast daily by Valletta Harbour Control on VHF Ch. 12 in Summer : 09:03, 13:03, 19:03 and 00:03 local time, and winter 08:03, 12:03, 18:03 and 23:03.
Malta Radio broadcasts the same information on VHF ch. 04 1 hour earlier.
Malta weather www.maltaweather.com or tel +356 50043344
Malta weather www.maltairport.com (very reliable)
For links to free global weather information, forecast services and extreme weather information see the Noonsite Weather Page.
Courtesy Flag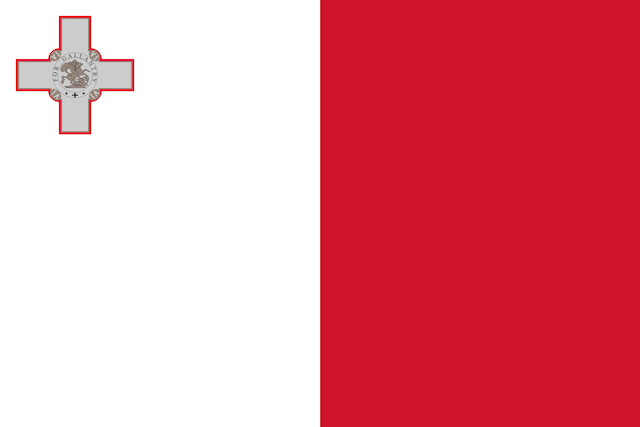 YachtFlags.com offers a discount to Noonsite members.
YachtFlags.com provides high quality courtesy flags that are manufactured in durable Knitted Polyester fabric. Knitted so that the fabric itself does not deteriorate in the constant movement that marine flags are usually exposed to, and polyester so that the flag does not weaken in the strong UV-light usually found in the main sailing areas of the world.
Use the coupon code NOONSITE_5A2B when checking out to get 10% off today.
Buy Now On YachtFlags.com
Places