Previous Page
Facts
COVID-19: Entry protocols for yachts have been affected by the pandemic. See the Biosecurity section for details.
The most attractive natural cruising areas of Spain are situated at its extremes, the north-west Atlantic coast and the Balearics – these islands being one of the Mediterranean's prime yachting centres.
Slowly but surely, however, anchoring in the Balearics is becoming more difficult, with the protection of seagrass prohibiting anchoring in most places and the expansion of mooring fields.
In the last decade, Spain's Mediterranean coast and islands have seen tremendous development in yachting facilities with new marinas being built everywhere, so that one is never more than a few hours' sails away from the next harbour.
Good repair facilities can now be found in the majority of Spanish ports, with the most comprehensive, but almost most expensive, being in the prime yachting centres (such as Palma de Mallorca).
Facilities are also good in Barcelona and the surrounding area, where berthing and boatyard charges are surprisingly economical.
The holding of America's Cup in Valencia and the Volvo Ocean Race in Alicante have meant both these ports now have greatly improved yachting facilities.
Cruising the Atlantic coast of Spain can be much more rewarding as nature has rewarded this coastline with an abundance of natural harbours and inlets.
Facilities in Atlantic Spain tend to be more basic, with boatyards catering to both yachts and commercial boats. On the Atlantic coast, there are good facilities at the new Puerto Sherry near Cadiz. On the North West coast, the best range is to be found at La Coruña, where the yacht club can be particularly helpful, and in Vigo.
There are chandleries with a good selection in the main sailing centres, but in smaller ports and marinas the availability of spares is limited.
Most Spanish yacht clubs are exclusive social clubs, where visitors are not particularly welcome. Those which have docking facilities operate on a commercial basis charging visitors marina fees. Dress etiquette is strict and a sloppy appearance is frowned upon.
If heading into Portugal from Spain, be sure to top up your tanks before departure as diesel is cheaper in Spain than in Portugal. Note also that diesel is even cheaper in Gibraltar, and cheaper still in Morocco.
Security
Overall Crime and Safety:
Thousands of tourists visit Spain every year and most visits are trouble-free. In fact Spain probably has one of the lowest crime rates in Europe.
See https://www.gov.uk/foreign-travel-advice/spain for up to date Foreign Office advice.
Specific areas of concern:
The highest incidence of street crime occurs during local holiday periods (late November through early January, Easter/Semana Santa, and August) and the busy summer tourist season. There are well-organized pick-pocketing gangs who travel throughout Europe following the peak tourist season and major events where large groups of unsuspecting visitors will be present.
Credit-card skimming and cloning are a concern for travelers in Spain. Be wary of skimming devices placed on ATMs, take actions to protect card PINs, and closely monitor bank statements for anomalies.
Maritime Issues:
ORCA Interactions: Since 2020 orcas have been interacting with yachts under 15m off the coast of Gibraltar, SW Spain, NW Spain and even Brittany, France. On 30 September, 2021, orcas returned to Galicia. A double-handed British yacht suffered rudder damage off A Guarda, at the mouth of the River Minho, and had to be towed to Cangas in the Ria de Vigo for repairs. Follow the links below to find out more information:
The waters off Cadiz, in the SW of Spain on the Atlantic coast, is a hotspot for international drug smuggling and migrant smuggling (bringing migrants from Africa to the Spanish south coast). Bear this in mind if en-route to or from Gibraltar. In September 2020 a German boat reported being pursued by 2 fast RIBs with masked men on board (see link below). It is recommended to keep close to shore if transiting the Gulf of Cadiz.
Some incidents of petty or opportunistic theft, but very few serious crimes against yachts have ever been reported.
Latest Reported Incidents:
See more security reports at Related Reports.
General Emergency Numbers:
For more detail see General Info.
Weather
The climate varies greatly from the Atlantic north coast, which is wet and cool, to the Mediterranean south and east, where summers are very hot and winters mild.
The winds are just as varied, the north coast coming under the influence of Atlantic weather systems, with south-westerly to north-westerly winds predominating in winter and northerly winds in summer, although land and sea breezes can be experienced inshore. This is also the case along the south-western coast during summer, while the rest of the year, winds are either easterly or westerly.
Alternating sea and land breezes are also characteristic of the Mediterranean coast of Spain. Winds in the main blow from the west, northwest, north and east but are influenced greatly by local topography.
The northeastern coast (north of Barcelona) and the Balearics are occasionally affected in the summer by the Tramontana (Mistral), a strong, dry N or NW wind (cold in winter) which blows from southern France. The danger with this wind is that it can arrive with little warning on a calm sunny day and reach gale force in just 15 minutes. It normally blows for at least 3 days but can last up to a week or longer and is much more frequent in the winter months.
The Balearics also experience an atmospheric pressure phenomena during the summer months called a Rissaga or meteotsunami. Whilst not a regular occurrence, it is very difficult to predict and can (if extreme) cause chaos. During a Rissaga, the sea level can increase and decrease dramatically in a matter of minutes. They are "atmospherically generated waves that amplify as they shoal and then resonate in bays and harbours" and can cause flooding and damage to vessels in port and at anchor.
Other Mediterranean winds that affect Spain are the Vendaval (a strong SW to W wind that blows late Autumn to early Spring through the Straits of Gibraltar and along the south coast), the Levante (from Gib to Valencia) and the Sirocco (a hot wind blowing off the N African coast bringing haze, cloud and red/brown dust, common in Summer).
Weather Information
Broadcast by:- Radio Nacional de Espana at 1000 and 1300 LT via – La Coruna 639kHz, Seville 684kHz Sociedad Espana de Radio – a programme containing information for commercial fishing operations, plus weather forecasts and sea conditions, is broadcast between 0600 and 0700 LT and again in condensed format 2205 from La Coruna 1080kHz, Vigo 1026kHz, Huelva 100.5MHz, Cadiz 1485kHz, Seville 792kHz
Spanish weather forecasts:
Spanish Met Office: http://www.aemet.es/en/portada
Galicia Weather: http://www.meteogalicia.es/
For links to free global weather information, forecast services and extreme weather information see the Noonsite Weather Page.
Courtesy Flag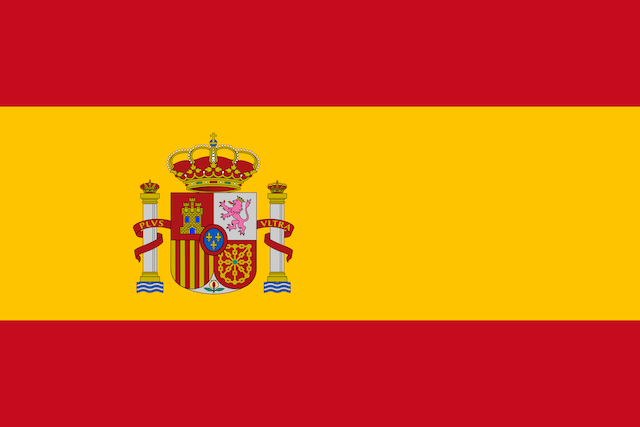 YachtFlags.com offers a discount to Noonsite members.
YachtFlags.com provides high quality courtesy flags that are manufactured in durable Knitted Polyester fabric. Knitted so that the fabric itself does not deteriorate in the constant movement that marine flags are usually exposed to, and polyester so that the flag does not weaken in the strong UV-light usually found in the main sailing areas of the world.
Use the coupon code NOONSITE_5A2B when checking out to get 10% off today.
Buy Now On YachtFlags.com
Places