Previous Page
Facts
COVID-19 coronavirus: See regulations at Biosecurity.
Important pre-arrival information: St. Helena Harbor Master requests an Advance Notice of Arrival. See Formalities for all the details.
The island of St. Helena lies halfway between Africa and South America. It is part of a British Overseas Territory, (nowadays called St Helena, Ascension and Tristan da Cunha), under the sovereignty of the British Crown.
St. Helena is Britain's second-oldest overseas territory after Bermuda and is one of the most remote islands in the world. It was discovered by the Portuguese in 1502 and became an important stopover for ships sailing to Europe from Asia and South Africa.
Napoleon was imprisoned in exile on St. Helena in 1815 where he died.
The Island is named after Saint Helena of Constantinople.
Populated mainly by descendants of British settlers and slaves from Africa, India and Madagascar, who came to the Island in the 1600's, the Island has a population of just over 4,800 inhabitants. English is the spoken language, but with a strong local dialect.
The time zone is UTC all year-round.
Local currency is the St Helenian pound (£). See Money for more details.
The climate is temperate, with moderate rainfall and high humidity. The wind is strong most days, and gales are frequent all year round.
Today, St. Helena's popularity as a port of call for passenger liners has now been taken over by sailing yachts, a large number of which stop there every year. A warm welcome awaits the visiting sailor ashore in Jamestown, the island's main settlement.
St. Helena has only one harbor suitable for yachts. It is called James Bay and benefits from a field of mooring buoys. Rupert's Bay, lying 1km NE of the moorings, is not available to yachts as the pier there is for cargo.
Most of the coast is towering rocky cliffs backed by lush green slopes climbing up to the highest spot on the island, Diana's Peak, at 823 metres.
There are weekly flights to and from Johannesburg and monthly flights to and from Ascension Island.
Short-term haulouts in emergencies can be arranged. There is a breadth of marine systems knowledge among the many local boat owners and experienced mechanics on the island, so usually any emergency repairs can be fixed without too much delay. See Yachting Essentials for more information.
Courtesy Flag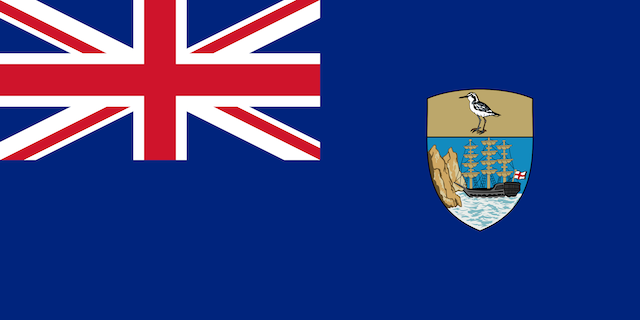 YachtFlags.com offers a discount to Noonsite members.
YachtFlags.com provides high quality courtesy flags that are manufactured in durable Knitted Polyester fabric. Knitted so that the fabric itself does not deteriorate in the constant movement that marine flags are usually exposed to, and polyester so that the flag does not weaken in the strong UV-light usually found in the main sailing areas of the world.
Use the coupon code NOONSITE_5A2B when checking out to get 10% off today.
Buy Now On YachtFlags.com
Places