Previous Page
Facts
COVID-19: Entry protocols for yachts have been affected by the pandemic. See the Biosecurity section for details.
Important pre-arrival information: With the current measles outbreak in the Pacific Islands all incoming travelers must show evidence of measles vaccination 14 days prior to arrival date. See Health for more details.
The two neighbouring Samoas are very different from each other, American Samoa being a US Territory, while Western Samoa is an independent state. American Samoa comprises all the Samoan islands east of the 171° parallel, that is the main island of Tutuila, as well as Aunuu, the Manua Group, Rose Island, and Swains Island.
This US outpost in the South Seas attracts most cruising boats because of the availability of US goods, excellent provisioning and good communications.
It is Pago Pago which attracts most cruising sailors, either to reprovision in its well-stocked supermarkets or to spend the cyclone season in this scenically beautiful and well-protected harbour. Unfortunately, the local fish cannery is a major presence in the harbour.
Repair facilities and services for yachts in Pago Pago are quite limited. Until there is a marked improvement in yachting facilities, Pago Pago is best regarded as a convenient reprovisioning stop and nothing more.
Cruisers report that Pago Pago is populated by warm, friendly people who are hard working, devout family-centred people.
Security
The Samoans have embraced the American way of life wholeheartedly, which has led to a high standard of living compared to their neighbours, but also to increased crime, especially in the capital Pago Pago. This does not however tend to affect the cruising community.
The Caribbean Safety and Security Net ([email protected]) gather information by anchorage or by island, so sailors can plan their cruising in the Caribbean with an eye to appropriate behaviour and precautions wherever they decide to go. Please forward details of this incident to them, as theirs is the most comprehensive source of Caribbean security incidents against sailors on the net. Please be sure to include boat name, date of incident and anchorage/port where the incident took place.
Weather
There is very heavy rainfall all year, especially from December to April, which is the cyclone season. The average temperatures are 24-31°C (75-87°F). May to November are the trade wind months and are less humid.
NOAA agency that covers weather forecasts and severe weather warnings for the USA, Puerto Rico, US Virgin Islands, Guam and American Samoa.
A useful guide to South Pacific weather resources compiled by a Noonsite contributor, Rory Garland.
For more links to free global weather information, forecast services and extreme weather information see the Noonsite Weather Page.
Courtesy Flag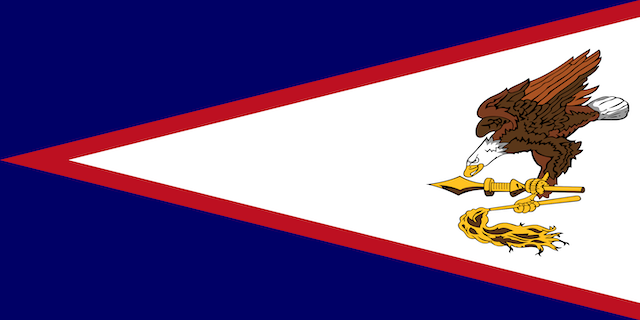 YachtFlags.com offers a discount to Noonsite members.
YachtFlags.com provides high quality courtesy flags that are manufactured in durable Knitted Polyester fabric. Knitted so that the fabric itself does not deteriorate in the constant movement that marine flags are usually exposed to, and polyester so that the flag does not weaken in the strong UV-light usually found in the main sailing areas of the world.
Use the coupon code NOONSITE_5A2B when checking out to get 10% off today.
Buy Now On YachtFlags.com
Places