Previous Page
Facts
COVID-19: Entry protocols for yachts have been affected by the pandemic. See the Biosecurity section for details.
Aruba together with Bonaire and Curacao form the ABC islands. They are the three western-most islands of the Leeward Antilles in the Caribbean and Aruba is the westernmost of the ABCs.
Lying just 18 miles off the coast of Venezuela, the island is 20 miles at its longest and 6 miles at its widest. The southern, leeward side of the island has long stretches of white sand beaches, while the northern coast has a more rugged and dramatic landscape.
Aruba is a flat island, exposed to the ocean currents with a barrier reef along the south coast providing protected lagoons.
In contrast Curaçao has bays with relatively narrow entrances offering protected waters inside, and Bonaire can only offer shelter in the marinas.
Aruba is an autonomous member of the Kingdom of the Netherlands. The island has the same status as the Netherlands Antilles.
The population is 106,053, with 30,000 living in the capital of Oranjestad.
The official language is Dutch, but English and Spanish as well as a local dialect called Papiamento are spoken.
The official local currency is the Aruban Florin. See General Info for more.
The timezone is Atlantic Standard Time (UTC-4). See General Info for more.
The island is a convenient last stop for yachts heading for Panama however Bonaire and Curaçao tend to be more popular stops with cruisers.
The new Renaissance Marina (now called Wind Creek Marina) in Oranjestad has improved the previously poor yachting facilities.
Aruba is outside the hurricane belt. See Weather section.
See Yachting Essentials for more information.
Excellent free resource at https://www.aruba-cruisingguide.com/

Security
Overall Crime and Safety
Aruba is one of the safest islands in the Caribbean, with low rates of petty and violent crime. Typical precautions are still valid: be aware of your valuables etc.
Maritime Issues:
Due to Aruba's proximity to Venezuela, vessels are encouraged to remain current in regards to the region's political situation.
Cruisers should take basic safety precautions and use common sense when leaving the boat or going ashore at night.
Dinghy and outboard thieves operate throughout the Caribbean. Best advice is to place your dinghy and outboard on deck and properly secure them overnight.
If leaving your boat for a period of time be sure to secure all items of value below decks and revisit the locking/security system on hatches and doors.
If departing the ABCs for Brazil, take care off Venezuela. See Venezuela security for details.
Reported Incidents:
Be sure to check related security reports for Aruba.
The Caribbean Safety and Security Net provides information by anchorage or by island. If you experience a boarding, robbery or attack on your yacht or have information about a yachting-related security incident, go to the CSSN homepage and click on the "Report an Incident" icon. Also be sure to check the noonsite Piracy & Security Pages.
General Emergency Numbers: For more detail see General Info.
Weather
Aruba is outside the hurricane belt and has a sunny climate all year. The average temperature is about 27° C ( mid 80s F). The trade winds blow constantly from the east, picking up in the spring months. The rainy season is October to February and is marked by short, occasional showers, usually at night. Sometime a tropical storm elsewhere in the Caribbean can cause cloudy weather for a day or two.
Departamento Meteorologico Aruba
See the Caribbean National, Regional and Island Weather Websites report for more.
For links to free global weather information, forecast services and extreme weather information see the Noonsite Weather Page.
Courtesy Flag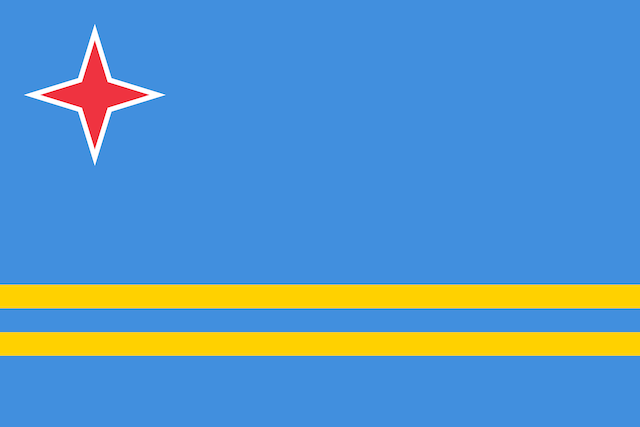 YachtFlags.com offers a discount to Noonsite members.
YachtFlags.com provides high quality courtesy flags that are manufactured in durable Knitted Polyester fabric. Knitted so that the fabric itself does not deteriorate in the constant movement that marine flags are usually exposed to, and polyester so that the flag does not weaken in the strong UV-light usually found in the main sailing areas of the world.
Use the coupon code NOONSITE_5A2B when checking out to get 10% off today.
Buy Now On YachtFlags.com
Places