Previous Page
Facts
COVID-19: Entry protocols for yachts have been affected by the pandemic. See the Biosecurity section for details.
The three Cayman Islands, Grand Cayman, Cayman Brac and Little Cayman, are located in the western Caribbean about 150 miles south of Cuba.
The islands are small and low lying. The total size of the three islands that comprise Grand Cayman is 100 square miles, which is about 1.5 times the size of Washington, D.C.
The geography is mostly a rocky limestone base surrounded by coral reefs.
This is a popular cruise ship port and the diving is world renowned.
The Caymans are a British Overseas Territory and the official language is English, often with a Caymanian dialect. Jamaican patois is also spoken.
The population is about 64,420 of which approximately 36,154 are Caymanian.
The official currency is the Cayman Islands dollar KYD. For specifics see General Info.

Time zone is (UTC-5). For specifics see General Info.
The Islands have a wet season from May to October and a dry season that runs from November to April. See Weather below for more detail.
Besides earthquakes, another major natural hazard is the tropical cyclones that form during the Atlantic hurricane season from July to November.
The island uses the IALA-B (red right returning) buoyage system.
Cars drive on the left side of the street, the same as in the United Kingdom.
Marine supplies and provisions can be obtained here, at a price, and there is a boatyard suitable for yachts. See Yachting Essentials for more details.
Security
Overall Crime and Safety
Opportunistic petty crime such as pickpocketing and purse snatching occasionally occurs. Ensure that your personal belongings, including your passport and other travel documents, are secure at all times.
For travel advisories, see the following websites:
Specific areas of concern:
Road Travel:
Beware of fake taxis. Road conditions may be poor.
Women's safety:
Incidents of sexual assault occur and women report being subject to harassment and verbal abuse. Be aware that snacks, beverages, gum or cigarettes given to you by new acquaintances may contain drugs that could put you at risk of sexual assault and robbery.
Maritime Issues:
Locked dinghy and outboard thefts are a problem throughout the Caribbean. Be sure to lift and chain and lock your dinghy and outboard at night.
The Caribbean Safety and Security Net provide information by anchorage or by the island. If you experience a boarding, robbery or attack on your yacht or have information about a yachting-related security incident, go to the CSSN homepage and click on the "Report an Incident" icon.
Reported Incidents:
George Town, December 2017: Theft of dinghy/outboard
Emergency Numbers:
Be sure to check related security reports for the Cayman Islands.
Last updated:  February 2019
Weather
The islands are cooled by the prevailing north east trades, so the mean winter temperature is 75°F (24°C) and in the summer 79-84°F (26-29°C). The winter northerlies make most anchorages untenable when shelter must be sought either off the south coast or inside North Sound. The hurricane season is June to November
Weather for the Cayman Islands.
See the Caribbean National, Regional and Island Weather Websites report for more.
For links to free global weather information, forecast services and extreme weather information see the Noonsite Weather Page
Related Businesses
Caribbean NW Net

NW Caribbean SSB net will start on Thursday 3rd February 2022 on 6209Mhz starting at 08:30 Belize and Honduras time, 14:30 GMT, which does not... Read More
Courtesy Flag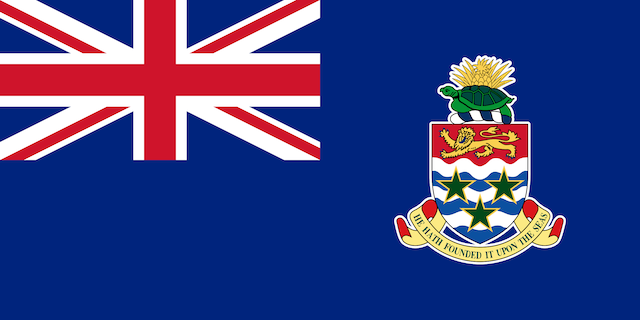 YachtFlags.com offers a discount to Noonsite members.
YachtFlags.com provides high quality courtesy flags that are manufactured in durable Knitted Polyester fabric. Knitted so that the fabric itself does not deteriorate in the constant movement that marine flags are usually exposed to, and polyester so that the flag does not weaken in the strong UV-light usually found in the main sailing areas of the world.
Use the coupon code NOONSITE_5A2B when checking out to get 10% off today.
Buy Now On YachtFlags.com
Places