Previous Page
Facts
COVID-19: Entry protocols for yachts have been affected by the pandemic. See the Biosecurity section for details.
Brazil is located on the continent of South America and occupies most of the eastern part its geographic heartland as well as various islands in the Atlantic Ocean.
The country is bordered by Argentina, Paraguay, Uruguay, Bolivia, Peru, Colombia, Venezuela, Guyana, Suriname, French Guiana, and the Atlantic Ocean.
Brazil has a population of 209 million and demographically it is very diverse comprising of many races and ethnic groups. The official language is Portuguese which is widely spoken by most of the population. English is not so commonly spoken.
The official currency is the Real (RI), which has 100 centavos. For specifics see General Info.

Brazil has four time zones for details see General Info.

The temperatures in Brazil rarely dip below 20°C (68°F), apart from in the mountains and southern regions. The climate varies from hot and dry in the arid interior to humid and sticky in the tropical rainforests of the Amazon jungle. For more details see the Weather section.
Brazilian culture is a rich mixture of European, African and Latin American, all of which can be seen in its world-famous Carnival. It is this Carnival which brings many sailors to Brazil, those who arrive from the north sailing for Salvador in Bahia, while those coming from the south have the opportunity to see the greatest show of them all in Rio de Janeiro.
In between these two cities, to the north as well as to the south, stretches a long coastline of varied scenery and just as varied climate and weather conditions. There are interesting places to explore all along the coast, but perhaps the best cruising ground is the area between São Sebastiao Island and Rio de Janeiro, which has many protected anchorages and attractive scenery, slightly marred by the increasing number of oil rigs.
The River Amazon also has an appeal for some cruising sailors and it can be navigated for well over one thousand miles giving the opportunity to see some of the interiors of this huge country.
For many sailors the first taste of Brazil lies 250 miles offshore on the island of Fernando de Noronha, while another Brazilian outpost in the Atlantic is better avoided, St Peter and St Paul rocks near the equator, where landing is only possible in the calmest of weathers.
For details of the utilities and other services see Yachting Essentials.

Security
Overall Crime and Safety:
Violent crimes such as murder, armed robbery, carjacking, assaults, and kidnappings are a frequent occurrence. Opportunistic street crime such as pickpocketing, purse snatching, and smash-and-grab thefts from vehicles and storefronts is a constant concern. These acts take place in all areas of the city and at any time throughout the year. You should be particularly vigilant before and during the festive and Carnival periods. Bank card fraud is common.
For travel advisories see the following websites:
Specific Areas of concern:
Cybersecurity and online fraud are major concerns, with annual losses reaching billions of dollars. Government websites have been defaced and taken offline by "hacktivists" in recent years. Cybercrime in Brazil affects daily Internet users, private-sector organizations, and short-term travelers.
In the Salvador, Itaparica, Morro de Sao Paulo area of Brazil there is a significant amount of armed crime. Cruisers should be wary about walking ashore at night and lock themselves into their boats at night. Two boats have reported an armed boarding, assault, and robbery (see report here).
Maritime Issues:
It is advisable when cruising Brazil to avoid isolated anchorages.
Yachts should not visit secluded anchorages in the Bahia de Todos os Santos. An American yacht was boarded at gunpoint at the anchorage known as "the waterfall" in February 2012.
Reported Incidents:
September 2018: Anchored close to the Navy and Yacht Club in Fortaleza, a yacht was boarded shortly after arriving at 04:00 by four men armed with knives. The owners were tied up and the boat was ransacked with many items stolen.
February 2018: A Swiss cruising couple anchored in Fortaleza overnight when their locked yacht was boarded, broken into and they were subjected to being tied up and beaten whilst their boat was robbed and ransacked. Read the report here.
December 2017: A cruiser, single-handing, was sailing up the river to Santos at night when he was robbed at gunpoint by 5 armed men who approached the boat from a fast dinghy. A mobile phone was taken.
July 2017: Four armed bandits came into the bar of the Jacaré Marina and robbed at gunpoint a group of cruisers who were relaxing and making use of the Marina's Wifi. Their haul included several phones, computers, tablets, and wallets. Read the report here.
March 2015: Itaparica – three cruising couples suffered yacht crime here. See comment at bottom of the page.
February 2015: A violent violent attack on a yacht in Fortaleza just an hour after its arrival there.
February 2015: A cruising sailor was shot in Sao Luis aboard his yacht at anchor and another yacht in Fortaleza was boarded by armed thieves.
April 2014: A cruising boat was boarded,  the crew attacked, beaten and robbed within moments of anchoring in Fortaleza.
March 2014: Yachts visiting Belem have been boarded and robbed in the past, and another similar attack was reported by a cruising boat. This port is best avoided.
Emergency Numbers: See Emergencies.
Last updated:  June 2019
Weather
Brazil's climate varies greatly.
The SE trade wind belt, which predominates from March to August, can be felt on the north coast of Brazil as far south as Salvador. During the austral winter months the SE trades have a lot of south in them, and sailing down the coast can be difficult. An eye must be kept on the weather, as the winds can change direction suddenly putting a boat on to a dangerous lee shore.
This northern coast enjoys the NE trade wind from November to March which is the wet season. The best time to sail down the Brazilian coast is from January to April, when the NE trade winds are stable. Recommendations are to stay a minimum of 500NM from the continent to avoid the currents and then change tack to head directly to Cabedelo.
Most of the northern part of the Brazilian coast above Rio de Janeiro is under the influence of NE winds which are strongest in the summer close to the coast between December and February.
South of Rio winds tend to be variable but are mainly from a NE direction from October to April. In April, NW and SW winds tend to blow as well as those from the NE, but by May SW winds have established themselves and these blow until October.
Further south in the River Plate Estuary the prevailing wind is from the east in the summer. The remainder of the year W to SW winds blow. Local winds in this area include the pampero (violent short-lived SW storms preceded by a long, dark, horizontal rolling cloud) and the sudestada (a SE winds which blows at 40 to 50 knots and can last between 3 and 7 days, normally between June and October).
Brazil Weather Bureau: – http://www.inmet.gov.br/
Brazil's Navy Notices to Mariners (in English)
For links to free global weather information, forecast services and extreme weather information see the Noonsite Weather Page.
Useful weather site for Brazil with quick and easy info. and satellite images.
Courtesy Flag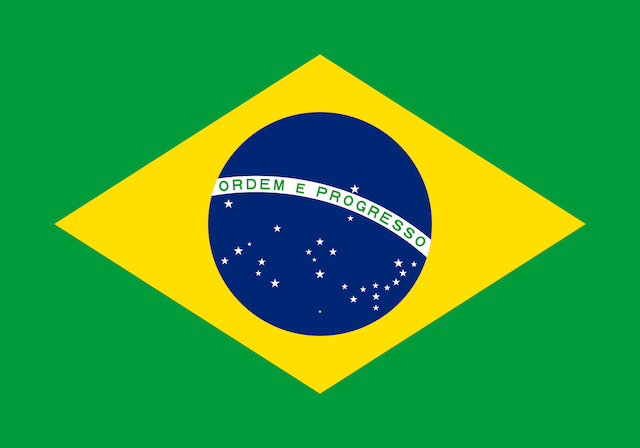 YachtFlags.com offers a discount to Noonsite members.
YachtFlags.com provides high quality courtesy flags that are manufactured in durable Knitted Polyester fabric. Knitted so that the fabric itself does not deteriorate in the constant movement that marine flags are usually exposed to, and polyester so that the flag does not weaken in the strong UV-light usually found in the main sailing areas of the world.
Use the coupon code NOONSITE_5A2B when checking out to get 10% off today.
Buy Now On YachtFlags.com
Places