Previous Page
Facts
Cuba, officially the Republic of Cuba, is a country comprising the island of Cuba as well as Isla de la Juventud and several minor archipelagos. Cuba is located in the northern Caribbean where the Caribbean Sea, Gulf of Mexico and the Atlantic Ocean meet.
The total population of Cuba is 11.5 million.
Cuba has two official currencies. The CUP (Cuban Peso) and the CUC (Cuban Convertible Peso). For details see General Info.
The country operates on Cuba Standard Time. For specifics see General Info.
Cuba has a Caribbean sub-tropical climate with a rainy hot and humid weather in summer and mild weather in winter. See Weather section for more details.
Whilst the cruising area is vast, there are restrictions on where you can go. All the small bays on the north coast are closed to yachts and throughout the country, it is only possible to go ashore at designated ports where there is a marina or tourist facility. It is still possible however to anchor in remote areas where there are no settlements. Some of the designated stops are Puerto Vita, Cayo Coco, Varadero, Marina Hemingway, Cayo Largo, Cienfuegos, and Santiago.
Cubans are still restricted to only being allowed to own small boats, so there are very few locally owned sailing boats. Repair facilities are limited, but the engine and mechanical repairs well understood. It is advisable to be independent if cruising here and bring all marine supplies with you. For more details on yachting services see Yachting Essentials.
On the south coast, the marinas are smaller and busier, so it is not uncommon to have a waiting list for berths. This is particularly true in Cienfuegos and Trinidad, where there are large charter boat operations.
Although not officially permitted, gifts of clothes, shoes, eyeglasses or household items are very welcome by the Cuban people.
Security
Overall Crime and Security
Most crime can be associated with pickpocketing, purse snatching, fraud schemes, and thefts from unoccupied cars, hotel rooms, and dwellings. Visitors are generally perceived to be more affluent than Cubans presenting them as attractive targets. Most offences take place in areas frequented by foreigners.
For travel advisories see the following websites:
Specific Areas of Concern:
Road Safety: Accidents involving motor vehicles are the leading cause of accidental deaths in Cuba. The roads are often dangerous due to lack of road maintenance. Potholes and a lack of proper lighting make driving at night particularly dangerous. Cuban drivers tend to place large sticks or rocks in the road to indicate a hazard or broken down vehicle ahead. It is often difficult to see these accident markers until one has hit them.
Maritime Issues:
Be extremely vigilant when anchoring near populated areas. Cruisers should take basic safety precautions and use common sense when leaving the boat or going ashore at night. Be sure to conceal below any loose deck items and follow the cruisers' mantra of "lock it or lose it". Dinghy & outboard thieves operate throughout the Caribbean and the best advice is to place your dinghy on deck and chain it overnight.
An EPIRB is possibly the only way to summon help if you are in trouble in Cuban waters. VHF stations are few and far between and lack of Spanish will be a problem. There is a direct communication link between the USCG and the Cuban Border Guard so the EPIRB signal will be received and forwarded.
Reported Incidents:
May 2018: Dinghy and outboard thefts (and night boardings) continue to be reported from Cienfuegos. Be sure to lift and lock your dinghy at night, secure your outboard and carry a minimum amount of gas in your dinghy tank.
June 2016: A yacht anchored at Isla de la Juventud reported deck gear (cockpit cushions, sunglasses, dock lines, life sling, etc.) stolen overnight.
The Caribbean Safety and Security Net ([email protected]) provides information by anchorage or by island, so sailors can plan their cruising in the Caribbean with an eye to appropriate behavior and precautions wherever they decide to go. Should you have suffered a boarding, robbery or attack on your yacht or have information about a yachting-related security incident, go to the CSSN homepage and click on the "Report an Incident" icon. The associated form is quick and simple to complete and ensures that all the necessary details are reported. The CSSN is the most comprehensive source of Caribbean security incidents against sailors. Remember, it is every cruiser's responsibility to ensure that incidents are reported. Also, cruisers can subscribe to e-mail alerts and follow on facebook and twitter.
Be sure to check related security reports for Cuba.
Emergency Numbers: See General Info for more details.
Last updated:  October 2018
Weather
Related Businesses
Caribbean NW Net

Northwest Caribbean net, 1400 UTC 6209 USB, alternates 6212 and 6516, 7 days/wk. Generally covers Providencia north to Mexico on the Carib side, including Providencia,... Read More
Courtesy Flag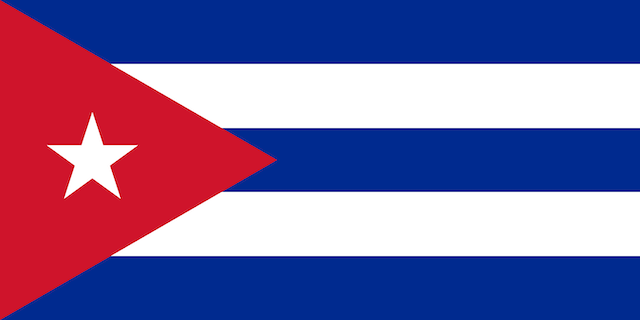 YachtFlags.com offers a discount to Noonsite members.
YachtFlags.com provides high quality courtesy flags that are manufactured in durable Knitted Polyester fabric. Knitted so that the fabric itself does not deteriorate in the constant movement that marine flags are usually exposed to, and polyester so that the flag does not weaken in the strong UV-light usually found in the main sailing areas of the world.
Use the coupon code NOONSITE_5A2B when checking out to get 10% off today.
Buy Now On YachtFlags.com
Main Ports
Ports of Entry: Cienfuegos, Hemingway Marina (Havana), Marina Cayo Largo, Marina Los Morros, Puerto de Vita, Santiago de Cuba, Varadero
Other Ports: Baracoa, Casilda (Trinidad), Cayo Coco-Guillermo, Isla de la Juventud, Maria La Gorda, Santa Lucia