Previous Page
Facts
COVID-19 Travel restrictions remain in place for Tokelau. See Biosecurity for details.
Tokelau is a non-self-governing territory of New Zealand lying some 300 miles north of Samoa. It is rarely visited by yachts. The Islanders are New Zealand citizens.
Tokelau consists of three small low-lying coral atolls: Atafu, Nukunono, and Fakaofo. The low lying coral atolls make them one of those nations most susceptible to sea level rise due to rising ocean temperatures.
One of the least visited countries in the South Pacific, only a few yachts makes their way to this isolated group of atolls, which lack natural harbours and for most of the year are completely cut off from the outside world. Some formalities have to be complied with before sailing for the islands, but any difficulties are justified, as they give an opportunity to visit one of the most isolated communities in the Pacific.
There are no harbour facilities whatsoever, only passes for small boats through the reefs, but these are too shallow for most yachts. Normally a yacht must anchor on a shelf outside the reef, in the lee of the atoll. Fairly often conditions are not suitable for yachts to anchor.
There is a small powerboat that runs between Apia, Samoa, and the Tokelau Islands. However, the boat makes the 300-mile trip once every two weeks. There are no commercial flights to the island.
At Fakaofo, there is an anchorage due west of Fakaofo islet, but it is exposed to the SE trade winds. An alternative anchorage, recommended by the Islanders, is NW of the island, off Fenua Fala islet. The dinghy can be landed on the nearby beach, although a strong outboard engine may be needed to get through the surf line. The island of Fakaofo is reported as being incorrectly charted.
Tokelau has one of the smallest economies in the world. The population is approximately 1300. The islands are acutely aware of the effects of climate change as the community is intimately connected to the environment. Power generated on the island is almost entirely solar power.
Facilities are extremely limited. There are radio stations on each of the atolls. There are no airports on the islands. There is one cooperative store on each island selling some staple foodstuffs, mostly imported. It is possible to buy some locally grown produce. Water is scarce everywhere. There are small hospitals on all three islands
© Tokelau Liaison Office, Samoa
Weather
From May to September the islands are under the influence of the SE trade winds. The weather is cooler than the rest of the year when it is hot, particularly from December to March, which is the cyclone season. Tokelau is on the edge of the cyclone belt, and in both 2004 and 2005 was hit by cyclones.
A useful guide to South Pacific weather resources compiled by a Noonsite contributor, Rory Garland.
For links to free global weather information, forecast services and extreme weather information see the Noonsite Weather Page.
Courtesy Flag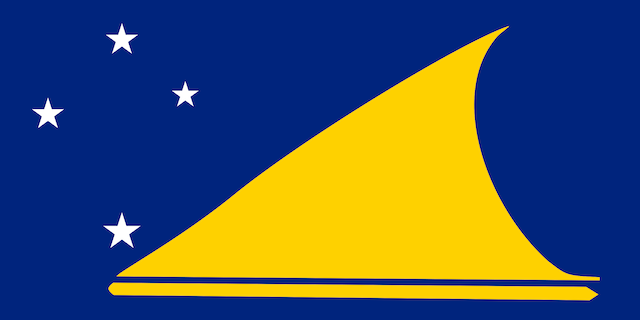 YachtFlags.com offers a discount to Noonsite members.
YachtFlags.com provides high quality courtesy flags that are manufactured in durable Knitted Polyester fabric. Knitted so that the fabric itself does not deteriorate in the constant movement that marine flags are usually exposed to, and polyester so that the flag does not weaken in the strong UV-light usually found in the main sailing areas of the world.
Use the coupon code NOONSITE_5A2B when checking out to get 10% off today.
Buy Now On YachtFlags.com
Places