Previous Page
Facts
Important pre-arrival information: Australian Border Force require an Advance Notice of Arrival. See Norfolk Island/Formalities for all the details.
Norfolk Island is an Australian External Territory. In 2015 The Australian Government revoked the Island's existing semi-independent status and it is now part of the state of New South Wales.
It lies 1700kms (1060 miles) northeast of Sydney and 900kms (560 miles) from Lord Howe Island.
Half the island's population of 1700 residents are descendants from Pitcairn Island.
The co-official languages are English and Norfuk which is a blend of 18th century English and Tahitian.
The currency is the Australian dollar (AUD). For details see General Info.
The island has one standard time zone and one Daylight Saving time zone. For details see General Info.
The island's main export is the evergreen Norfolk Pine, which is popular in Australia and elsewhere.
Norfolk Island is a pleasant stopover halfway between New Caledonia and New Zealand.
The climate is described as a warm marine subtropical climate with temperatures between 10 Deg C and 28 Deg C. See the Weather section for detailed info.
While there are a number of anchorages around the island none can be considered safe in all weather conditions. Therefore, a boat should never be left unattended and crew should only go ashore in settled weather. Yachts have been lost at Norfolk Island through ignoring this warning.
It is also wise not to approach the island at night, as there are no lead lights or markers. There are some semi-submerged rocks around close to the island.
For information on anchoring, see Kingston/Docking.
For details of supplies, see Yachting Essentials.
Weather
The climate is mild and subtropical, with a well-distributed rainfall. Summer winds are S to SE and winter winds W to SW. The cyclone season is December to March.
The island can get over 1300mm of rain each year, mostly between April and August.
Water temperatures range from 19 Deg C to 22 Deg C.
Norfolk Island Weather Forecast.
Courtesy Flag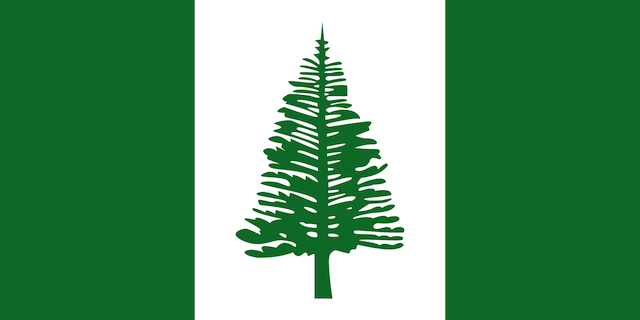 YachtFlags.com offers a discount to Noonsite members.
YachtFlags.com provides high quality courtesy flags that are manufactured in durable Knitted Polyester fabric. Knitted so that the fabric itself does not deteriorate in the constant movement that marine flags are usually exposed to, and polyester so that the flag does not weaken in the strong UV-light usually found in the main sailing areas of the world.
Use the coupon code NOONSITE_5A2B when checking out to get 10% off today.
Buy Now On YachtFlags.com
Places