Previous Page
Facts
COVID-19: Entry protocols for yachts have been affected by the pandemic. See the Biosecurity section for details.
The Cape Verde Islands are a volcanic archipelago lying 400 miles off the coast of West Africa, although the islands' culture reflects its Portuguese colonial past more than its geographical position.
The islands' climate tends to be very dry and the scenery is rather bleak, although all islands are very diverse depending on the height of the mountains
There are 10 principal islands in two main groups; Barlavento (Northern or Windward group) and Sotavento (Southern or Leeward group). Praia, on São Tiago, is the capital and Mindelo, on Sao Vicente, is the main harbour.
The Cape Verdes are conveniently placed close to the best sailing route from the Canaries (800 miles to the north) to the Caribbean and most cruising yachts that visit are on their way to the Caribbean, a few to Brazil or West Africa, particularly Senegal and Gambia. Some people have enjoyed cruising the islands more extensively, rather than just viewing them as a stop on the way to somewhere else.
Facilities are not as basic as they used to be in the Cape Verdes; provisioning in Mindelo is adequate as it now has a fairly well-assorted supermarket just downtown and also a gross market where larger quantities can be purchased at fair prices. There are fresh fruit and vegetable markets in Mindelo and Praia which vary in variety and quality with the seasons. Water is limited and expensive due to desalination, however, fuel is subsidised and cheap.
Charts are inaccurate, especially near Ilha da Boa Vista which is 3nm east and 0.07nm to the north of its charted position. There are several wrecks and off-lying reefs not marked on the charts, especially off the east coast of the island.
There are several harbours in this group, the safest with good shelter from most directions is Porto Grande, Mindelo (very occasionally a W swell can set in). All the other anchorages are between 4 and 10m deep and have a frequent swell and it is advisable to put out two anchors.
Cape Verde is a democracy which turned independent on July 5th 1975, the official language is still Portuguese but the language spoken amongst the locals is Creole.
For more information on supplies, see the Yachting Essentials section.
Security
Overall Crime and Safety:
Parts of Cape Verde have been hit with a crime wave as tourists have been attacked and mugged. The U.K. Foreign Office is also advising tourists about an increase in burglaries on the two most popular holiday island destinations of Sal and Boa Vista.
It is recommended to avoid carrying valuables in public, avoid unlit areas after dark and remain vigilant at all times.
Specific areas of concern:
Numerous security reports have been submitted to Noonsite over the years from Praia. It is recommended to avoid Praia and visit Sao Vicente instead.
Maritime Issues:
Noonsite has received reports in the past from cruisers about dinghy and outboard thefts in these islands. It's important to note however that there are several very rural islands, for instance, Santo Antao, which have hardly any reported crimes at all.
Mindelo on Sao Vicente has improved security significantly since 2010, which is also thanks to a special police squad fighting theft, robbery etc. However, it is not recommended to leave your dinghy unattended at the city beach of Mindelo (as in many other cities around the world). Ask the Port Captain if you plan on leaving your boat and wish to employ a local watchman.
For a small daily or monthly charge, you can moor your dinghy at the marina where there is 24/7 security on the pontoons. Alternatively, cruisers recommend paying a local to watch your dinghy whilst you are away.
Reported Incidents:
September 2021: While on a walk ashore at Mindelo, two cruisers were attacked and robbed in daylight by a group of bandits. Read their first hand report here.

April 2021: Armed boarding and robbery in Praia – 1st hand report here.
Numerous security reports have been submitted to Noonsite over the years from Praia. It is recommended to avoid Praia and visit Sao Vicente instead.
January 2020: Incidents of armed boardings and robberies continue in Praia (Santiago). Four boats reported four separate incidents to Noonsite in November 2017, all were boarded and robbed and in two incidents the crew were violently attacked as well. More recently, a catamaran was boarded and the crew held at knifepoint while robbed in January 2020. Praia should be avoided if at all possible.
Be sure to check related security reports for the Cape Verdes.
See comments from cruisers related to safety.
Last updated: October 2021
Weather
Rainfall is limited to a few heavy downpours between July and October, although there are years with little or no rain and others with unusually frequent rainfall as in 2012. The NE trade winds, which set in November/December, are at their strongest in the first months of the year, when they sometimes arrive laden with dust from the Sahara, which can seriously affect visibility.
For links to free global weather information, forecast services and extreme weather information see the Noonsite Weather Page
Courtesy Flag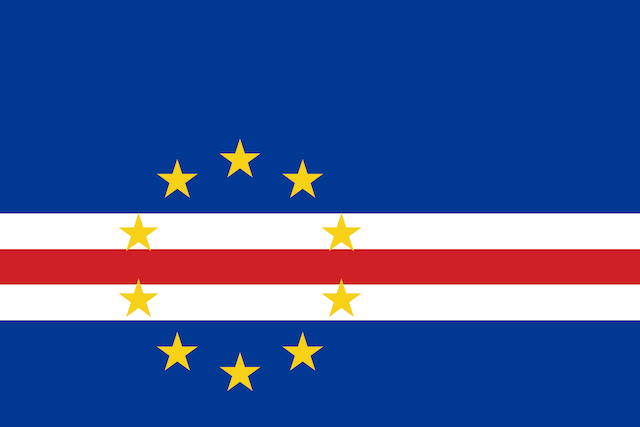 YachtFlags.com offers a discount to Noonsite members.
YachtFlags.com provides high quality courtesy flags that are manufactured in durable Knitted Polyester fabric. Knitted so that the fabric itself does not deteriorate in the constant movement that marine flags are usually exposed to, and polyester so that the flag does not weaken in the strong UV-light usually found in the main sailing areas of the world.
Use the coupon code NOONSITE_5A2B when checking out to get 10% off today.
Buy Now On YachtFlags.com
Places