Previous Page
Facts
COVID-19: See Biosecurity for current yachting protocols.

The People's Republic of Mozambique is located on the southeast coast of Africa. It is bound by Swaziland to the south, South Africa to the southwest, Zimbabwe to the west, Zambia and Malawi to the northwest, Tanzania to the north and the Indian Ocean to the east.
Mozambique lies between latitudes 10° and 27°S, and longitudes 30° and 41°E.
The country suffered a direct hit by Cyclone Idai in March 2019. It was regarded as one of the worst tropical cyclones on record to affect Africa and the Southern Hemisphere as a whole. The long-lived storm caused catastrophic damage in multiple nations, leaving more than 700 people dead and hundreds more missing. The port of Beira was badly affected with roads to the city cut off by heavy flooding.
The total population of Mozambique is 29 million composed overwhelmingly of Bantu people. The official language of Mozambique is Portuguese, which is spoken mostly as a second language by about half the population. The other languages spoken are Swahili, Makhuwa, Sena, Ndau, and Tsonga.
The currency is the Mozambican Metical. For details see General Info.
Mozambique observes Central Africa Time all year. For specifics see General Info.
The climate is tropical, with a hot and rainy season from November to March, and a dry season from May to October, during which there is a cooler period from mid-May to mid-August. See Weather section below for more details.
The long Indian Ocean coastline is dotted with popular beaches, as well as offshore marine parks. and a 250km stretch of coral islands. The main cruising attractions of Mozambique are around Maputo and the island of Bazaruto which is a marine reserve. For full details see the Bazaruto Profile.
The corruption and mismanagement in Mozambique since independence and freedom from colonial rule has escalated exponentially and unless you experience an emergency, it is recommended to choose carefully where you stop here. Although some places have had favourable reports from cruising boats they are the exception (Ilha de Mozambique being one). Most ports have been privatised giving the locals a license to do as they please more efficiently. For more details on yachting services see Yachting Essentials

Stopovers without clearing in are generally tolerated by the authorities who accept this as long as you are just sheltering from the weather. However, it's better to choose an anchorage removed from the authorities such as Bazaruto, Inhambane /Ponta Barra & Inhaca Island. However there are reports of yachts anchored at these locations being boarded and threatened. See Latest Reports for more information.
Security
It is advisable to read current travel advice from a state source such as the U.K's FCO website.

Overall Crime and Safety
Most visits to Mozambique are trouble-free, but street crime, sometimes involving knives and firearms, is common in Maputo and increasing in other cities and tourist destinations. There are some areas in cities which are more dangerous; seek local advice.
Specific areas of concern:
Terrorist activities: Islamic jihadist groups are reported to have become significantly more active in the northern regions of the country since the discovery of the world's second largest natural gas field. See this Security Update for more detailed information. This is on-going and has stretched as far as Pemba. The north of the country, including offshore islands, should be avoided.
Regional districts: The districts of Palma, Mocimboa de Pria and Macomia in Cabo province should be avoided. Insurgents have cut off land access to Mocimboa da Praia and Palma and are limiting sea travel. In September 2020 insurgents attacked three islands close to this part of the coast: Metundo, Quifuqui, and Vamizi. The islands are 10-20 km off the coast and it appears that the insurgents want to control marine traffic between the Quirimbas islands and the coast and block sea access to Mocimboa da Praia. See news report.

In addition, there may be tensions in the Zambezia, Manica and Teta provinces.
Road Safety: Traffic accidents are common due primarily to the condition of the roads, poor driving and vehicle standards.
Caution is advised if travelling inland as the presence of landmines laid during the war is a continuing hazard in spite of de-mining efforts.
Documentation: Certified copies of passports and other relevant documents should be carried at all times and in preference to the originals.
Criminal Activity: Street crime, sometimes involving knives and firearms, is common in Maputo and is increasing in other cities and tourist destinations. Bag-snatching, pick-pocketing and car-jacking are also problems.
Kidnapping: There have been reports of kidnappings, mainly in Maputo, and whilst most victims have been Mozambicans, foreigners have also been targeted.
Maritime issues:
The situation is at crisis point in Mozambique and cruisers should be very cautious about entering the country. OSASA recommend that the coast of Cabo Delgado Province should be avoided and yachts in transit should go north, well offshore, to Richards Bay without stopping if at all possible. Northern Mozambique is a definite no-go area. Further south, it seems that unless you go into a recognised port such as Maputo, you are quite likely to meet with officials of one sort or another.
Some boats are using Bazaruto for shelter en-route, but this needs to be used with caution and only on current advice. Once considered a safe and accepted stopover in the Mozambique Channel,
the Bazaruto Archipelago has seen an increase in yachts anchored here
being boarded and threatened. See this Security Update for more detailed information.
As with Ilha de Mozambique, stopping in Bazaruto for a short time to avoid weather has been possible, but must not be seen as a viable entry into Mozambique. There are no officials there, only construction workers building a resort. See Bazaruto port page for further info.
Remain vigilant on beaches or offshore islands as they are not policed. Lock up valuables, in particular dinghies, outboard motors and ensure any loose items on deck are well secured. The local perception that foreigners bring Covid-19 may make your reception a hostile one.
See this news item (April 2021) to gain an insight into the problems here.
Check the WhatsApp group Sail to South Africa 2022 and Indian Ocean Passage Facebook Group for regular up to date information on the situation here. OSASA are also a good contact with current updates.
Reported Incidents:
Bazaruto, 2016: Outboard engine stolen from a dinghy at night. The dinghy had been hauled up the side of the yacht which was at anchor.
General Emergency Numbers:
See General Info for more details.
Last updated: November 2021
Weather
The climate is tropical and mostly hot and humid. The country is plagued by irregular rainfall, the rainy season is from November to March. The prevailing winds are SE to SW. Much of the coast is under the influence of sea breezes with stronger onshore winds in the afternoons. In the northern part of the coast, the SE trade winds blow during the winter months, February to June, while NE winds prevail in summer, from July to January.
Cape Town Radio (SSB) on 4375 8740 13146Mhz USB at 1015 1330 1815 UTC daily for forecasts and reports. Gives you barometer pressure and wind speed around the entire SA coastline.
For links to free global weather information, forecast services and extreme weather information see the Noonsite Weather Page.
Courtesy Flag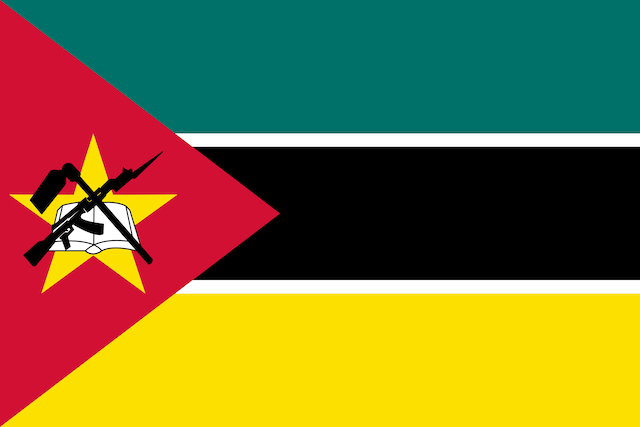 YachtFlags.com offers a discount to Noonsite members.
YachtFlags.com provides high quality courtesy flags that are manufactured in durable Knitted Polyester fabric. Knitted so that the fabric itself does not deteriorate in the constant movement that marine flags are usually exposed to, and polyester so that the flag does not weaken in the strong UV-light usually found in the main sailing areas of the world.
Use the coupon code NOONSITE_5A2B when checking out to get 10% off today.
Buy Now On YachtFlags.com
Places