Previous Page
Facts
COVID-19: Entry protocols for yachts have been affected by the pandemic. See the Biosecurity section for details.
Seychelles is an archipelago of 115 islands in the Indian Ocean, off East Africa.
Under French rule in the 1700s followed by Britain at the end of the century it's not surprising that both French and English are spoken here. Seychelles gained its independence in 1976 but still retains much of its French influence.
Having been uninhabited by man until 200 years ago, the islands are rich in unique wildlife, such as the giant land tortoise, many species of birds, strange plants such as the giant Coco de Mer, and untouched forests.
The main large island of Mahé houses the capital Victoria where over a quarter of the population live (total population approx. 96,000).
Seychelles Inner Islands lie NE of Mahé on Seychelles Bank, the largest island being Praslin along with La Digue and Curieuse. All are granite islands with wonderful rock formations.
Seychelles Outer Islands are remote lying more than 100 miles SW of Mahé. Aldabra is a world heritage site and permission to visit it must be obtained in Mahé.
The most widely spoken language is Seychelles Creole. About half the population speak French and about 40% speak English.
The currency is the Seychelles Rupee. See General Info for specifics.
The Time Zone is UTC +4.
Seychelles enjoy a tropical and equable climate with a rainy season from December to March. See Weather below for more details.
The best anchorages are on Mahé. The outlying island anchorages are very exposed and subject to uncomfortable cross-swell conditions. The anchorages at La Digue and Praslin Islands are particularly striking and one of the chief attractions on the latter is Baie St Anne, with its thousands of Coco de Mer palms, some of them reputedly 800 years old.
With the increase in the number of cruising yachts visiting Seychelles and also because some charter boats are based there, facilities are steadily improving.
All repair services are concentrated in Victoria, where there are several boatyards with slipways. Two new marinas have opened on Mahé, as bases for charter operations but with facilities available to visiting yachts. There are also limited facilities on Praslin and La Digue. For more information on supplies and services, see Yachting Essentials.
Security
Overall Crime and Safety:
Crime, such as opportunist theft, though relatively rare, has increased in the Seychelles in recent years and normal security precautions should be taken as with elsewhere.
For travel advisories see the following websites:
Maritime Issues:
Local Police recommend cruisers lock their boats at night, lock and lift their dinghies and check their outside decks for anything that can be used as a weapon against them.
Reported Incidents:
Port Victoria, Eden Island Marina, 2021: A break-in while the owners returned home for 2 months, was reported from this marina in September 2021.

Port Victoria 2018: A yacht at anchor was burgled and goods stolen whilst the crew were asleep.
Port Victoria 2015: A number of boats in the inner yacht basin were boarded by swimmers at night and goods stolen.
Aldabra area, leaving the Seychelles 2009: Two vessels were hijacked by Somali pirates and the crew taken hostage.
General Emergency Numbers:
For more detail see General Info

Last updated: September 2021
Weather
The climate is tropical, but outside of the cyclone belt. Temperatures average 75-86°F (24-30°C). The NW monsoon lasts from November to April, while from March it is hotter and the winds are lighter until the SE monsoon sets in from May to October.
It rains a lot in Seychelles and there is quite often substantial cloud cover.
Weather forecasts are available by calling Seychelles Radio (Coast Station) on VHF channel 16 (working channel 26).
For links to free global weather information, forecast services and extreme weather information see the Noonsite Weather Page.
Courtesy Flag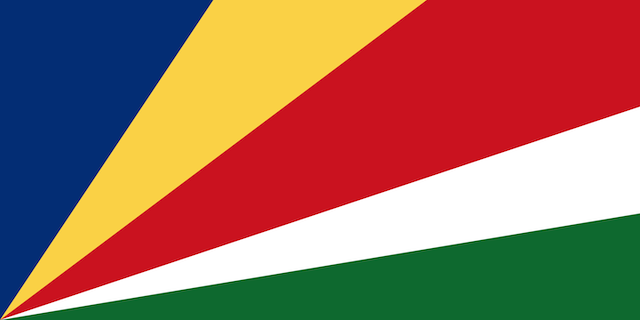 YachtFlags.com offers a discount to Noonsite members.
YachtFlags.com provides high quality courtesy flags that are manufactured in durable Knitted Polyester fabric. Knitted so that the fabric itself does not deteriorate in the constant movement that marine flags are usually exposed to, and polyester so that the flag does not weaken in the strong UV-light usually found in the main sailing areas of the world.
Use the coupon code NOONSITE_5A2B when checking out to get 10% off today.
Buy Now On YachtFlags.com
Places