Previous Page
Facts
The UK left the European Union on 31 January 2020 ending 47 years of membership. Immigration and Customs procedures will have to be carried out by all small craft arriving in the country.
The United Kingdom of Great Britain and Northern Ireland incorporates the three countries of England, Scotland and Wales, the six counties of Ulster in Northern Ireland as well as several smaller island groups such as the Scillies, Orkneys and Shetlands. The Isle of Man, situated in the Irish Sea, has a special status and enjoys a certain degree of autonomy. The Channel Islands enjoy even greater autonomy and are therefore treated separately.
With hardly anywhere over fifty miles from the sea, the British Isles has always been a maritime nation and produced some of the greatest sailors and navigators in history, a tradition which has continued into the modern age, when British cruising yachts were among the first to penetrate the furthest corners of the world. Sailing is a national pastime in Britain and the proportion of yachts per head of population is among the highest in the world.
The most popular cruising areas are the Solent and Isle of Wight, the south-west counties of Devon and Cornwall, East Anglia and the west coast of Scotland. The British Isles provide a vast cruising ground with plenty of variety, the greatest drawback being the weather, which rarely ensures enjoyable cruising conditions for more than a few days at a time. Most visiting yachts limit their cruising to the south coast, where there is an abundance of yachting facilities, but also an abundance of local craft, resulting in crowded harbours. There are many cruising attractions and more space to be found elsewhere.
Mooring facilities vary both in quality and availability. In some of the fishing and commercial harbours, these can be very basic. Not all yacht clubs have their own moorings, but when they do a place can usually be found for a visiting member of an overseas club. There are some 150 purpose-built marinas scattered about the coasts of Great Britain and Northern Ireland. All marinas operate on VHF Channel 80, which is monitored during normal working hours. Most marinas keep a number of berths for visiting yachts, however, those on the South Coast are seeing unprecedented levels of demand from resident and visitor berthing due to Covid restrictions and Brexit, so there is very little space to accommodate vessels, regardless of nationality, particularly of the larger sizes over 14m.
There are numerous anchorages around the coast. Some areas are restricted to protect marine life. Check the charts.
The most comprehensive range of repair facilities is to be found in the area between Southampton and Portsmouth where the biggest names in the British yachting industry are concentrated. It has been said that whatever cannot be fixed there probably cannot be fixed anywhere else in the world.
Security
Overall Crime and Safety:
The UK is generally a safe country. Like anywhere, keep your belongings safe and concealed and lock your boat. If in a city centre be aware of pickpockets and in London choose a tube carriage with other people inside.

Maritime Issues:

England's South Coast has seen a sharp increase in migrants crossing the Channel in small boats during 2021. See this report for more details and what do do if you encounter a migrant boat.
Border Force, the National Crime Agency and local police forces have established Project KRAKEN as a way to gather the vital intelligence all law enforcement agencies require to keep the country safe. Boaters are asked to report any suspicious activity they observe along the country's coastline to the local police by calling 101, or anonymously to Crimestoppers by calling 0800 555 111. By quoting KRAKEN, information can be quickly passed on to the relevant agency and investigated.
Last updated: July 2021
Weather
The climate is mild and temperate, being greatly influenced by the Atlantic and Gulf Stream. Rainfall is heavier on the western coasts. The spring, from March to May, can be cool and wet, while summer, from June to September, can be warm. The weather is very changeable, mostly due to low-pressure systems that track east across the Atlantic bringing strong SW winds, usually of gale force. Occasionally there are long spells of pleasant weather when a system of high pressure remains stationary over the British Isles. In the summer months when the jet stream is more northerly the Atlantic lows track usually between Scotland and Iceland, giving the worst of the weather to the north, especially Northern Ireland and Scotland. In the winter the jet stream sinks south and then low systems track in across England, especially the southwest: Cornwall and the English Channel being worst affected, but also south Wales. Overall, prevailing winds are usually westerly in summer, and easterly/northern in winter. Strong tides make navigation around the British Isles particularly difficult.
In Scotland, the weather is very changeable, two days are never the same, but it rarely goes below freezing between March and November, May and June are often the best months with temperatures up to 24°C. The occasional summer gales rarely last longer than two days.
Weather Forecast Links:

Weather forecasts are available on www.metoffice.gov.uk
Click on "leisure", then "marine", then "inshore waters forecast". It gives a good reliable forecast for all UK waters. Issued at 05.00hrs and 17.00hrs. This forecast is repeated on VHF channel 16 every 6 hours by local coastguard stations to include new Outlook along with navigational warnings.
Marinecall by Telephone – +44(0)845 610 1800.
United Kingdom Weather Forecast

For links to free global weather information, forecast services and extreme weather information see the Noonsite Weather Page.
Admiralty Easytide website
www.easytide.admiralty.co.uk
Tidal prediction site from the UK Hydrographic Office that provides tidal data up to seven days ahead free of charge.
Related Businesses
Courtesy Flag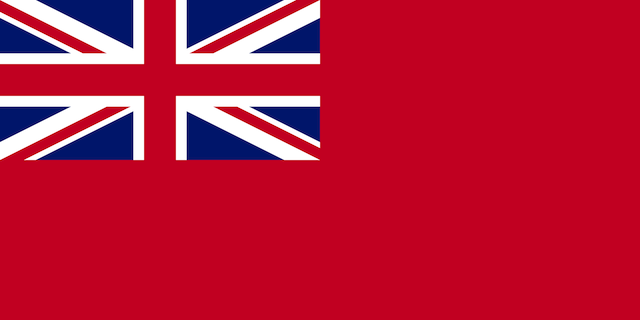 YachtFlags.com offers a discount to Noonsite members.
YachtFlags.com provides high quality courtesy flags that are manufactured in durable Knitted Polyester fabric. Knitted so that the fabric itself does not deteriorate in the constant movement that marine flags are usually exposed to, and polyester so that the flag does not weaken in the strong UV-light usually found in the main sailing areas of the world.
Use the coupon code NOONSITE_5A2B when checking out to get 10% off today.
Buy Now On YachtFlags.com
Places