Previous Page
General Info
Description
Denarau Island with its integrated marina and boatyard, lies on the western side of Nadi Bay, about 15nm south of Lautoka. This is the main tourism hub for Nadi with a busy ferry terminal, shopping center, several resorts, a water park and a golf course within walking distance of the marina.
Cruiser Highlights
Only 20 minutes drive from Nadi International Airport, the marina offers good protection from all weather and is accessed via a well-marked channel that is 5 meters deep at zero tide. There is a natural cyclone protection area in the mangroves adjacent the marina (see details below under docking).
Has a variety of cruising amenities including a boatyard with haulout facilities; skilled tradesman; chandleries; provisioning; shopping.
This is now an official Port of Entry for Fiji.
Position: 17º 45.73'S, 177º 23.16'E (entrance channel)
Last update: April 2019
Clearance
General Clearance
All authorities come to the marina for inward clearance, Customs, Health and Immigration and are reported to be very efficient. Fees must be paid in cash – there is an ATM close by.
Operation hours for Port of Entry clearance are: Monday to Friday 0800hrs – 1600 hrs. Contact the Port Control on Channel 14/16 and request entry into port.
International Clearance
Ensure you fly the 'Q' flag. Refer to the main Fiji Formalities page for detailed clearance information.
Port Denarau was granted Port of Entry status in 2017 and can provide clearance for yachts with a booking at the marina. Send a copy of your pre-arrival paperwork to the marina to smooth the way for your arrival and clearance.
For outward clearance, only Customs and Immigration are required, however, an overnight booking at the marina with a prior notice of 48hrs before departure is still required so that officials can schedule accordingly.
Domestic Clearance
It is no longer necessary to clear in and out of each Customs region visited, (Suva: Levuka: Savusavu: Lautoka: Lau Group: Rotuma:). Yachts can now clear out of the port of entry with a permit to cruise all Fijian coastal waters within the bounds of their cruising permit. There is however a requirement to report your position and current cruising plans once a week. This can easily be done by:
– VHF Ch:16
– Telephone: 324 3782/3747/3315
– Customs Hotline: 324 3666
– E-mail: [email protected]
Latest update: April 2019
Docking
The marina basin contains 63 commercial and 56 fully serviced private berths and 16 swing moorings including 20 berths capable of taking superyachts up to 85 metres in length with 5 metres draft.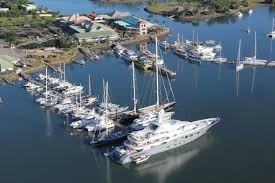 The complex contains a 50-tonne travel lift, a hard stand area and marine workshops.
There is good provisioning here with a supermarket, pharmacy and bakery at the end of the dock and Nadi and Namaka towns only a short bus or taxi ride away.
Cyclone Season
During cyclone season the marina works hard to have procedures in place to ensure that all vessels needing protection have access to the cyclone hole in the mangroves. For yachts that need deeper water, it would be prudent to plan to head in a tide or two before the last high tide before the storm, to make certain entry is possible before the local commercial operators block the entrance (they tend to position themselves closest to the exit so they are ready to resume operations as soon as the bad weather passes).
The marina holds a meeting at the start of every cyclone season with all commercial and private yacht owners to discuss the procedure and positioning of all yachts that are planning to be in the area (whether they are marina guests or not). There is quite a bit of space as long as everyone works together.
See news item: Fiji: Viti Levu – Cruisers Prepare for 2018/19 Cyclone Season
Last updated: April 2019
Places
Fiji, Port Denarau, Viti Levu