Previous Page
Facts
COVID-19 coronavirus: New procedures are in place for arriving yachts – see Biosecurity for details.
Known as the Commonwealth of Dominica to distinguish it from the Dominican Republic.
France ceded possession of the island to Great Britain in 1763. It became an independent state in 1978.
The main language is English. Creole (A language primarily based on French with Carib loan words and West African syntax) is also spoken.
One of the most mountainous of the Windward Islands, it is Dominica's wild interior that is her main attraction and many come here for the great hiking.
There are no marinas here, but most services and supplies can be found at Portsmouth or Roseau.
Dominica suffered a direct hit by category 5 hurricane Maria's eyewall in September 2017. As much as 90% of the buildings on Dominica were destroyed and 100% of agriculture was wiped out. During the 2018 season schools reopened and repairs to building infrastructure began. Now in 2019 much of the Island has got back on its feet, however, the Island schools still need help with supplies (see reports section).
Security
Dominica has made huge improvements to improve yacht security and its yacht services training that locals have been given in Dominica to encourage cruising sailors to visit the island.
Dominica is now the model for the other Caribbean islands when it comes to safety for yachts and its occupants.
A group called P.A.Y.S. (Portsmouth Association of Yacht Services) based in Portsmouth, Dominica has been established. The group is made up of trained certified guides and local businesses that also patrol Prince Rupert Bay 24/7 during the winter sailing season (November to the end of May). They help "yachties" with numerous services and monitor VHF Ch.16 to assist yachties on arrival. Both Portsmouth and Roseau provide on-the-water security patrols.
The Dominica Marine Association and the Dominica Marine Center has been providing security in the Roseau bay area and is happy to report a 99% perfect record over the 10 years of providing such security.
Latest Incidents:
Soufriere, February 2019: A locked yacht was broken into and burgled while the owners were ashore.
Based on reports to Noonsite from cruisers, petty theft from yachts is on the rise in the Caribbean in general. Cruisers should take basic safety precautions and use common sense when leaving the boat or going ashore at night. Dinghy thieves operate throughout the Caribbean and the best advice is to place your dinghy on deck and chain it overnight.
The Caribbean Safety and Security Net ([email protected]) provides information by anchorage or by island, so sailors can plan their cruising in the Caribbean with an eye to appropriate behavior and precautions wherever they decide to go. Should you have suffered a boarding, robbery or attack on your yacht or have information about a yachting-related security incident, go to the CSSN homepage and click on the "Report an Incident" icon. The associated form is quick and simple to complete and ensures that all the necessary details are reported. The CSSN is the most comprehensive source of Caribbean security incidents against sailors. Remember, it is every cruiser's responsibility to ensure that incidents are reported. Also, cruisers can subscribe to e-mail alerts, follow on facebook and twitter and listen to the SSB Voice Service.
Be sure to check related security reports for Dominica.
Last updated:  February 2019
Courtesy Flag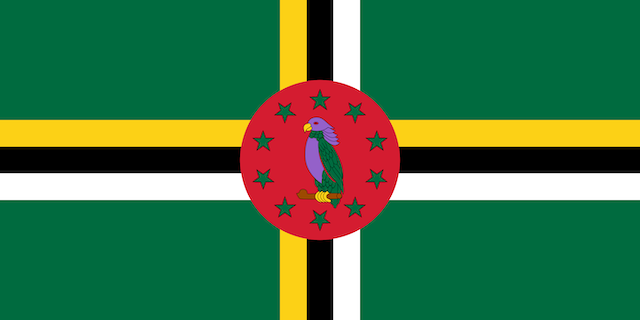 YachtFlags.com offers a discount to Noonsite members.
YachtFlags.com provides high quality courtesy flags that are manufactured in durable Knitted Polyester fabric. Knitted so that the fabric itself does not deteriorate in the constant movement that marine flags are usually exposed to, and polyester so that the flag does not weaken in the strong UV-light usually found in the main sailing areas of the world.
Use the coupon code NOONSITE_5A2B when checking out to get 10% off today.
Buy Now On YachtFlags.com
Places