Previous Page
Facts
COVID-19: Entry protocols for yachts have been affected by the pandemic. See the Biosecurity section for details.
Important pre-arrival information: Australian Border Force require an Advance Notice of Arrival. See Formalities for all the details.
In spite of a large number of yachts in Australia, the number of Australian yachts cruising overseas is surprisingly small and the only explanation for this is that Australia possesses such beautiful and varied cruising grounds that they do not need to go and look for variety elsewhere. From the wind-swept coasts of Victoria and Tasmania to the picturesque harbours of New South Wales, the tropical islands and Great Barrier Reef of Queensland to the huge shallow bays of the Northern Territory, Australia has it all.
The island of Tasmania and the Torres Strait Islands are also part of Australia and there are the overseas territories of Norfolk Island, Cocos Keeling and Christmas Island.

Getting work done: Facilities in Australia are generally good and anywhere near a yachting centre are excellent. For yachts arriving from the Pacific, it is a great relief to find a country where everything is available and virtually anything can be fixed. If in need of a major overhaul or repairs, it is advisable to head for the main centre, such as Sydney, Brisbane, Townsville, Cairns or Darwin, where repair facilities are of a high standard and spare readily available. Prices are high, however.
Due to the large fishing fleet based in Darwin, there are excellent repair facilities of all types and chandlers in the area around the Mooring Basin. Boats bound for Darwin should join the annual "Over the Top Cruise" organised by the Gove Yacht Club as it includes stops in several places that are normally closed to visitors
Provisioning: You will find everything you want here, but food shopping in Australia is expensive.
Yacht clubs everywhere are welcoming and are also a valuable source of advice concerning repairs or provisioning. Australian charts are excellent and are continually kept up to date. They are available in any port of significant size.
Most marinas in Australia now require any visiting vessel to have public liability insurance for AUD$10 million. See the formalities section for more details.

Weather
Australia covers a large range of climate zones, from the tropical zone in the north, the subtropical zone across much of the centre and temperate zones in the south.
While much of Australia's weather year is typically divided into four seasons (summer, autumn, winter and spring), northern Australia has two seasons based on rainfall patterns. The wet season occurs from October to April and the dry season from May to September. When the heavy rains arrive varies by year and location. The Australian cyclone season officially runs from 1 November to 30 April, although very few have occurred in November.
Find out more about Australia's climate zones and climate influences, and view average conditions by location and month via the Australian Government's Bureau of Meteorology (BOM) website.  This website is useful to use before starting your trip and to get the most up to date marine forecast: http://www.bom.gov.au/marine/
When planning your trip, check the BOM Five Vital Weather Safety Checks. Make the right choice on when and where it's safe to go boating and consider how the weather could change during your activity.
Key links for mariners include:
A useful guide to South Pacific weather resources complied by a Noonsite contributor, Rory Garland.
For links to free global weather information, forecast services and extreme weather information see the Noonsite Weather Page.
Related Businesses
Brunei Bay Radio

Address: PO Box 2234, Bandar Seri Bagawan, Brunei, BS 8674

HF/SSB voice and e-mail services from Brunei on the NW coast of Borneo. Service area covers the NW Pacific, SE Asia, and eastern Indian Oceans... Read More

Coastal And Offshore Cruising

Address: New Zealand,

Organised by John and Lyn Martin who have 25 years of accumulated knowledge and more than 150,000 miles of sailing in the South Pacific.2022 Destination... Read More

Marine Forecasts

Address: Bunbury, Western Australia, Australia,

Marine Weather Services

Address: National Manager, Bureau Meteorology, GPO Box 1289, Melbourne, Victoria, Australia, 3001

Weather Information – Strahan

Address: Australia,
Courtesy Flag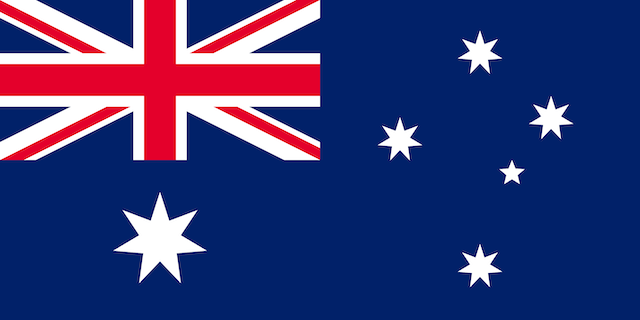 YachtFlags.com offers a discount to Noonsite members.
YachtFlags.com provides high quality courtesy flags that are manufactured in durable Knitted Polyester fabric. Knitted so that the fabric itself does not deteriorate in the constant movement that marine flags are usually exposed to, and polyester so that the flag does not weaken in the strong UV-light usually found in the main sailing areas of the world.
Use the coupon code NOONSITE_5A2B when checking out to get 10% off today.
Buy Now On YachtFlags.com
Places