Previous Page
Facts
COVID-19: Entry protocols for yachts have been affected by the pandemic. See the Biosecurity section for details.

The Philippines is an archipelago of over 7000 islands lying between the Pacific Ocean and the South China Sea. They are divided into three regions: Luzon to the north, the Visayas in the centre, and Mindanao in the south.
The country has a total population of over a 100 million and there are two official languages – Filipino and English. Filipino, which is based on Tagalog, is the national language and English is the medium of instruction in higher education. The Philippines is an ethnically diverse country and there are in fact more than 150 languages spoken.
The Philippine Peso (PhP) is the official currency of the Philippines.
The Philippines has only one time zone: UTC +8
The Philippines has been a popular cruising destination for many years. Day- sailing through the archipelago is undoubtedly the best way to visit this vast area and one can find a good anchorage every night. This also avoids the danger of running into one of the many unlit fishing boats, as well as their nets or traps. Cebu and the surrounding islands have some of the most attractive anchorages and places such as Romblon and Puerto Galera should not be missed.
There are small boatyards in various islands and the Filipinos are skilled workers, particularly in wood. Teak is still widely available, but while its price is steadily increasing, its quality is deteriorating.
General repair facilities, such as engine or electrical repair, are also available in most centres, the widest range being concentrated in and around Manila. Most marine supplies have to be imported, but local nautical charts are available both in Manila and Cebu. For more details of services for cruising boats see Yachting Essentials.
Security
Overall Crime and Safety:
For travel advisories, see the following websites:
Maritime Issues:
The US, UK and Australia governments advise against all travel to Western Mindanao and the Sulu Archipelago due to the high risk of kidnapping of international travelers and the increased threat of maritime kidnappings against small boats.
Abu Sayaf are an Islamic terrorist group based in the Sulu peninsular area of the Philippines. Yachts cruising in the area should be especially vigilant.
General advice seems to be to stay away from the Southern PI, including South Palawan and be careful heading between PI and Malaysia.
In July 2022, Noonsite received a report from a vessel owner about a suspected "pirate" attack on his vessel off the coast of Kalibo. See link below.

Reported Incidents:
Kalibo, July 2022: Pirates board yacht on delivery from Olongapo to Cebu

Sulu Peninsular, January 2020: Eight gunmen captured an Indonesian trawler and kidnapped five of the crew.
Sulu Sea, May 2017: Sulu Sea Kidnappings
Sulu Peninsular, February 2017: A German cruising couple was abducted by Abu Sayyaf, in Sulu from their yacht in November 2016. Jurgen and his partner, Sabine Merz, were attacked resulting in Sabine being killed and Jurgen has taken hostage for ransom demands. Jurgen was held for 3 months and executed in February 2017 when the ransom demands were not met.
November 2016: ReCAAP: Kidnappings Rise in Sulu-Celebes, Eastern Sabah Regions
Davao, Samal Island, September 2015: A well-known marina on Samal Island near Davao in the southern Philippines was stormed by armed men and four yachties were kidnapped. Two of the captives were executed and two were released. See report here.
Palawan, April 2014: A German couple were abducted from their yacht by bandits at Palawan on their way back to Sabah in Malaysia after island-hopping in Mindanao, in April 2014. Read news report here.
Useful Reports:
For latest feedback on cruising Palawan see this report.
A long-term cruiser in the Philippines sent this report to Noonsite with security advice and places to avoid if cruising the country.
Last updated: July 2022
Weather
The Philippines have a tropical climate. The rainy, SW monsoon season is from June to September, the dry season October to May. The average temperature is 81°F (27°C) and humidity is high. The Philippines have a high incidence of typhoons, which are most frequent between June and October. The best season for cruising is from early January to mid-May when the weather is pleasant and the danger of typhoons is minimal.
Brunei Bay Radio operates a regular voice broadcast sked of METAREA and local coastal forecasts for SE Asia waters, the NW Pacific and eastern Indian Ocean. For details of Brunei Bay Radio broadcast skeds and frequencies, see http://www.bruneibay.net/bbradio/bbrschfvoice.htm and http://www.bruneibay.net/bbradio/bbrscweathMSIbcasts.html

Davao City in Southern Mindanao is typhoon-free and winds are mostly not stronger than Force 4. It is a safe haven for riding out the typhoon season and for storing vessels.
Weather Links:

Courtesy Flag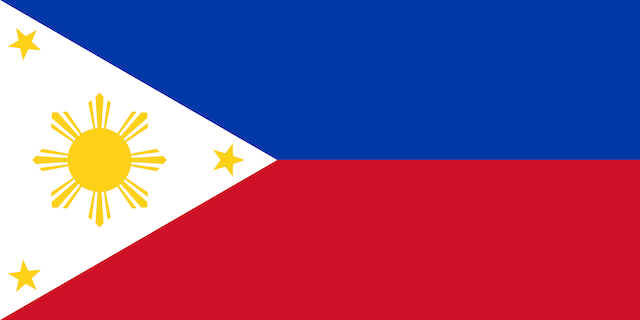 YachtFlags.com offers a discount to Noonsite members.
YachtFlags.com provides high quality courtesy flags that are manufactured in durable Knitted Polyester fabric. Knitted so that the fabric itself does not deteriorate in the constant movement that marine flags are usually exposed to, and polyester so that the flag does not weaken in the strong UV-light usually found in the main sailing areas of the world.
Use the coupon code NOONSITE_5A2B when checking out to get 10% off today.
Buy Now On YachtFlags.com
Places