Previous Page
Facts
COVID-19: Entry protocols for yachts have been affected by the pandemic. See the Biosecurity section for details.
Antigua and Barbuda is a state in the West Indies between the Caribbean Sea and Atlantic Ocean, consisting of the two main islands of Antigua and Barbuda and a number of smaller islands including the uninhabited Redonda Island. Barbuda is approx. 30NM north of Antigua
The majority of the population of 95,000 live on Antigua.
English is the official language with Antigua and Barbudan Creole the native dialect.
The currency is the Eastern Carribean dollar though US dollars and credit cards are widely accepted. For more information see the General Info section.
The time zone is UTC – 4. For more information see the General Info section.
The capital and largest port is St John's on Antigua with Codrington the main town on Barbuda.
The islands have a tropical climate with a rainy season from September to November. For more details see Weather.
Hurricane Irma – the most powerful Atlantic hurricane in recorded history – ploughed over the top of Antigua and Barbuda in early September 2017. The Category 5 storm had sustained wind speeds of at least 185mph and gusts over 200mph. Barbuda was virtually destroyed and the entire population was evacuated, however, most of the residents have now returned and the island is slowly rebuilding.
The islands are renowned for magnificent white sandy beaches coral reefs and the colonies of Frigate birds which are slowly returning to the island of Barbuda after the devastation of Hurricane Irma.
Yachts planning on visiting Barbuda should be as self-sufficient as possible for the duration of their stay.
English Harbour on Antigua is one of the most picturesque harbors in the world. Nelsons Dockyard within English Harbour is now a UNESCO World Heritage Site.
April and May are busy months on Antigua when cruising boats arrive on their way to Europe or North America, and racing enthusiasts turn up for Antigua Sailing Week held every year at the end of April. There are extensive yachting services on Antigua – for details see the Yachting Essentials section.
Security
Overall Crime and Safety
There have been incidents of violent crime including murder, armed robbery and sexual assault on the island of Antigua, however, attacks on tourists are rare. All visitors should maintain at least the same level of personal security awareness as you would at home and make sure your boat is secure.
Specific areas of concern:
Be vigilant at all times. Take care when walking alone off the busy main roads and avoid isolated areas, including beaches, particularly after dark.
Only use licensed taxis and take particular care at late night street parties, especially during the festival season.
Don't carry large amounts of cash or jewellery.
Maritime Issues:
There have been reports of violent crime against yachties in Antigua over the past few years, with the use of weapons. Whilst these appear to be isolated incidents, visiting cruisers should be careful and avoid walking alone after dark.
There have also been reports of break-ins to boats on the hard at Jolly Harbour Marina. See the Reports section for more details.
Based on reports to Noonsite from cruisers, petty theft from yachts is on the rise in the Caribbean in general. Cruisers should take basic safety precautions and use common sense when leaving the boat or going ashore at night. Dinghy thieves operate throughout the Caribbean and the best advice is to place your dinghy on deck and chain it overnight.
The Caribbean Safety and Security Net provide information by anchorage or by the island. If you experience a boarding, robbery or attack on your yacht or have information about a yachting-related security incident, go to the CSSN homepage and click on the "Report an Incident" icon.
Latest Reported Incidents:
More security reports for Antigua and Barbuda can be found here.
Emergency Numbers:
Dial 999 or 911.
See General Info/Emergencies for more details.
Last updated: October 2021
Weather
Antigua has a tropical climate but is very dry with a rainy season from September to November. The hurricane season is from July to November.
Weather forecast information is broadcast on English Harbour Radio – VHF channel 06 at 09:00 Mon-Fri and sometimes at weekends.
Antigua and Barbuda Meteorological Office providing public weather forecasts for Antigua & Barbuda, the Leeward Islands, and the BVIs.
See the Caribbean National, Regional and Island Weather Websites report for more.
For links to free global weather information, forecast services and extreme weather information see the Noonsite Weather Page.
English Harbour Cruiser's VHF Net
09:00 local time VHF channel 06 daily
Jolly Harbour Cruiser's VHF Net
09:00 local time VHF Channel 74 daily.
Courtesy Flag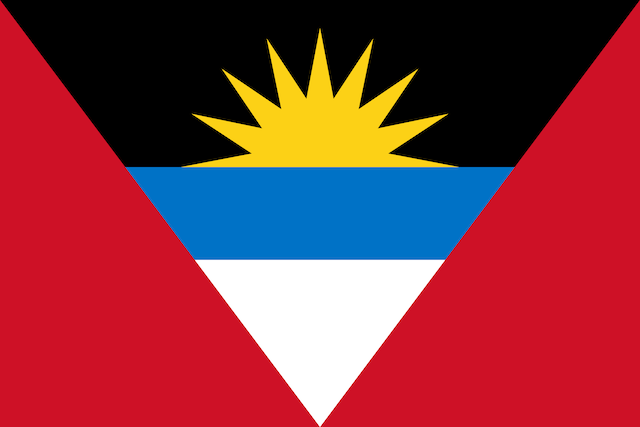 YachtFlags.com offers a discount to Noonsite members.
YachtFlags.com provides high quality courtesy flags that are manufactured in durable Knitted Polyester fabric. Knitted so that the fabric itself does not deteriorate in the constant movement that marine flags are usually exposed to, and polyester so that the flag does not weaken in the strong UV-light usually found in the main sailing areas of the world.
Use the coupon code NOONSITE_5A2B when checking out to get 10% off today.
Buy Now On YachtFlags.com
Places