Previous Page
Facts
English Harbour is one of the most picturesque harbors in the world with a full range of facilities and marinas. Nelsons Dockyard within English Harbour is now a UNESCO World Heritage Site.
April and May are the busiest time, towards the end of the winter season, when cruising boats arrive on their way home either to Europe or North America, and racing enthusiasts turn up for Antigua Sailing Week held every year at the end of April.
Barbuda is about 30nm north of Antigua, isolated and difficult to navigate. For this reason not many yachts go there, however, the magnificent beaches and colonies of Frigate birds are not to be missed.
Barbuda suffered terribly during Hurricane Irma. The island was rendered uninhabitable and the entire population was evacuated. Most of the residents have now returned, the Frigate birds are returning and the coral is starting to regenerate. Yachts planning on visiting Barbuda should go as self-sufficient as possible for the duration of their stay.
Security
Antigua, St. John's: Burgled while ashore – December 2018
There were a couple of break-ins reported by boats on the hard at Jolly Harbour Marina at the end of 2016. See reports adjacent for details.
Based on reports to noonsite from cruisers, petty theft from yachts is on the rise in the Caribbean in general. Cruisers should take basic safety precautions and use common sense when leaving the boat or going ashore at night. Dinghy thieves operate throughout the Caribbean and the best advice is to place your dinghy on deck and chain it overnight.
There have been reports of violent crime against yachties in Antigua over the past few years, with the use of weapons. Whilst these appear to be isolated incidents, visiting cruisers should be careful and avoid walking alone after dark.
The Caribbean Safety and Security Net ([email protected]) provides information by anchorage or by island, so sailors can plan their cruising in the Caribbean with an eye to appropriate behavior and precautions wherever they decide to go. Should you have suffered a boarding, robbery or attack on your yacht or have information about a yachting-related security incident, go to the CSSN homepage and click on the "Report an Incident" icon. The associated form is quick and simple to complete and ensures that all the necessary details are reported. The CSSN is the most comprehensive source of Caribbean security incidents against sailors. Remember, it is every cruiser's responsibility to ensure that incidents are reported. Also, cruisers can subscribe to e-mail alerts, follow on facebook and twitter and listen to the SSB Voice Service.
Be sure to check related security reports for Antigua and Barbuda.
Last updated:  December 2018
Weather
Antigua has a tropical climate but is very dry with a rainy season from September to November. The hurricane season is from July to November.
Weather forecast information is broadcast on English Harbour Radio – VHF channel 06 at 09:00 Mon-Fri and sometimes at weekends.
Antigua and Barbuda Meteorological Office providing public weather forecasts for Antigua & Barbuda, the Leeward Islands, and the BVIs.
See the Caribbean National, Regional and Island Weather Websites report for more.
For links to free global weather information, forecast services and extreme weather information see the Noonsite Weather Page.
English Harbour Cruiser's VHF Net
09:00 local time VHF channel 06 daily
Jolly Harbour Cruiser's VHF Net
09:00 local time VHF Channel 74 daily.
Courtesy Flag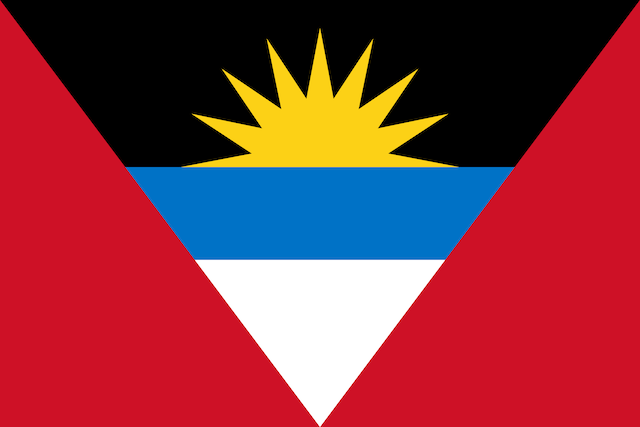 YachtFlags.com offers a discount to Noonsite members.
YachtFlags.com provides high quality courtesy flags that are manufactured in durable Knitted Polyester fabric. Knitted so that the fabric itself does not deteriorate in the constant movement that marine flags are usually exposed to, and polyester so that the flag does not weaken in the strong UV-light usually found in the main sailing areas of the world.
Use the coupon code NOONSITE_5A2B when checking out to get 10% off today.
Buy Now On YachtFlags.com