Previous Page
Facts
COVID-19 coronavirus: New procedures are in place for arriving yachts – see Biosecurity for details.
With both an Atlantic and a Mediterranean coastline, France has more variety to offer the cruising sailor than any other European country, from the tidal creeks and shallow estuaries of Brittany to the chic ports of the Côte d'Azur and the stark beauty of the island of Corsica.
France is one of the leading sailing nations in the world and its top sailors are as well known to the general French public as its best soccer players. With the most developed yacht building industry in Europe, yachting facilities generally are of a high standard. Marinas have been built along the entire Mediterranean coast and in many places, particularly in the older ports, special docking arrangements have been made for yachts. Many ports and marinas are full to capacity and during the summer season, it can be difficult to find space.
Chandlery and repair facilities are widely available and small repairs can be undertaken in most ports. For more complicated or specialized jobs it is best to go to one of the major centers, where there are established boatyards and specialist companies offering a complete range of repair facilities.
For the visiting sailor, each side of France has its special attractions. The Atlantic coast calls for more attentive navigation but brings its rewards in the many natural harbors and inlets. Although spectacular, this coast can be dangerous as there are many of flying hazards, strong tidal streams, and frequent gales. This is more than made up for by such attractive ports as Morlaix, St Malo or Lézardrieux. The western coast divides into three distinct areas, the most popular and picturesque being the Brittany coast, which has many navigable rivers and the Morbihan inland sea. The central area to the Gironde has several flying islands as well as the great rivers, the Loire and the Gironde, which lead into the inland waterways. The low-lying area stretching to the Spanish border is the least appealing as a cruising destination.
On the northern coast, facilities are best at St Malo, Ouistreham (near Caen) Le Havre, and Cherbourg, while on the Atlantic coast Brest, La Trinité, La Rochelle, Lorient, and Bordeaux offer the best range.
In some ways, Mediterranean France is more suited to those who prefer to find their pleasures ashore. Sailing into such glittering places as St Tropez, Cannes or Antibes is an experience that cannot be repeated and it is worth the long detour just to spend some time among the most beautiful collection of yachts in the world. Excellent facilities are at Antibes, in the St Tropez-Cogolin area, Toulon and Marseilles, although the latter deals mainly with commercial shipping. Many harbors east of Toulon charge from noon to noon, not on the basis of a 24 hour period from arrival. Also, charter boats abound in this area but crew experience is very variable, ranging from reasonable to very inexperienced, usually handling extra large boats!
For a good taste of Mediterranean France, the island of Corsica offers a wide selection of ports ideally to be visited outside of the peak summer season as it is a favorite holiday destination for French sailors. Facilities are best at the main port of Ajaccio on the west coast and Bastia on the east coast.
France prides itself on having the best cuisine in the world and the quality of food is excellent everywhere. Supplies are easily available and on the outskirts of every town, there are huge hypermarkets, which have an immense selection of foodstuffs and other goods.
Water and fuel are available in all ports and most marinas have their own fuelling dock. LPG is widely available as it is used by many French households, but for longer stays in France, it may be advisable to change over to the French system of bottles.
Security
Police in the Cote d'Azure report that thieving is rife in the area generally and cruisers report that in Antibes, Marina Vauban, there has been a good deal of thieving from boats.
Weather
The climate differs significantly between the Atlantic and Mediterranean coasts and so do sailing conditions. On the Atlantic side, the climate is temperate and the sailing season lasts from late spring to the autumn. The prevailing winds of summer are northerly, becoming SW when a system of low pressure comes in from the Atlantic. The strongest winds also come from the SW. Winds along the Mediterranean coast and Corsica are more variable, the strongest wind being the mistral, a northerly wind which occurs regularly and often reaches gale force.
In the Mediterranean, there are several continuous weather reports, broadcast in both English and French, on VHF channels. Channel 24 for Corsica; Channel 25 for Provence; Channel 23 for the Core d'Azur.
French Coastal Weather Forecasts – these are better than the BBC sea area forecasts and are issued by CROSS (Centre Regioneaux Operationnels de Surveillance et de Sauvetage), i.e. regional watch and rescue centers. After an initial announcement on VHF 16, you are directed to either VHF 79 or 80. The forecast follows a standard format: e.g. for a morning forecast:
(i) Synopsis and evolution
(ii) Forecast for the day
(iii) Forecast for the night
(iv) Outlook for the next 24 hours (tendency ulteriere)
A minimum of the French language is required, apart from (i). Wind strengths are given in Beaufort. Beware of Est (east) and Ouest (west).
Coastal Weather Conditions in France. 
For links to free global weather information, forecast services and extreme weather information see the Noonsite Weather Page
Related Businesses
Port de Plaisance – Saint Valery en Caux

Address: 48bis route de Veulettes, Cany Barville, France, 76450

Marina with 550 berths, water and electricity on pontoon, toilets and showers (code access), launderette (washing machine and dryer), pump-out, daily weather forecast.Boatyard with 5... Read More
Courtesy Flag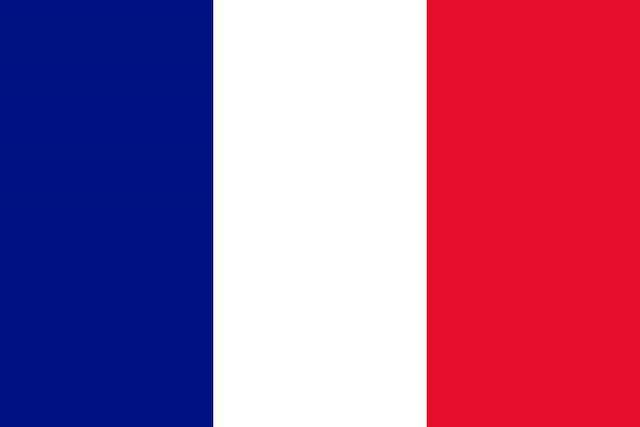 YachtFlags.com offers a discount to Noonsite members.
YachtFlags.com provides high quality courtesy flags that are manufactured in durable Knitted Polyester fabric. Knitted so that the fabric itself does not deteriorate in the constant movement that marine flags are usually exposed to, and polyester so that the flag does not weaken in the strong UV-light usually found in the main sailing areas of the world.
Use the coupon code NOONSITE_5A2B when checking out to get 10% off today.
Buy Now On YachtFlags.com
Places