Previous Page
Facts
The Commonwealth of the Northern Marianas in the Western Pacific has the special status of a US Commonwealth. The American influence is strong, although the legacy of Spanish colonial rule can also be seen. Of the 14 volcanic islands that stretch north to south in almost a straight line, the southernmost three, Saipan, Rota and Tinian, are the main islands. Guam is geographically part of the Marianas, but politically separate.
The islands were military-dominated for many years and access was forbidden, but that is no longer the case. Formalities have eased greatly in 2018 and a permit is no longer required.
The islands attract a few cruising yachts every year, most of these come from Guam.
The southern islands are the more developed, while some of the northern islands are wildlife reserves and cannot be visited.
Most facilities are in Saipan, which is the most developed island and attracts most tourists. Tinian is less developed than Saipan, but as it has a large farming community, fresh produce is easily available and of good quality. Provisions in the outer islands are scarce and one should not expect to be able to buy more than the absolute minimum.
The entire group is subject to typhoons for most of the year, another reason why cruising boats rarely sail there.

Pacific Islands Pilot Volume 1, 2018
Available through Bluewater Books (enter the coupon code NOON at checkout to get 10% discount)
Covers the Solomons, PNG, FSM, Palau, Guam, Northern Marianas & Oki-no-Tori Shima.
See Publications for more titles.
Weather
The islands have a semi-tropical warm climate and the NE trade winds blow from January to April.
The islands lie in the typhoon zone and typhoons can occur all year round, but are more frequent between July and November.
As the Marianas appear to be hit by typhoons every year, extreme caution must be exercised when cruising this area. One of the safest months is February, which has the lowest incidence of typhoons.
A recommended hurricane hole is in Tanapag's inner harbour, also called Smiley's lagoon, where shelter is reputed to be good from every direction. It is advisable to check in advance before depending on it for safe harbour.
Open SSB Call Line for Weather
The island communities and "Homeland Security" operate an open SSB call line on 5205.0 at 0800hrs and between 1530hrs and 1630hrs local. Weather forecasts are available on request at these times with Homeland Security. Homeland Security monitors 5205.0, 24hrs a day.
Call signs are:
20Pagan for Pagan Island
32Agrigan for Agrigan Island
53Alamagan for Alamagan Island (from April 2018); MayorsBase for the Northern Islands Mayoral office on Saipan.
Northern Marianas Weather Forecast.
For links to free global weather information, forecast services and extreme weather information see the Noonsite Weather Page.
Courtesy Flag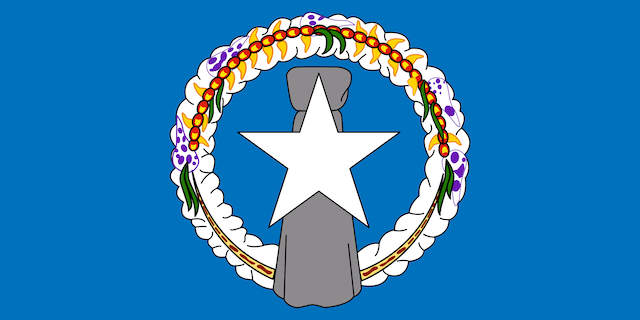 YachtFlags.com offers a discount to Noonsite members.
YachtFlags.com provides high quality courtesy flags that are manufactured in durable Knitted Polyester fabric. Knitted so that the fabric itself does not deteriorate in the constant movement that marine flags are usually exposed to, and polyester so that the flag does not weaken in the strong UV-light usually found in the main sailing areas of the world.
Use the coupon code NOONSITE_5A2B when checking out to get 10% off today.
Buy Now On YachtFlags.com
Places