Previous Page
Facts
COVID-19 coronavirus: New procedures are in place for arriving yachts – see Biosecurity for details.
ALERT: Sri Lanka suffered probably its worst maritime disaster in history in May 2021 when a cargo ship carrying chemicals caught fire off its western coast and sank. Currently it is not recommended to attempt entering Sri Lanka.
Important pre-arrival information: An agent is required to clear into and out of Sri Lanka. Preferably establish contact with an agent before arrival. See Formalities for all the details.
Sri Lanka is an island nation in South Asia, situated in the Indian Ocean toward the southwest of the Bay of Bengal and to the southeast of the Arabian Sea.
The population of Sri Lanka is approximately 21.5 million.
Sinhala is the most common language but Tamil and English are spoken by about a quarter of the population.
The currency used is the Sri Lanka Rupee, for specifics see General Info.

The climate is tropical, and the weather is hot and humid throughout the year. See Weather section below for more details
Sri Lanka operates on India Standard Time, UTC+5.30.
Repair and haul out facilities are very limited. For more information see Yachting Essentials.

Sri Lanka is renowned for it's natural beauty with exotic animals and lush greenery exemplified at the Udawalawe National Park where a safari can be taken. In addition there are dozens of historical sites scattered throughout the country.
Sri Lanka is a useful stop for yachts en route to the Red Sea and a good point of departure for cruising the Maldives, Chagos and Seychelles.
It is highly likely on your approach to Sri Lanka you will be accosted by fishing boats at full speed shouting and waving at you wanting gifts. Wave them away and proceed west as fast as possible. Don't be surprised if you have to bear off or start an engine to avoid them.
Security
Overall Crime and Safety:
On 21 April 2019 there were bomb attacks on three churches and three hotels in centra Colombo and in Batticaloa on the east coast. Security has been increased across the country. Visitors are recommended to avoid large public gatherings and religious festivals.
For travel advisories, see the following websites:
Violent crime against tourists is rare, however visitors should be aware of sexual assault, spiked drinks and credit card fraud.
Specific areas of concern:
North and Eastern Provinces: Since the end of the conflict between the Government and the Liberation Tigers of Tamil Eelam (LTTE) in 2009, security in the N and E provinces of the country has reduced greatly. However, there are still checkpoints in this part of Sri Lanka and roads closed. Landmines may also be found in more remote areas.
Maritime Issues:
No serious incidents against yachts have been reported.
General Emergency Numbers:
For more detail see General Info

Last updated: April 2019
Weather
Tropical climate with distinct dry and wet seasons. The seasons are slightly complicated by having two distinct monsoon seasons.
From May to August the Yala monsoon brings rain to the island's southwestern half, while the dry season lasts from October to March. The southwest has the highest rainfall – up to 4000mm a year.
The Maha monsoon blows from October to January, bringing rain to the North and East, while the dry season is from May to September. The North and East are comparatively dry, with around 1000mm of rain annually.
There is also an inter-monsoonal period in October and November when rain can occur in many parts of the island.
Colombo and the low-lying coastal regions have an average temperature of 27°C. At Kandy (altitude 500m), the average temperature is 20°C, while Nuwara Eliya (at 1889m) has a temperate 16°C average. The sea stays at around 27°C all year.
For links to free global weather information, forecast services and extreme weather information see the Noonsite Weather Page.
Related Businesses
Brunei Bay Radio

Address: PO Box 2234, Bandar Seri Bagawan, Brunei, BS 8674

HF/SSB voice and e-mail services from Brunei on the NW coast of Borneo. Service area covers the NW Pacific, SE Asia, and eastern Indian Oceans... Read More
Courtesy Flag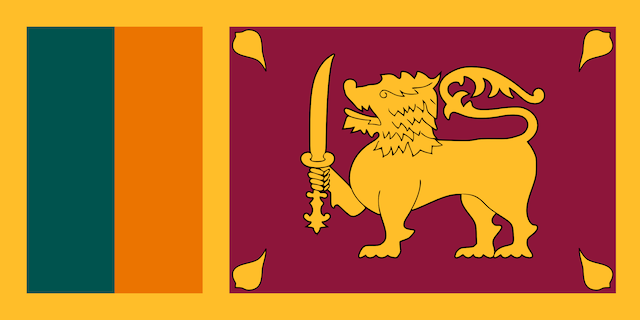 YachtFlags.com offers a discount to Noonsite members.
YachtFlags.com provides high quality courtesy flags that are manufactured in durable Knitted Polyester fabric. Knitted so that the fabric itself does not deteriorate in the constant movement that marine flags are usually exposed to, and polyester so that the flag does not weaken in the strong UV-light usually found in the main sailing areas of the world.
Use the coupon code NOONSITE_5A2B when checking out to get 10% off today.
Buy Now On YachtFlags.com
Places