Previous Page
Facts
Important pre-arrival information: Samoa Port Authority and Biosecurity require an Advance Notice of Arrival. See Formalities for all the details.
Samoa, formerly known as Western Samoa, comprises the two islands of Upolu and Savai'i, as well as several smaller islands. Savai'i is the largest, but Upolu is the most developed and center of government and commerce.
From a cruising perspective, Western Samoa is often the first practical landfall when heading west from French Polynesia. Apia is the only port of entry and departure.
Robert Louis Stevenson was the first in a long line of famous travelers to be seduced by the Samoan way of life, and today's sailors can still find a Samoa whose ways have changed very little during the century since Stevenson lived here.
Cruising along the sheltered northern coast of the two main islands, one can anchor off villages such as Asau on Savai'i, from where one can explore the interior of these verdant islands with their gushing waterfalls and lush rainforests.
Asau is a well-protected anchorage, but only limited supplies are available, so it is better to a provision in Apia.
Since 2011, Samoa has been on the New Zealand side of the International Date Line. If you arrive from the Cook Islands or French Polynesia you will skip a day. None of the cruising guides mention this, but as the Samoan authorities do not clear boats at the weekend, it is worth planning for. American Samoa, however, is still on the French Polynesian side of the Date Line.
See Yachting Essentials section for information on supplies and provisions.
Security
Cruisers report that security is not a problem in Samoa.
Weather
Samoa has a tropical climate with the more pleasant season being the south-east trade wind season from April to November. During the cyclone season, from December to March, the weather is hotter and wetter. As the Samoan islands are quite high, local weather conditions can be quite varied.
Western Samoa lies in the path of many of the convergence zones which bring cloud, strong winds and a large amount of rainfall. This should be taken into account for those intending to stop here.
For yachts wishing to subsequently visit Tonga, the prevalence of winds with a significant southerly component may necessitate some windward work en route between Western Samoa and any of the Tongan islands. Yachts in Suwarrow (Northern Cook Islands) wishing to visit Tonga might, therefore, prefer the easier passage of going directly to Nuitoputapu or Neiafu from Suwarrow, rather than trying to fit American or Western Samoa into their passage plans.
A useful guide to South Pacific weather resources compiled by a Noonsite contributor, Rory Garland.
For links to free global weather information, forecast services and extreme weather information see the Noonsite Weather Page.
Courtesy Flag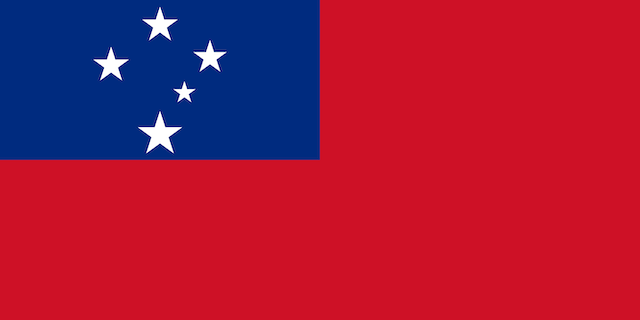 YachtFlags.com offers a discount to Noonsite members.
YachtFlags.com provides high quality courtesy flags that are manufactured in durable Knitted Polyester fabric. Knitted so that the fabric itself does not deteriorate in the constant movement that marine flags are usually exposed to, and polyester so that the flag does not weaken in the strong UV-light usually found in the main sailing areas of the world.
Use the coupon code NOONSITE_5A2B when checking out to get 10% off today.
Buy Now On YachtFlags.com
Places