Previous Page
Facts
COVID-19 coronavirus: New procedures are in place for arriving yachts – see Biosecurity for details.
Important pre-arrival information: Prior to arriving in FSM an Immigration Permit and Vessel Entry Application must be submitted. See Formalities for all the details.
The Federated States of Micronesia (FSM) are Kosrae, Pohnpei, Chuuk (formerly Truk) and Yap, stretching over a vast expanse of Pacific Ocean just north of the equator. Geographically, these four small states are part of the Caroline Islands, consisting between them of over 600 islands, of which only 65 are inhabited. Also part of Chuuk state are the isolated Mortlocks, Hall Islands and Western Islands.
The name "Falalop" means "big island" or "main island" Many atolls in the Outer Islands, like Woleai, have an island which is called Falalop, meaning it is the main island of that atoll.
FSM has a population of around 105,000. The official language is English. There are also several local languages spoken including Chuukese, Kosraean, Pohnpeian, Yapese, Ulithian, Woleaian, Nukuoro, and Kapingamarangi.
The currency of Micronesia is the United States Dollar. However, some islands such as the Yap Island use other currencies alongside the US dollar. Cash is required for most transactions here. Only in Chuuk is it possible to obtain money using a credit card.
Time zones vary in the islands. Chuuk time is UTC +10. Pohnpei Standard Time and Kosrae Standard Time are UTC +11.
Micronesia has a warm tropical climate with little change in temperature throughout the year. January to March is the dry season. See weather.
For the cruising sailor the Federated States of Micronesia offer a chance to come in contact with a Micronesian society which has managed to preserve most of its traditions despite successive waves of foreign domination. Close links with the United States have brought a higher living standard, but also the social problems of modern life, which the islanders are making an effort to overcome by returning to more traditional way of life.
Facilities vary widely across the Federation, with basic repair facilities in the main centres and very little in the outer islands. There are fisheries plants in several islands and wherever there is a base for fishing boats, one may be able to find at least a modicum of repair facilities. One should carry a good supply of essential spares as the only parts that may be available locally are those used in trucks or heavy plant in use on the islands. See Yachting Essentials for more information.
Security
Overall Crime and Safety:
Crime levels are low. Most crime in the FSM is petty theft motivated by opportunity and impulse. There have been reported incidents of sexual assaults. Visitors should be vigilant, especially when alone.
Unexploded ordinance from World War II remains in some areas. It is dangerous, as well as illegal, to remove "souvenirs" from sunken WWII vessels and aircraft.
For travel advisories, see the following websites:
Specific Areas of Concern:
Crime rates are significantly higher in Chuuk than in the other states.
Maritime Safety:
Some incidents of petty or opportunistic theft, but very few serious crimes against yachts have ever been reported.
Last updated: March 2019
Weather
Chuuk Lagoon photo courtesy of Ashley Thorington-Shippey
The islands are under the influence of the NE trade winds, which blow between October and May. January to March is the dry season, while rainfall can be heavy in the summer months. The SW monsoon lasts from June to September, when there are frequent periods of calm. Strong SW gales can occur during August and September. They appear to be caused by the typhoons which are bred in this region but usually move away from the islands. Occasionally the islands are affected by typhoons. Although typhoons can occur at any time of the year, the period 1 December to 30 April may be regarded as relatively safe. In some years, the typhoon season may start early, or last longer than usual, so the weather should be watched carefully at all times. Guam has the best forecasts for the area. (Thanks to Ashley Thorington-Shippey for this great photo taken from Chuuk).
Federated States of Micronesia Weather Forecast
The Pacific Region of the National Weather Service administers forecasts for FSM.
http://www.prh.noaa.gov/pohnpei/
For links to free global weather information, forecast services and extreme weather information see the Noonsite Weather Page
Related Businesses
Brunei Bay Radio

Address: PO Box 2234, Bandar Seri Bagawan, Brunei, BS 8674

HF/SSB voice and e-mail services from Brunei on the NW coast of Borneo. Service area covers the NW Pacific, SE Asia, and eastern Indian Oceans... Read More
Courtesy Flag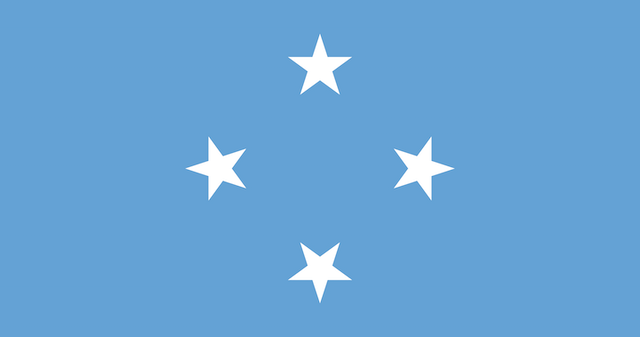 YachtFlags.com offers a discount to Noonsite members.
YachtFlags.com provides high quality courtesy flags that are manufactured in durable Knitted Polyester fabric. Knitted so that the fabric itself does not deteriorate in the constant movement that marine flags are usually exposed to, and polyester so that the flag does not weaken in the strong UV-light usually found in the main sailing areas of the world.
Use the coupon code NOONSITE_5A2B when checking out to get 10% off today.
Buy Now On YachtFlags.com