Previous Page
Facts
COVID-19 coronavirus: New procedures are in place for arriving yachts – see Biosecurity for details.
Important pre-arrival information: Belize Port Authority require an Advance Notice of Arrival. See Formalities for all the details.
Belize, formerly known as British Honduras, fronts the Western Caribbean Sea and borders on Mexico and Guatemala.
Belize's main attraction lies offshore, a 175-mile long barrier reef, second only in size to the Great Barrier Reef of Australia, and the underwater scenery is reputed to be amongst the best anywhere in the world.
Between the reef and the coastal strip are hundreds of uninhabited islands and cays, and therein lies Belize's popularity as a cruising destination; the number of secluded anchorages, unsurpassed diving, and excellent fishing will ensure Belize's attraction as an alternative to the crowded Eastern Caribbean.
Many of the navigation lights or marks are reported to be either out of action or missing and therefore night passages should be avoided. Even in daylight, the barrier reef area should be navigated with caution.
Yachting facilities are limited in Belize: Belize City has some repair facilities, good provisioning, a limited supply of hardware but very little yachting equipment. Frequent theft from boats and lengthy formalities means however that few boats now go to Belize City if this can be avoided. There is a new boatyard in Placencia.
A more convenient and safe place to leave the boat if intending to visit the interior, which is another of the main attractions of Belize, is the new marina, Cucumber Beach Marina, just south of Belize City. It has been reported that a marina is also a good place from which to visit the Mayan sites in Guatemala, such as Tikal.
Security
Overall Crime and Safety:
The US State Department and UK FCO both have travel advisories for Belize but emphasize that most general travel (tourism) to Belize is incident-free. Still, you should take precautions against street crime. There have been occasional violent incidents against tourists.
Specific areas of concern:
The George Street and Kraal Road areas of Belize City are particularly dangerous due to gang violence and gun crime.
Maritime Issues:
In February 2021 several piracy events were reported against local fishermen in the cays and coast of Belize. Outboard engines, fish and electronics were taken. No reports of piracy against cruisers/yachts have been reported. More details here.
There was a particularly violent attack on a charter catamaran in 2012 in the Pelican Range of Cayes. Take caution when anchoring here or avoid the area. Whilst the Pelican Range of Cayes have seen a few security incidents against yachts in the past, this is the first violent attack against a yacht in Belize that was reported to Noonsite.
Most Recent Reported Incidents:
Be sure to check related security reports for Belize.
Last updated: February 2021
Weather
The tropical climate can be hot especially February to May, although the prevailing wind helps to keep the coast cooler.
During the winter months, the anchorages are rather exposed to the northerly winds which sweep down across the Gulf of Mexico. These "northers" bring cloudy skies, wind, and drizzle and often in January and February, cold fronts will come through about every ten days.
The hurricane season lasts from June to November.
For links to free global weather information, forecast services and extreme weather information see the Noonsite Weather Page.
Related Businesses
Caribbean NW Net

Northwest Caribbean net, 1400 UTC 6209 USB, alternates 6212 and 6516, 7 days/wk. Generally covers Providencia north to Mexico on the Carib side, including Providencia,... Read More
Courtesy Flag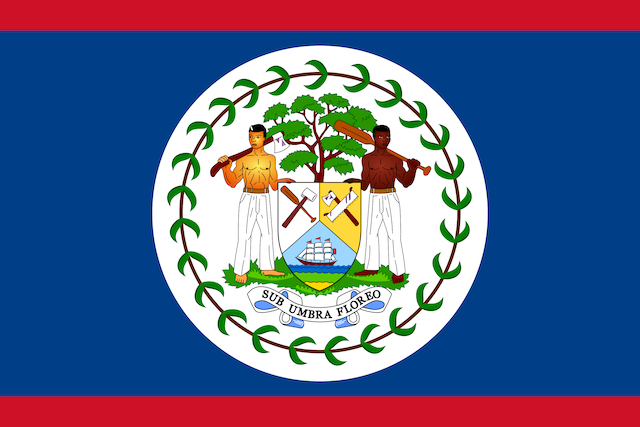 YachtFlags.com offers a discount to Noonsite members.
YachtFlags.com provides high quality courtesy flags that are manufactured in durable Knitted Polyester fabric. Knitted so that the fabric itself does not deteriorate in the constant movement that marine flags are usually exposed to, and polyester so that the flag does not weaken in the strong UV-light usually found in the main sailing areas of the world.
Use the coupon code NOONSITE_5A2B when checking out to get 10% off today.
Buy Now On YachtFlags.com
Places