Previous Page
Facts
Frigate Birds on Ascension Island

Important pre-arrival information: The Ascension Island Government require all visitors to obtain an E-Visa prior to arrival and take out medical insurance. See Formalities for all the details.

A mountainous peak rising from the floor of the South Atlantic Ocean, Ascension is a dormant volcanic island like Tristan da Cunha and the Azores on the mid-Atlantic volcanic ridge. It is one of the largest marine protected areas in the world..
The island lies roughly halfway between the horn of South America and Africa.
Ascension Island is part of a British Overseas Territory, (nowadays called St Helena, Ascension and Tristan da Cunha) under the sovereignty of the British Crown.
The 34 sq miles (88 sq km) island is a communications center for the BBC, the RAF, the US Air Force and the European Space Agency and hosts one of four ground antennas that assist in the operation of the Global Positioning System (GPS) navigational system. NASA also operates a Meter Class Autonomous Telescope (MCAT) on Ascension Island for tracking orbital debris.
Although a traditional port of call for ships on the Cape of Good Hope route, the few yachts that sail on this route only occasionally stop at Ascension. Because of their isolation, the people who work on the island (the island's only inhabitants) are friendly and hospitable. There is no indigenous or permanent population.
The RMS St Helena visits Ascension approximately once every three weeks on her voyage from Cape Town and St Helena.
Marine services and supplies are very limited. See Yachting Essentials for full details.
It is planned that Ascension Island will become the Atlantic's largest marine reserve.
Ascension Island courtesy of SY Yindee Plus
Security
In July 2017 there was an unprovoked shark attack at English Bay on Ascension Island involving a US citizen, who was paddle-boarding approx. 30m from shore. The island government subsequently advised swimmers that "entering the sea on Ascension must be avoided until further notice."
Weather
The climate is sub-tropical with temperatures ranging from 20-31°C. Showers occur throughout the year with slightly heavier rains in the January-April period. The island is under the influence of the SE trade winds for most of the year.
The weather can change rapidly. Contact Turtle Radio on VHF Channel 16.
For links to free global weather information, forecast services and extreme weather information see the Noonsite Weather Page
Related Businesses
Turtle Radio

Address: Ascension Island,
Courtesy Flag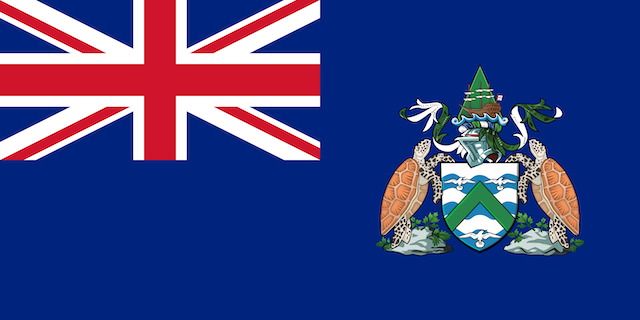 YachtFlags.com offers a discount to Noonsite members.
YachtFlags.com provides high quality courtesy flags that are manufactured in durable Knitted Polyester fabric. Knitted so that the fabric itself does not deteriorate in the constant movement that marine flags are usually exposed to, and polyester so that the flag does not weaken in the strong UV-light usually found in the main sailing areas of the world.
Use the coupon code NOONSITE_5A2B when checking out to get 10% off today.
Buy Now On YachtFlags.com
Places