Previous Page
Facts
COVID-19: Entry protocols for yachts have been affected by the pandemic. See the Biosecurity section for details.
Important pre-arrival information: All nationalities arriving by private yacht need a valid US visa, which must be obtained in advance of arrival, or be already in possession of a visa waiver entry in their passport. See Formalities for all the details.

The United States Virgin Islands (USVI) are an archipelago comprising hundreds of small islands and cays. The western part is US territory, while the eastern half is a British dependency.
The islands are located to the east of Puerto Rico are in the Leeward Islands of the Lesser Antilles.

The USVI consist of the main islands of Saint Croix, Saint John, and Saint Thomas, and many other surrounding minor islands. The territory's capital is Charlotte Amalie on the island of St. Thomas.
St Thomas is the most developed island and gets busy with cruise-ship traffic. St John has most of the parkland and is equally popular for hiking and snorkeling. St Croix has great scuba sites and rum factories.
Several enclaves exist for cruisers such as Crown Bay Marina, Yacht Haven Grande, American Yacht Harbor, Independent Boat Yard and St. John. Elephant Bay on Water Island is open for anchoring and there are a number of small beach bars welcome visitors.
The population of 110,000 includes large communities of Caribbean, American, Danish, French, Asian, African and Middle Eastern residents. The official language is English, though Spanish and Patois are spoken.
The official currency is the United States dollar (USD), the currency also used by the British Virgin Islands. For specifics see General Info.

Time zone is (GMT-4). For specifics see General Info.

The climate is tropical rainforest, influenced by the trade winds. From December to March the daily average temperature is around 24/25 °C (75/77 °F), it is hotter and more humid during hurricane season; from May to October. See Weather below for more detail.
Hurricane Irma, the most powerful Atlantic hurricane in recorded history, hit the USVI in early September 2017. The storm had a sustained wind speed of at least 185mph.
The island uses the IALA-B (red right returning) buoyage system.
See Yachting Essentials for more.
Security
Overall Crime and Safety
Opportunistic crime against tourists has been on the rise, and muggings are frequent. Wandering the island at night, especially on the back streets of Charlotte Amalie, Christiansted and Frederiksted are not recommended.
Specific areas of concern:
Women's safety: Incidents of sexual assault occur and women report being subject to harassment and verbal abuse.
Maritime Issues:
Locked dinghy and outboard thefts continue to be a problem. Be sure to lift and chain and lock your dinghy and outboard at night and secure it properly at dinghy docks.
The Caribbean Safety and Security Net provide information by anchorage or by the island. If you experience a boarding, robbery or attack on your yacht or have information about a yachting-related security incident, go to the CSSN homepage and click on the "Report an Incident" icon.
Reported Incidents:
St. Thomas, Charlotte Amalie, December 2021: Theft of items from dinghy locked at waterfront dock.

St. Croix, Christiansted, March 2021: Theft of dinghy and outboard
St. Thomas, Independent Boat Yard, March 2019: Theft of dinghy and outboard
St. Thomas, Elephant Bay, December 2018: Theft of dinghy/outboard
St. Thomas, Elephant Bay, December 2018: Theft of dinghy/outboard
St. Thomas, American Yacht Harbour, February 2018: Theft of dinghy/outboard
Emergency Numbers:
Be sure to check related security reports for the USVIs.
Last updated: December 2021
Weather
The USVI has a tropical marine climate; hot throughout the year but moderated by the trade winds. December to March the daily average temperature is around 24/25 °C (75/77 °F). June to November is the rainy season, daily averages are around 28 °C (82 °F). Apart from hurricanes, which can bring strong winds and torrential rains, rainy season usually consists of brief showers and intense thunderstorms.
Water temps are 26 °C (79 °F) from January to April, and 29 °C (84 °F) in September and October.
Tides rarely exceed 12 inches, though higher swells are experienced on the Atlantic shores from November through April. In areas, such as Pillsbury Sound between St. Thomas and St. John, the current can reach 1 to 2 knots.
Useful Links:

Hurricane Season:

If you wish to obtain a berth for the Hurricane Hole Refuge, send an e-mail to [email protected] with the vessel name, vessel registration number, and your email and a telephone number. Places are allocated by drawing names out of a hat. Normally approx. 12 berths are available. The draw takes place early June. For questions contact Thomas Kelley (Thomas [email protected]) or Dave Worthington ([email protected]).
Courtesy Flag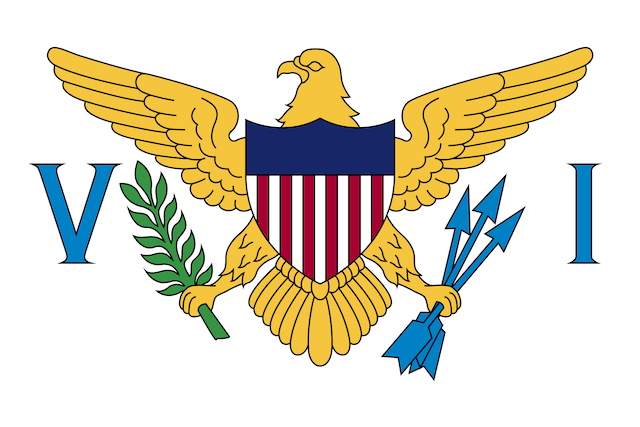 YachtFlags.com offers a discount to Noonsite members.
YachtFlags.com provides high quality courtesy flags that are manufactured in durable Knitted Polyester fabric. Knitted so that the fabric itself does not deteriorate in the constant movement that marine flags are usually exposed to, and polyester so that the flag does not weaken in the strong UV-light usually found in the main sailing areas of the world.
Use the coupon code NOONSITE_5A2B when checking out to get 10% off today.
Buy Now On YachtFlags.com
Places