Previous Page
Facts
COVID-19: See Biosecurity for Yachting Protocols.
St Eustatius is now part of the Netherlands and known as Statia (pronounced "STAY-SHA").
The island lies north of St Kitts in the Leeward Island chain and is just 5 miles long and 2.5 miles wide.
The population of Statia is just under 4,000. The official language is Dutch, though English is spoken and school and used widely. An English-based Creole is also spoken.
The US dollar is the official currency.
Statia is in Atlantic Standard Time (GMT-4).
Weather is Statia is dry and sunny with light SE trades. For more info see the weather.

The only anchorage is off the main village of Oranjestad, in Oranje Baai. The swell usually makes itself felt.
Services are quite basic. For more info. see Yachting Essentials.

Security
Overall Crime and Safety
Most visits to Statia are trouble-free, however, petty theft and street crime are a concern. There is a violent crime among members of the illegal drugs world, but this rarely affects tourists. The main tourist areas are generally safe, but you should take normal precautions. Avoid remote areas at night. Make sure purses and handbags are closed and not easy to snatch.
For travel advisories, see the following websites:
Maritime Issues
Based on reports to Noonsite from cruisers, petty theft from yachts is on the rise in the Caribbean in general. Cruisers should take basic safety precautions and use common sense when leaving the boat or going ashore at night. Dinghy thieves operate throughout the Caribbean and the best advice is to place your dinghy on deck and chain it overnight.
The Caribbean Safety and Security Net provide information by anchorage or by the island. If you experience a boarding, robbery or attack on your yacht or have information about a yachting-related security incident, go to the CSSN homepage and click on the "Report an Incident" icon.
Be sure to check related security reports for Statia.
Last updated: January 2019
Weather
Statia is generally dry and sunny. Light NE trade winds bring constant cool breezes and sufficient moisture to keep the average daytime temperature down to about 27 degrees Celsius. The average night temperature drops to about 23 degrees. Rainfall occurs in showers of medium duration during the months of April, June, and September.
Meteorological Department Curaçao (MDC): Provides weather services for Curacao, Bonaire, St. Eustatius, St. Maarten and Saba, within the Kingdom of the Netherlands.
http://www.antiguamet.com/: Antigua and Barbuda Meteorological Office providing public weather forecasts for Antigua & Barbuda, the Leeward Islands and the BVI.
For links to free global weather information, forecast services and extreme weather information see the Noonsite Weather Page.
Courtesy Flag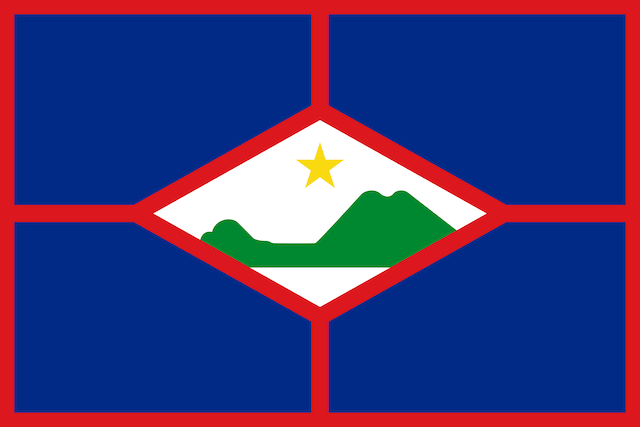 YachtFlags.com offers a discount to Noonsite members.
YachtFlags.com provides high quality courtesy flags that are manufactured in durable Knitted Polyester fabric. Knitted so that the fabric itself does not deteriorate in the constant movement that marine flags are usually exposed to, and polyester so that the flag does not weaken in the strong UV-light usually found in the main sailing areas of the world.
Use the coupon code NOONSITE_5A2B when checking out to get 10% off today.
Buy Now On YachtFlags.com
Places