Previous Page
Facts
COVID-19: Entry protocols for yachts have been affected by the pandemic. See the Biosecurity section for details.
Located in Central America, bordering the Caribbean Sea, between Guatemala and Nicaragua and bordering the North Pacific Ocean, between El Salvador and Nicaragua.
Honduras' Pacific coastline on the Gulf of Fonseca is only about 70 miles long compared to a 400-mile shoreline in the Caribbean.
The Bay Islands are the country's prime sailing attraction, a perfect cruising ground whose popularity with yachts has increased steadily in recent years as an alternative to the Eastern Caribbean, and the Virgin Islands – less crowded, and scenically on a par with the Virgins. Provisioning and repair facilities are best on Roatan.
Roatan, Utila, Guanaja, on the Bay Islands, and La Ceiba on the mainland, are the Ports of Entry where officials are most used to dealing with yachts.
Facilities generally have improved as more cruising boats visit Honduras; there are two new marinas at La Ceiba. Lagoon Marina has 24-hour security and is a good place to leave the boat while visiting some of the attractions of Honduras' interior such as the Copan Maya ruins.
The rest of Honduras is less tempting to explore by sea and although the mountainous north coast is scenically attractive, the lack of harbors make cruising along it very difficult, while the western Pacific coast is featureless and uninteresting.
Security
Overall Crime and Safety:
Crime and violence are a serious problem throughout Honduras and the country has one of the highest homicide rates in the world.
For travel advisories, see the following websites:
UK – www.gov.uk/foreign-travel-advice
USA – www.travel.state.gov/content/travel.html
Canada – www.voyage.gc.ca
New Zealand – www.safetravel.govt.nz
Australia – www.smartraveller.gov.au

Maritime Issues:
Cruisers should practice a high level of caution and careful planning if transiting near shore and offshore Honduras or Nicaragua (see reported incidents below and related security reports).
During low-season, local crime does increase particularly in the Bay Islands where the great majority of locals rely on the tourist trade for their income. Police presence also tends to be reduced when fewer tourists are around. It is important to bear this in mind when making your cruising plans and is recommended that more remote bays and anchorages are avoided during this period.
Cruisers should adopt basic long-distance cruising rules when cruising here: lock your boat at all times, use alarms, raise your dinghy and lock it at night, lock your dinghy at the dock during the day, travel in groups whenever possible, keep the VHF tuned to Ch.16 and the shared channel with fellow cruisers in the area. However, dinghy thefts continue to plague cruisers – See Reported Incidents below for latest info.
The Caribbean Safety and Security Net provide information by anchorage or by island. If you experience a boarding, robbery or attack on your yacht or have information about a yachting-related security incident, go to the CSSN homepage and click on the "Report an Incident" icon.
Also be sure to check the Noonsite Piracy & Security Pages (via the hamburger menu).
Reported Incidents:
Honduras, Roatan: Chained and Locked Dinghy stolen from Yacht at Anchor (December 2021)

Nicaragua, Offshore: Catamaran on Passage Approached by Suspicious Boats (November 2021)

Honduras, Offshore: Catamaran Menaced by Three Boats (October 2021)

Honduras, Roatan: Nightime Dinghy and Engine Thefts (May 2021)

NE of Gorda Bank: Suspicious Activity – July 2019 (see related reports).
Transiting Offshore Nicaragua on passage from Honduras to Colombia, April 2019: Pirate boarding and attack.

West End, Roatan, February 2019: Yacht boarded while the owner slept and outboard was stolen.

Honduras/Nicaragua Border, 2018: Attempted piracy

Off Gorda Bank, 2018: Attempted piracy

During 2017: Five reports of piracy off Honduras reported (2 in the Gorda Bank area, 1 off the north coast near Puerto Cortes, one 10 miles off Utila and one 35 miles offshore of the Honduras/Nicaragua border).
Graham's Cay, Guanaja, 2017: Yacht boarded by armed men and robbed.
The Gracias Adios area is the most remote area of Honduras and the entire area is renowned for being under the control of drug traffickers. In 2012 long term cruiser Cliff Vaughs lost his boat and all his possessions to pirates here (see report Honduras, Catarasca Lagoon: Single Handed Cruiser Loses Boat to Pirates).
Last updated: December 2021
Weather
Climate – Subtropical in lowlands, temperate in mountains.
Rain is frequent on the Caribbean coast all year round, but heaviest from September to December. The drier months are April to May but these months are very hot. The east and north coasts have strong NE trade winds throughout the winter months. The best time to cruise the Bay Islands is at the end of winter or early spring when the northers of winter are no longer a problem.
Report on Eastern Pacific Offshore Waters Forecast.
For links to free global weather information, forecast services and extreme weather information see the Noonsite Weather Page
Related Businesses
Caribbean NW Net

Northwest Caribbean net, 1400 UTC 6209 USB, alternates 6212 and 6516, 7 days/wk. Generally covers Providencia north to Mexico on the Carib side, including Providencia,... Read More
Courtesy Flag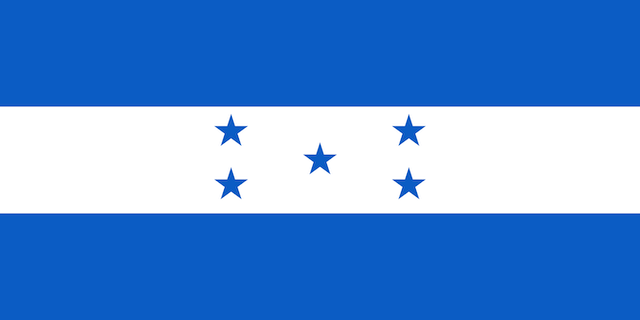 YachtFlags.com offers a discount to Noonsite members.
YachtFlags.com provides high quality courtesy flags that are manufactured in durable Knitted Polyester fabric. Knitted so that the fabric itself does not deteriorate in the constant movement that marine flags are usually exposed to, and polyester so that the flag does not weaken in the strong UV-light usually found in the main sailing areas of the world.
Use the coupon code NOONSITE_5A2B when checking out to get 10% off today.
Buy Now On YachtFlags.com
Places