Previous Page
Facts
COVID-19: Entry protocols for yachts have been affected by the pandemic. See the Biosecurity section for details.
Most yachts visit Egypt only to transit the Suez Canal and very few visit the country itself. For full details on how to transit the Suez Canal, including costs, see this report.
The only area of the country worth cruising is in the Red Sea, the reefs and bays stretching from the Sudanese border to the Gulf of Suez. Day sailing along this coast is the most pleasant way to make progress against the prevailing northerlies.
In past years the Red Sea coast saw a rapid growth in tourist resorts and developments including several new marinas, such as the Abu Tig and Port Ghalib Marinas, which form part of large resorts.
If you are heading North, it is recommended to check into Egypt at Port Ghalib, not Hurghada (where fees are much higher).
If heading South, a stop at Hurghada is worthwhile, however, be very careful about fees.
Touring / sightseeing Egypt can be done from Port Suez, Hurghada or Port Ghalib.
In the Mediterranean, Alexandria is the only alternative to Port Said.
Occasionally yachts manage to obtain a permit to sail up the River Nile, a fascinating but not easy way to see Egypt.
Security
Overall Crime and Safety:

See the FCO website and US Departement of State website for recommendations.
Maritime Issues:
A continuing problem when sailing between Crete and Suez is that no NTMs are issued if the signals are being blocked for training. The Maritime Administration (MARAD) posted an Advisory stating that multiple instances of significant GPS interference have been reported worldwide in the maritime domain, resulting in lost or inaccurate GPS signals. It could put one 20-200 nm away from where one thinks. Plotting one's course on paper charts can help recognize that this is happening.
Weather
Very hot summers; mild winters with little rain. The prevailing winds in the Red Sea are northerly, while along the Mediterranean coast there are daily alternating land and sea breezes. Occasionally the khamsin, a hot dry wind, blows off the land laden with dust and sand reducing visibility.
For links to free global weather information, forecast services and extreme weather information see the Weather Noonsite Weather Page
Courtesy Flag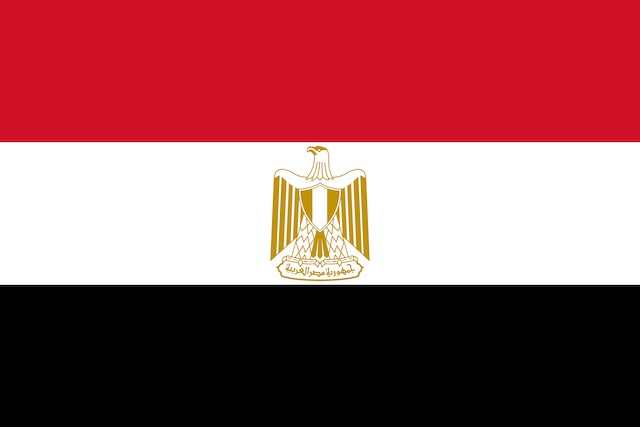 YachtFlags.com offers a discount to Noonsite members.
YachtFlags.com provides high quality courtesy flags that are manufactured in durable Knitted Polyester fabric. Knitted so that the fabric itself does not deteriorate in the constant movement that marine flags are usually exposed to, and polyester so that the flag does not weaken in the strong UV-light usually found in the main sailing areas of the world.
Use the coupon code NOONSITE_5A2B when checking out to get 10% off today.
Buy Now On YachtFlags.com
Places