Previous Page
Facts
From the cruising point of view, mainland Portugal divides into two distinct areas, the west and the south. The ports on the west coast are situated mostly in estuaries or rivers often with bars at the entrance. Among them, the most interesting landfalls are the capital Lisbon set on the River Tagus, which can be navigated right up into the centre of the city and the new marina on the river Douro in the beautiful city of Oporto.
The Algarve coast in the south has better weather and easier approaches to its small picturesque ports. In recent years several new marinas have opened on both west and south coasts, which has greatly improved cruising the Portuguese coast.
An interesting cruising ground is the River Guadiana, which forms the border between Portugal and Spain. The river is navigable for some 20 miles as far as Pomarao, and the scenery, as well as the wildlife, are worth the detour. The bridge linking the two banks is reported to have an overhead clearance of at least 20 metres.
When transiting the coast of Portugal (and into Galicia, NW Spain), be sure to keep a good way offshore (at least 10NM) as lobster pots are everywhere on this coast, particularly in the approaches to harbours. Many are unmarked and those that are marked have no lights and are not easily seen.
The best repair facilities are concentrated in the three areas which have a local boating community: the capital Lisbon, Oporto on the west coast, Vilamoura marina and Lagos marina on the Algarve coast.
If heading into Portugal from Spain, be sure to top up your tanks before departure as diesel is cheaper in Spain than in Portugal. Note also that diesel is even cheaper in Gibraltar, and cheaper still in Morocco.
Security
Overall Crime and Safety:
Crime rates are low in Portugal. As with many places, care should be taken in tourist areas (Lisbon in particular) where theft from cars (foreign-registered and hire cars are often targeted by thieves) and handbag snatching are common.
Maritime Issues:
Dinghy Theft: As with anywhere in the world, if you don't secure your dinghy to your boat or lock it and your engine when ashore, you risk getting it stolen. There have been reports (2021) from cruisers in Portimao of unsecured dinghy theft from the beach. Remember, lock it or lose it.
ORCA Interactions:
Since 2020 orcas have been interacting with yachts under 15m off the western coast of the Iberian peninsula and even Brittany, France. Latest guidance by the Spanish Government (outlined by the RYA) – April 2022 – can be found in this report. Other useful links below:
Tuna Nets: If sailing from anywhere west of Faro to anywhere east of Faro, including Cadiz and the Strait of Gibraltar, watch out for tuna nets. They are marked by yellow special marks but are not very brightly lit.
Latest Reported Incidents:
Atlantic Spain, Gulf of Cadiz: German Cruising Boat Pursued by Pirates (September 2020)
See Security Reports for older incidents.
General Emergency Numbers: See Emergencies.
Last updated: November 2021
Weather
The climate is mild and varies slightly, being cooler in the north and warmer in the south.
The prevailing winds of summer are northerly. The Portuguese trades commence in about April and last until September. On the Algarve coast, the northerly winds of summer are often replaced by land and sea breezes. Most gales occur in winter when the prevailing winds are westerly.
Due to their location, some harbours are inaccessible in strong onshore winds and/or southerlies. Use this useful website giving the state of the harbour entrances (continually updated) along the coast to assist with your planning – https://www.marinha.pt/pt/servicos/informacao-maritima/Paginas/Estado-das-Barras.aspx. Note that this site is intended for commercial shipping.
Strong afternoon winds are typical on this coast and it is wise to shorten sail when entering ports or coming south of steep headlands.
Fog is common during the summer months, although it generally disappears by mid-morning.
Weather Forecasts
Portugal Navy weather forecast: 2657 kHz in Portugal (Lisbon station):
09:00 and 21:00 during winter local time.
08:00 and 20:00 during summer local time.
UTC +00:00
Portugal falls under Navarea 2 and NAVTEX is updated with weather forecasts in English on 518 kHz for Portugal Mainland – Madeira – Azores.
Portuguese Met Office – www.ipma.pt
Shipping Forecast – Portuguese Language http://www.ipma.pt/pt/maritima/boletins/
Shipping Forecast – English Language http://www.ipma.pt/en/maritima/boletins/
For an excellent article on Algarve Summer Weather Patterns, see Martin Northey's website here [BROKEN LINK].
For links to free global weather information, forecast services and extreme weather information see the Noonsite Weather Page.
Last updated September 2018.
Courtesy Flag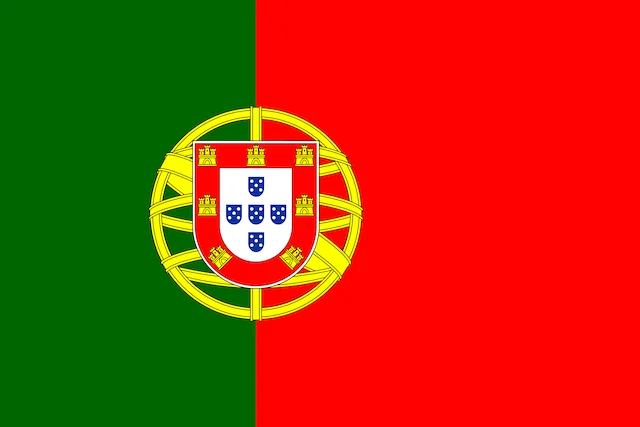 YachtFlags.com offers a discount to Noonsite members.
YachtFlags.com provides high quality courtesy flags that are manufactured in durable Knitted Polyester fabric. Knitted so that the fabric itself does not deteriorate in the constant movement that marine flags are usually exposed to, and polyester so that the flag does not weaken in the strong UV-light usually found in the main sailing areas of the world.
Use the coupon code NOONSITE_5A2B when checking out to get 10% off today.
Buy Now On YachtFlags.com
Places