Previous Page
Facts
For details on the Canal, transit sees Procedures for a Handline Transit of the Panama Canal.
Panama is located on the Isthmus of Panama, the landbridge between the Caribbean Sea and the Pacific Ocean that connects North and South America. Panama is bordered by Colombia and Costa Rica and is best known for the Panama Canal which opened in 1914 and was incorporated fully into Panama on 31 December 1999.
The total population of Panama is around 3.6 million with 1.5 million of those living in Panama City. Spanish is the official language but English is widely spoken.
The currency is the US dollar. For specifics see General Info.
Panama observes Eastern Standard Time all year (GMT-5). For specifics see General Info.
Located south of the hurricane zone Panama is rarely affected by tropical storms or hurricanes and the tropical country experiences a dry season from December to April and a rainy season from May to November.
Balboa on the Pacific and Cristobal in the Caribbean are the two main ports and gateways to the canal. The port of Cristobal incorporates the town of Colon.
Panama has seen a significant expansion in marinas and services in the past 10 years, there are now at least 12 marinas which provide service to visiting yachts: three in Bocas del Toro; Shelter Bay at the Caribbean entrance to the canal and three more on the same coast; five on the Pacific side of the canal including the new Vista Mar Marina and the two marinas at Las Perlas. Several other marina projects are in development with completion TBD.
For more information see Yachting Essentials.
The main cruising attractions in Panama are the 365 island Guna Yala off the Caribbean coast and the Las Perlas islands on the Pacific side. Like in other isolated parts of the world, sailors are advised to only stop in a remote anchorage in the company of another boat.
Security
Overall Crime and Safety
Panama is relatively safe compared to other Central American countries, but crime including shootings, rapes, armed robberies, muggings, and thefts are noted.
Note: As with most countries it is prudent to carry a copy, not your original passport while off your boat (many copy shops can make you a small laminated wallet-sized version).
Specific areas of concern:
Panama City neighbourhoods of El Chorrillo, San Miguel, Santa Ana, Cabo Verde, Curundu, Veracruz Beach, Santa Librada, Rio Abajo, San Miguelito, Juan Diaz, Pedregal, Panama Viejo, and the Madden Dam Overlook.
Colon is a high-crime area with increased gang activity; travellers should use extreme caution when travelling in this area.
The Mosquito Coast (Caribbean side) and the Darién region (Colombian border) are particularly hazardous due to their remoteness and the presence of criminal organizations.
There is some civil unrest and protests focusing on domestic issues (students' rights, labour disputes, indigenous issues) are common and have caused road closures on major thoroughfares but are typically non-violent.
Maritime Issues
Most incidents of theft are petty or opportunistic but several serious robberies/attacks have been reported in anchorages around Panama and a number of armed attacks against yachts in 2019.
Nowhere in Panama (including Guna Yala) should yachts anchor at night in remote areas without being accompanied by other yachts. Always lock up at night and arrange to have your boat cared for if you will be away.
The Caribbean Safety and Security Net provide information by anchorage or by the island. If you experience a boarding, robbery or attack on your yacht or have information about a yachting-related security incident, go to the CSSN homepage and click on the "Report an Incident" icon.
Reported Incidents (see Security Reports Panama):
Bahia Nombre de Dios, November 2019: Armed Assault and Robbery.
Bahia Nombre de Dios, November 2019: Armed Boarding, Assault and Robbery.
Bahia Nombre de Dios, July 2019: Armed Robbery and Attack.
Linton Bay, July 2019: Armed Robbery.
Guna Yala, Isla Surdub (Isla Mono), May 2019: New Zealand Cruising Family Attacked and Father Fatally Injured.
Bocas del Toro, April 2019: Dinghy and outboard stolen.
Portobelo, January 2019: Violent boarding and robbery by armed men.
Las Perlas, 2018: Burgled while ashore.
Linton Bay, 2018: Multiple reports including a charter catamaran that was boarded and robbed at gunpoint by three armed men, who arrived at the boat by panga at about 23:00 hours. Stolen at gunpoint were cash, credit cards, phones, and personal electronics. Linton Bay Marina staff and the Aeronaval have now instituted night-time patrols in the area.
San Blas, 2018/17/15: Multiple incidents of overnight theft including dinghy and iPad stolen.
Bocas del Toro, 2017: Multiple incidents of dinghy and motor theft—arrests were made.
Portobello, 2017: Attempted and successful dinghy and motor thefts.
Rio Chagres, 2016: Break-in and theft.
General Emergency Numbers:
For more detail see Emergencies in General Info.
Be sure to check related security reports for Panama.
Last updated: November 2019
Weather
Panama has a tropical maritime climate with a hot, humid, rainy season (May through to December) and a short dry season (January through to May). Panama's narrow north to south geography results in competing for weather patterns coming onshore from both the Caribbean ocean and the Pacific.
After the dry season ends the rains start gradually with frequent showers. By August, there are daily downpours and thunderstorms which can result in lightning strikes and flash flooding along rivers and roads.
You will find many microclimates throughout Panama: Bocas del Toro and other locations on Panama's Caribbean Coast receive twice as much rain as the Pacific Coast as strong trade winds constantly blow from north to south. Although outside of the hurricane belt the Caribbean Coast can get the tail of tropical storms.
Panama Weather (in Spanish)
www.hidromet.com.pa/index.php
Sailing Advisory Panama to Galapagos
Report on Eastern Pacific Offshore Waters Forecast.
For links to free global weather information, forecast services and extreme weather information see the Noonsite Weather Page.
Related Businesses
Courtesy Flag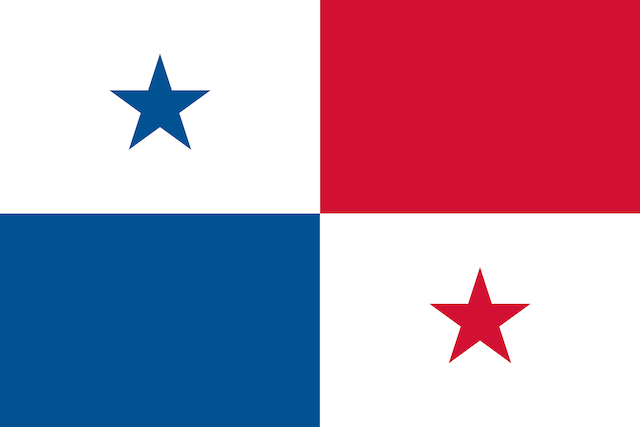 YachtFlags.com offers a discount to Noonsite members.
YachtFlags.com provides high quality courtesy flags that are manufactured in durable Knitted Polyester fabric. Knitted so that the fabric itself does not deteriorate in the constant movement that marine flags are usually exposed to, and polyester so that the flag does not weaken in the strong UV-light usually found in the main sailing areas of the world.
Use the coupon code NOONSITE_5A2B when checking out to get 10% off today.
Buy Now On YachtFlags.com