Previous Page
General Info
COVID19: OPEN PORT
Description
Savusavu is a Port of Entry on the south east coast of the large northern island of Vanua Levu, 125nm NNE of the capital Suva.
Most yachts from Tonga, Samoa, Tuvalu & Wallis-Futuna sail directly to Savasavu as it is well located for clearance for yachts wishing to cruise in the east of the archipelago and to Lau after clearance.
Cruiser Highlights
As one of Fiji's clearance ports, this town has worked very hard to make clearance here friendly, simple and straightforward. It is an attractive and friendly small tourist town which allows visitors to experience the traditional Fijian way of life. Between 230 and 400 boats clear in here every season.
The town is located on the shore of Nakama Creek, which is considered a cyclone refuge and normally 100% occupancy during the cyclone season. The attraction of spending cyclone season here, is that there are many beautiful anchorages just a short sail away (Cousteau Resort, Lomaiviti Islands), within running distance back to safety should the weather start deteriorating.
Savusavu has however been starved of a good marina, dry dock or haul-out facility. Plans are in place for Nawi Island Resort and Marina in Savusavu Bay which will provide 150 slips and haul out facilities, however an opening date is yet to be announced.
Savusavu Cruising Guide
Useful map and directory of services for yachts put together by cruisers.
Interesting varying comments from cruisers who have spent some time in Savusavu can be found on related reports.
Notes on Security
Over the years this town has suffered periods of crime against cruising boats (attempted break-ins, stolen dinghies etc.). See reports adjacent and comments at bottom of page. Cruisers should be vigilant and take due normal care, avoid putting temptation in view and employ normal security on their vessel and ashore, as they would anywhere in the world.
Position
16°46.65'S, 179°19.58'E (entrance)
Clearance
General Clearance
Refer to the main Fiji Formalities page for detailed clearance information including prior notification before arrival.
Yachts are not permitted to anchor anywhere in Fiji waters before checking into a Clearance Port, and the rules state that you MUST check-in the day of your arrival. Cruisers warn of substantial fines.
Cruisers arriving here on a Sunday have reported that the authorities forced them to clear in the same day and pay the appropriate overtime fees. Bear in mind that clearance on weekends and holidays have much higher charges so time your arrival accordingly if possible.
International Clearance
On arrival, and before entering the creek, yachts should first hail the Port Authority on VHF Channel 16. It is unlikely you will get an answer, so then proceed to contact either the Copra Shed Marina or Waitui Marina on Channel 16 (they are the only two operations who undertake International Clearance whether you are using their respective facilities or anchoring out).
Do not enter the creek until advised. You can anchor between the commercial wharf and the red markers on the reef off Nakama creek entrance while you wait. Or you will be told to pick up one of the quarantine mooring balls near the entrance. The marinas will call all the relevant officials and arrange for them to be brought to your yacht.
Boats are visited first by a Health Officer then followed by Customs and Immigration, Quarantine and Bio Security. The Copra Shed Marina or Waitui Marina will use their chase boats and staff to forward officials back and forth – both charge a small fee for this service.
Domestic Clearance
It is no longer necessary to clear in and out of each Customs region visited, (Suva: Levuka: Savusavu: Lautoka: Lau Group: Rotuma:). Yachts can now clear out of the port of entry with a permit to cruise all Fijian coastal waters within the bounds of their cruising permit. There is however a requirement to report your position and current cruising plans once a week. This can easily be done by:
– VHF Ch:16
– Telephone: 324 3782/3747/3315
– Customs Hotline: 324 3666
– E-mail: [email protected]
The I'Taukei Cruising Permits which include Lau are issued free of charge (see Documents for more details), but there are small administrative charges from the marinas for obtaining these permits from Suva if you don't want to go yourself.
Note
If you are clearing-in via Copra Shed Marina and not planning to stay on one of their mooring balls for the night, make this clear whilst on the quarantine mooring buoy as the short (3 hr) stay on their ball will incur a cost.
Last updated: April 2019
Docking
Nakama Creek is deep water, but the various marinas and representatives of several cruising associations rent moorings here. There are currently between 50 – 60 moorings for rent.
A new 40 meter [130 feet] channel is being dug into the creek to facilitate the new resort being built on Nawi Island on the opposite shore. Work is ongoing to create the channel but an opening date is not yet available. This has meant that several moorings have been removed and some relocated.
Currently, only two of the marinas have alongside berthing.
Note: The Savusavu Marina is located to the east of the mooring field. Access through the reefs to Savusavu Marina's mooring field is a challenge for first-timers. It is advisable to call Savusavu Marina on VHF 16 for their boatman escort.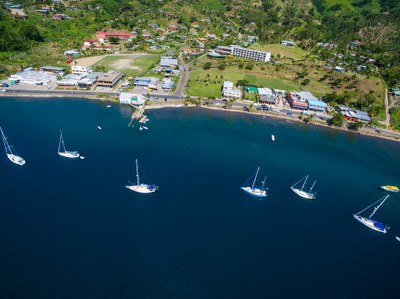 Anchorages
A short distance from the bay, yachts can anchor off Cousteau Resort, a convenient little spot where one can snorkel and do night diving off the point, and close enough to run back for shelter from cyclones. Also, a little further on and also within reach of a safe return, are the islands of Lomaiviti which includes the world-renowned dive sites of Namena Reef.
Moorings
Moorings are all colored according to the owners – make sure you pay your mooring fees to the correct owner! Waitui Marina has 24 orange Helix moorings, Curly has 7 yellow cyclone moorings and Copra Shed's moorings are white. Savusavu Marina have 20 cyclone moorings.
The creek is an internationally recognized cyclone hole, however, moorings have been known to fail. Be sure to double-check the strength of your mooring before leaving your boat unattended.
Derelict boats: If planning on leaving your boat here during cyclone season, be aware that there are a number of abandoned boats here which are not maintained or looked after and may pose a problem in bad weather conditions if they break free.
Note on speed limits: Be aware that there are resident sailors living on their boats in the harbor and cruisers need to be aware that there is a 5-knot speed limit and it is a no-wake zone.
Dinghy Docks
All yachts are welcome to use the Copra Shed Marina dinghy pontoon as a means of access to the business premises within the Copra Shed building. Those who are not on a Copra Shed mooring and who wish to use the dinghy pontoon solely as a means of getting into town or to do personal errands outside of the Copra Shed building are required to pay a fee of $1.00 per day.
Waitui and Savusavu Marina do not charge for the use of their dinghy docks.
Curly's shore access is via Surf and Turf Restaurant/Waterfront Buildings large pontoon which is free to all cruisers.
Security
For information on yacht security here, see Curly's blog post: "Anti-Crime is a Continuous Effort."
Marinas
When entering the creek, the first marina on the right is Waitui Marina; the next marina on the right is Copra Shed; next is Curly and finally Savusavu Marina located at the end of Nakama Creek.
All marina hours are from 0800/0830 to 1700. It is recommended that you contact the marinas in advance by e-mail to find out availability prior to arrival.
Note: For alongside berthing, cruisers have reported a problem here with rats and invasive birds, so it is advisable to take the necessary precautions.
Last updated: April 2019
Related Businesses
Yacht Clubs
Savusavu Yacht Club is located in the Copra Shed complex. They offer cruisers a free 90-day membership. There is a bar and TV and a great youth sailing team.
Courtesy Flag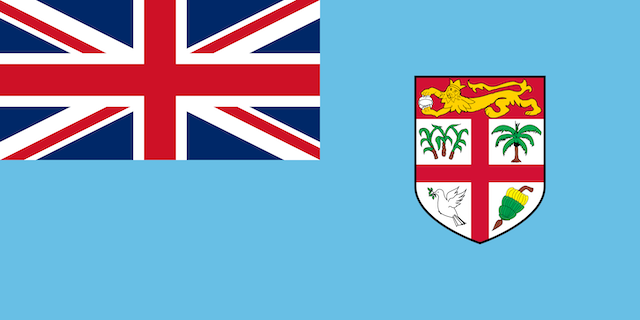 YachtFlags.com offers a discount to Noonsite members.
YachtFlags.com provides high quality courtesy flags that are manufactured in durable Knitted Polyester fabric. Knitted so that the fabric itself does not deteriorate in the constant movement that marine flags are usually exposed to, and polyester so that the flag does not weaken in the strong UV-light usually found in the main sailing areas of the world.
Use the coupon code NOONSITE_5A2B when checking out to get 10% off today.
Buy Now On YachtFlags.com
Places