Previous Page
Facts
COVID-19: Entry protocols for yachts have been affected by the pandemic. See the Biosecurity section for details.
Mexico is located between the U.S. and Central America and the Pacific and the Gulf of Mexico. It has a diverse landscape of beaches, mountains, deserts and jungles.
The total population of Mexico is 130 million people with 9 million inhabitants living in Mexico City. Spanish is the official language.
The currency is the Peso. For details see General Info.
Mexico uses four time zones. For specifics see General Info.
Mexico has two main seasons: Dry Season (November to April) is arid and warm with little rain. Rainy Season (May to October) is when the risk of tropical storms and hurricanes are higher. See weather section below for more details.
The cruising attractions of Mexico are concentrated in two main areas, the Gulf of California (Sea of Cortez) in Baja California to Barra de Navidad on the west coast, and the Yucatan Peninsula on the east coast.
For many years the Gulf of California has been the preferred foreign destination of Californian sailors; equally the Yucatan Peninsula and the off-lying island of Cozumel for yachts heading south from Florida.
Mexico has dozens of marinas which service boats up to superyacht size. For more details on yachting services see Yachting Essentials.
Ports including La Paz, La Cruz and Puerto Vallarta are common departure points for yachts crossing the Pacific (Puddle Jump).
Security
Overall Crime and Safety
While crime rates in Mexico are high and low arrest and detention rates contribute to the problem, crime in tourist cities and destinations is relatively low compared to the national average.
Specific areas of concern:
Road safety: Mexican driving styles and road safety standards are poor. Drivers often do not observe speed limits, indicate lane changes or stop at red lights. Pedestrians should be extremely cautious. Land border crossings in the northern states of Chihuahua, Coahuila, Nuevo León, Sonora and Tamaulipas are affected by organized crime and urban violence. Illegal roadblocks and demonstrations are common.
Organized crime: Although not directed at tourists, violence related to organized crime increased throughout the country in 2017, including in the states of Quintana Roo (Cancun and Playa del Carmen) and Baja California Sur (Los Cabos).
Unregulated alcohol: Travellers have been made sick by counterfeit alcohol served in bars, restaurants and resorts. When possible ensure your drink is poured from a tamper-proof bottle.
Maritime Issues:
The U.S. government is aware of at least 20 fishing vessels and 35 oil platforms and offshore supply vessels that have been targeted by pirates and armed robbers since January 2018 in the Bay of Campeche area of the southern Gulf of Mexico. Significant underreporting of attacks in this area is suspected. These attacks have involved the discharge of firearms, crew injuries, hostage taking, and theft. At least five of these attacks occurred in April 2020, details of which are provided in the Office of Naval Intelligence's 30 April 2020 Worldwide Threat to Shipping (WTS) report, available at https://go.usa.gov/xv7tF.
Some incidents of petty or opportunistic theft, but very few serious crimes against yachts have ever been reported. However, in September 2021 a catamaran at anchor off Cancun was boarded by three masked men armed with spear guns, who threatened the family on board and then ransacked the vessel. See details below.
Reported Incidents:
Cancun – Punta Nizuc, September 2021: Vessel was boarded at night, the occupants tied up and various items stolen.
Mazatlan, Stone Island, 2016: Vessel was boarded at night and robbed of dinghy outboard, two SUP's and a bicycle.
Pacific Coast, 2012: A young solo American sailor went missing and his boat washed ashore, five days after leaving Manzanillo, near Puerto Vallarta, bound for Zihuatanejo. This is a known area for drug running.
The Sea Shepherd has maintained a presence in the Upper Gulf of California almost year-round since January of 2016. Operation Milagro, which includes Mexican navy personnel, retrieves illegal fishing nets and has drawn violent reactions including gunfire and Molotov cocktails from illegal fishermen. If cruisers witness illegal fishing it is recommended you report the activity to local authorities and leave the area.
Emergency Numbers:
See General Info/Emergencies for more details.
Last updated: September 2021
Weather
Mexico has a varied climate with desert-like regions in the northwest and low-lying tropical coastal areas.
Mexico's Rainy season runs (generally) from May/June to October (sometimes extends to November) each year. Most regions south of the Tropic of Cancer (near Mazatlán) are affected. Rainstorms usually arrive in the late afternoon are can be accompanied by thunder lightning and flash flooding.
June, July, August, September, October (sometimes extends into November) is hurricane season on both coasts. Tropical storms can affect weather the Yucatan Peninsula, (e.g. Cancun), as well as the Mexico's Pacific coast, from Baja California southwards.
There tends to be more wind in the Sea of Cortez than along the west coast in October-March due to the effect of high pressures in the USA. There is typically little wind (only land and sea breezes) on along much of the west coast including from Mazatlan to Acapulco.
Winter brings the occasional norther and, on the east coast, strong trade winds. The best time to cruise is spring and late autumn.
Mexico Weather (In Spanish): Servicio Meteorológico Nacional (SMN) 
Report on new Eastern Pacific Offshore Waters Forecast.
For links to free global weather information, forecast services and extreme weather information see the Noonsite Weather Page.
Related Businesses
Caribbean NW Net

Northwest Caribbean net, 1400 UTC 6209 USB, alternates 6212 and 6516, 7 days/wk. Generally covers Providencia north to Mexico on the Carib side, including Providencia,... Read More

Satellite-based Sargassum Watch System (SaWS)

The Sargassum Watch System (SaWS) is designed to use satellite data and numerical models to detect and track pelagic Saragassum in near-real time. Find out... Read More
Courtesy Flag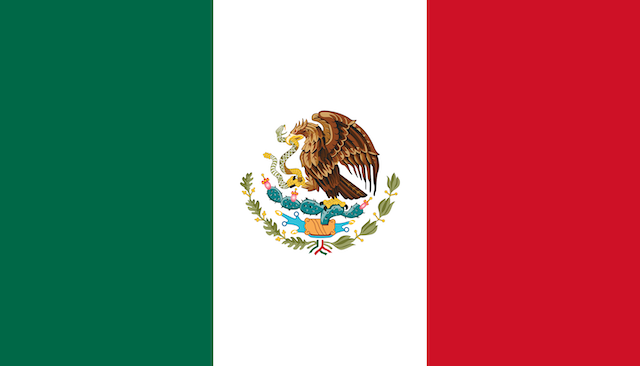 YachtFlags.com offers a discount to Noonsite members.
YachtFlags.com provides high quality courtesy flags that are manufactured in durable Knitted Polyester fabric. Knitted so that the fabric itself does not deteriorate in the constant movement that marine flags are usually exposed to, and polyester so that the flag does not weaken in the strong UV-light usually found in the main sailing areas of the world.
Use the coupon code NOONSITE_5A2B when checking out to get 10% off today.
Buy Now On YachtFlags.com
Places